By Stuart McPhee
EUR/USD for Friday, November 1, 2013
The 1.38 level now seems some distance away after the Euro dropped sharply over the last 24 hours seeing it fall down to a two week low just below 1.36. After consolidating around the key 1.38 level for around a week, the Euro has finally let go and made its way sharply back to below 1.36 where it is presently trying to hold on to. Earlier last week the Euro enjoyed a strong surge higher to move through to its highest level in nearly two years just above 1.38 before spending that week content to consolidate around this level. It has generally moved well over the last couple of weeks after breaking higher from its sideways range, up until the last few days. Since the middle of September the Euro has traded within a narrow range between 1.3450 and 1.3650 before the range narrowed down to between 1.35 and 1.36. The former level of 1.35 was strongly tested a couple of weeks ago and stood tall as the Euro fell heavily a couple of times and was able to receive some solid support from 1.35 before rallying a little higher. Several weeks ago the Euro surged higher through the resistance at 1.3550 to its then highest point since February just shy of 1.3650 only to fall back and receive solid support from 1.3550. For several days the 1.3550 level reinforced itself as one of significance as it provided solid support for the Euro and helped it back to resistance at 1.36.
Throughout August the 1.34 level had been causing the Euro headaches however several weeks ago it surged higher and moved through there to its then highest level since February just shy of 1.3570, which was past a couple of weeks ago moving to just shy of 1.3650. About a month ago the Euro fell strongly away from the resistance level at 1.34 back to below the support level at 1.32 and in doing so traded to its lowest level in seven weeks very close to 1.31. Looking at the bigger picture the Euro spent a lot of August and September trading within a range between 1.32 and 1.34 before recently pushing its range to between 1.3450 and 1.3650. Back in early July the Euro was content to maintain the level above 1.31 and settle there, as it received solid support from both 1.30 and 1.31. On a couple of occasions it made an attempt to move within reach of the longer term resistance level at 1.32 and finally it finds itself trading on the other side of this level and being well established there.
Throughout May and most of June the Euro surged higher to a four month high above 1.34. Before that in the first half of May, the Euro fell considerably from near 1.32 down to six week lows near 1.28. Back at the beginning of April the Euro received solid support around 1.28 and this level was called upon to provide additional support. Throughout this year the Euro has moved very strongly in both directions. Throughout February and March the Euro fell sharply from around 1.37 down to its lowest level since the middle of November around 1.2750. Sentiment has completely changed with the Euro over the last few weeks and the last couple of months has seen a rollercoaster ride for the Euro as it continued to move strongly towards 1.34 before falling very sharply to below 1.29 and setting a 6 week low.
Pressure is mounting on the European Central Bank to boost activity in the euro area after the latest figures showed a fresh rise in unemployment and inflation dropping sharply to a four-year low. The jobless total for the 17 nations that use the single currency rose by 60,000 in September to 19.4 million - the 29th consecutive monthly increase. Unemployment is a million higher than in September 2012 and up by almost four million since the spring of 2011. At 12.2%, the jobless rate was the highest since monetary union began at the end of the 1990s, according to data from Eurostat, the EU's statistical agency. Analysts said the labor market in the euro area had yet to stabilize despite the return of modest growth in recent months. Jobless rates range from 4.9% in Austria and 5.2% in Germany to 26.6% in Spain and 27.6% in Greece, with unemployment in Italy rising to a record high of 12.5% in September. The jobless total in France also rose, up by 34,000 in September and by almost 250,000 in the past year.
(Daily chart / 4 hourly chart below)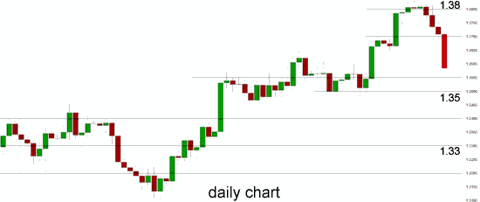 Click to enlarge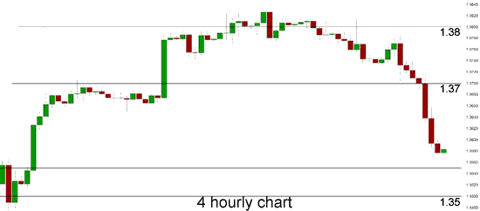 Click to enlarge
EUR/USD October 31 at 21:10 GMT 1.3584 H: 1.3715 L: 1.3575
EUR/USD Technical
| | | | | | |
| --- | --- | --- | --- | --- | --- |
| S3 | S2 | S1 | R1 | R2 | R3 |
| 1.3600 | 1.3500 | --- | 1.3830 | --- | --- |
During the early hours of the Asian trading session on Friday, the Euro is trying to rally a little or at least consolidate just below the 1.36 level after dropping sharply from above 1.3700 to down below 1.36. Current range: just below 1.3590.
Further levels in both directions:
• Below: 1.3600 and 1.3500.
• Above: 1.3830.
OANDA's Open Position Ratios

(Shows the ratio of long vs. short positions held for the EUR/USD among all OANDA clients. The left percentage (blue) shows long positions; the right percentage (orange) shows short positions.)
The EUR/USD long position ratio has climbed back above 30% as the Euro has dropped sharply below 1.3700. The trader sentiment remains strongly in favor of short positions.
Economic Releases
00:30 AU Producer Price Index (QoQ) (Q3)
00:30 AU Producer Price Index (YoY) (Q3)
01:45 CN HSBC Manufacturing PMI (Oct)
05:00 JP Vehicle Sales (YoY) (Oct)
09:28 UK Markit Manufacturing PMI (Oct)
13:58 US Markit Manufacturing PMI (Oct)
14:00 US ISM Manufacturing PMI (Oct)
21:00 US Total Vehicle Sales (Oct)
*All release times are GMT
Disclosure: This article is for general information purposes only. It is not investment advice or a solution to buy or sell securities. Opinions are the authors; not necessarily that of OANDA Corporation or any of its affiliates, subsidiaries, officers or directors. Leveraged trading is high risk and not suitable for all. You could lose all of your deposited funds.