With 2009 coming to a close, I summarize in this article my findings and forecasts on NetEase.com (NASDAQ:NTES) for 4Q09 and 1Q10, based on my tracking of the company's online games.
4Q09 result will be strong. Based on my proprietary tracking in Charts 1, 2, 3, I expect NetEase's 4Q09 online game revenue to jump 46% Q/Q to $165 million from $113 million in 3Q09. The major drivers for 4Q09 are 3D game World of Warcraft (WoW), which started commercialization on Sep. 19, and 3D game TX2, which entered open beta on Sep. 20. So far in 4Q, daily average usage of TX2 (Chart 1) has surged 41.5 Q/Q due to its open beta. Revenue contribution from WoW has grown exponentially Q/Q due to easy comparison against 3Q, which only included 12 days of commercialization. Flagship games FWJO and WWJ2 (Chart 3) have seen daily average usage grow 1.9% and 2.6% Q/Q, respectively. I believe such performance will enable NetEase to remain the third largest Chinese online game company, behind Tencent (OTCPK:TCTZF) and Shanda (NASDAQ:GAME).
1Q10 growth will slow down. Based on recent usage trends (Charts 1, 2, 3), I expect the quarterly revenue growth of NetEase's games will slow down to 0%-5% Q/Q due to slow growth of FWJO and WWJ2, the stabilization of TX2 and WoW, and the lack of new game launches:
FWJO and WWJ2. Chart 3 shows that usage of FWJO and WWJ2 has been flat throughout 4Q09, and I forecast this trend to continue into 1Q10 due to lack of major usage catalysts. The latest expansion packs for FWJO and WWJ2 were launched in mid-October and mid-August, respectively. Based on historical patterns, I do not expect new expansion packs to be launched for these two games in the 1Q10.
TX2 and WoW. Chart 1 shows TX2's usage has been stable since the September 20 open beta, but has not reached new highs after the December 11 launch of expansion pack "Flying Dragon in Sky." Its historical PCU is still the 276,250 recorded on October 6. In my opinion, Chart 1 indicates TX2 has quickly matured into a "cash cow" game for NetEase, and it will not be a significant growth driver in 1Q10. Chart 2 shows WoW's usage has remained strong throughout 4Q09. I believe WoW's "Wrath of the Lich King" expansion pack is unlikely to be launched in 1Q10 due to regulatory disputes between GAPP and Ministry of Culture, and Chinese New Year slowing down the approval process. Therefore, I believe WoW will not be a significant growth driver in 1Q10.
New games. According to management's remarks during 3Q09 earnings conference call, NetEase's next two new games, Ghost (Qian Nv You Hun) and Legend of Datang, will not be commercialized until mid-2010. Therefore, NetEase's new games in the pipeline will not be able to contribute to 1Q10 results.
Chart 1: Usage Trend of TX2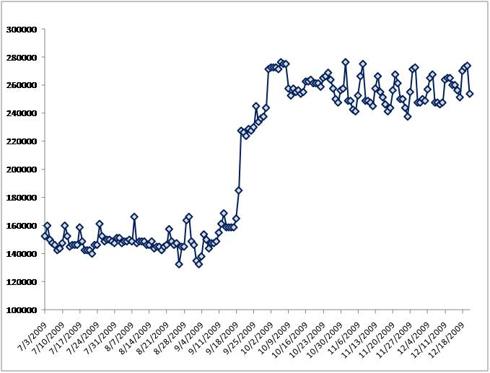 Source: Tracking by Xiaofan Zhang

Chart 2: Usage Trend of WoW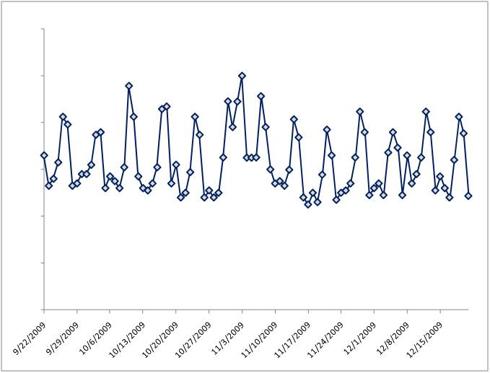 Source: Tracking by Xiaofan Zhang

Chart 3: Usage Trends of FWJO and WWJ2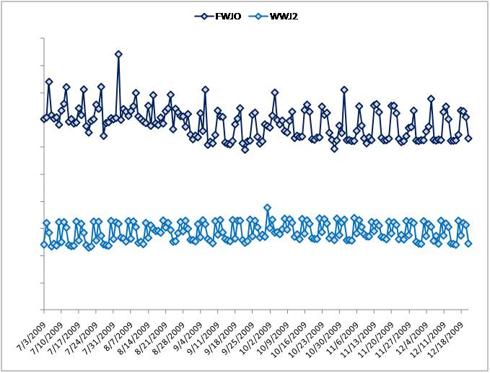 Source: Tracking by Xiaofan Zhang

Disclosure: No positions