Today Realty Income (NYSE:O) announced its third quarter earnings results and once again "The Monthly Dividend Company®" has proven its strength in the numbers - as the saying goes, show me the money! To recap the most recent results, the company said its third-quarter Funds from Operations (or FFO) available to common stockholders totaled $115.9 million, or 59 cents per share, up from $63.4 million, or 48 cents per share, in the year-ago quarter - increases of 82.8% and 22.9%, respectively, on an aggregate and per-share basis.
The company also logged normalized FFO available to common stockholders of $116.1 million, or 59 cents per share, compared to $68.9 million, or 52 cents per share, in the 2012 third quarter, representing a 68.5% gain on an aggregate basis and a 13.5% increase on a per-share basis. The company said that its normalized FFO per share during the quarter was reduced by 2 cents per share to account for the accelerated vesting of restricted shares that occurred July 1 from 10-year vesting to five years.
AFFO available to common stockholders came to $117.9 million, or 60 cents per share, up from $68.5 million, or 52 cents per share, in the 2012 third quarter, representing gains of 72.1% and 15.4% on an aggregate and per-share basis, respectively. In the earnings release, CEO John Case discussed the year-over-year FFO increases:
The primary drivers of our performance were: 1) $1.37 billion in new acquisitions during the past nine months, at an initial average lease yield of 7.0%; 2) the immediately accretive rental revenue from our acquisition of ARCT for $3.2 billion, completed in January 2013; and 3) the continued strength of our existing portfolio, with quarter-end occupancy of 98.1% and same-store rent growth of 1.3%.
Looking ahead, Realty Income narrowed its normalized FFO guidance, offering a per-share range for the 2013 full year of $2.38 to $2.42, compared to a range of $2.37 to $2.43 offered in July with its second-quarter results. The company also upped its AFFO-per-share guidance for the year, offering a range of $2.38 to $2.42, compared to the earlier AFFO-per-share guidance range of $2.35 to $2.41. For 2014, the company offered an expected FFO-per-share guidance range of $2.53 to $2.58 and an expected AFFO-per-share range of $2.53 to $2.58.
Driving the strong quarterly earnings was Realty Income's exceptional portfolio occupancy of 98.1% (compared to 97% in the same period last year) and continued diversification efforts. That translates to current portfolio stats that include 3,866 properties, 200 tenants, 47 industries, and 49 states (and Puerto Rico). During the quarter, Realty Income sold 19 properties for $22.4 million, clocking a gain on sales of $6.2 million. In the 2012 period, the company sold 11 properties for $15.8 million with a gain on sales of $2.0 million.
Moving the Needle
In acquisitions, Realty Income invested $502.7 million in 219 new properties and properties under development or expansion during the quarter (across 33 states, leased to 20 different tenants in 15 separate industries, and four of the tenants are new to the company's portfolio). The company's new chief investment officer, Sumit Roy, offered some color on the company's property investments amid what he identified as an "exceptional" level of net-lease deal flow.
Realty Income is now forecasting $1.5 billion in property-level acquisitions for 2013 in total - excluding the American Realty Capital deal - up from an earlier estimate of "at least $1.25 billion," Roy explains:
We were successful in accelerating the closing on a number of transactions in the third quarter, and we're pleased with the activity this quarter.
Year-to-date through the end of the quarter, the company had invested $1.37 billion in 407 properties at an average initial cap rate of 7%. Including its acquisition of ARCT, the company has invested roughly $4.5 billion total, year-to-date.
Roy said $17 billion of deals were sourced during the third quarter alone - more than the company's total for all of 2012, "which was a record year of sourcing for us," the executive noted. Still, Roy said the company has remained discriminating in its investment approach.
We have remained very selective in our acquisitions and are pursuing only those that match what we are trying to do strategically with the portfolio," he said. "We continue to analyze a number of these sourced opportunities, but have ceased to pursue a majority of these transactions that came in the third quarter. In a large portfolio, unless the vast majority of the properties fit our investment strategy, we will elect to pass.
A Fortress Balance Sheet
Earlier this year (June 013), S&P raised Realty Income's corporate credit rating to BBB+ from BBB. S&P also raised the company's senior unsecured debt ratings to BBB+ and the company's preferred stock ratings to BBB-. The recent rating action by S&P incorporates the quality of the company's portfolio and cautious underwriting to date.
Just a few days ago, Realty Income enhanced the size of its unsecured acquisition credit facility to $1.5 billion from $1.0 billion ($1.4 billion in dry powder on the line). As consistent with Realty Income's fortress balance sheet, the company maintains exceptional fundamentals such as Total Debt to Market Cap of 30% and Debt to EBITDA of 5.8x. Realty Income has reduced its mortgage debt exposure (now around $780 million) to around 17.83% (was 20.4% in Q2-13). Debt maturities are minimal and well-laddered ($150 million bond due in November 2015).
Also Realty Income continues to match fund its investments as evidenced by the $750 million 4.65% unsecured notes and $378 million of equity (9.8 million shares at $40.63) used for acquisitions (immediately accretive).
So Is Bigger, Better?
Just a few days ago, I wrote an article on Spirit Realty Capital (NYSE:SRC) and I referenced the amazing growth and consolidation of the Triple Net REIT sector. I argued that American Realty Capital Properties (ARCP) was somewhat "possessed at becoming the biggest REIT in the world" and I even suggested that ARCP could swallow up Spirit Realty to "put a stamp on ARCP's dominance in the sector."
The recently announced Cole Real Estate (NYSE:COLE) merger with ARCP is certain to boost the combined company to the top position in the growing Triple Net sector; however, it appears there is a price to be in first place. The cap rate (net income dividend by purchase price) is around 6.3% - a premium compared to the more nimble (smaller) deals that Realty Income has closed during the quarter (average 7% cap rate). The argument for growth is rooted in the concept of diversification; however, at some point there is less meaning to diversify and the concept is dilutive.
Being a bigger fish certainly gets attention, but when growth comes at a cost (a large cost at that), I get nervous. Consider the fact that ARCP is still externally managed and that means that the external manager will bring in millions of dollars in fees at the expense of ARCP shareholders. Also, the assets that Cole owns are also deemed "second hand" goods since most of the properties were acquired via the non-traded REIT structure.
Think about it like this: You can buy a shirt for $50 at Realty Income or you can buy the same shirt at ARCP for $75. The difference in the price is the fees paid to Cole's advisor, the huge compensation paid to Cole's management team (talk about a golden parachute), the waste of Cole's IPO (what did the lawyers get paid?), and the fees being paid to ARC.
So that begs the question, is bigger, better?
I Really Don't Care
When it comes to dividends, I like them big. However, what good is it to have a big, fat dividend when they aren't sustainable. The laws of compounding are great, but unless you are able to build a growing spigot of dividend income, the law (of compounding) is useless. I have been following Realty Income for almost 20 years and I have witnessed the company evolve from a small Taco Bell landlord into a dominating "blue chip" REIT. The growth projector y has been strong and strategic and all of the investments that the company has made have been immediately accretive.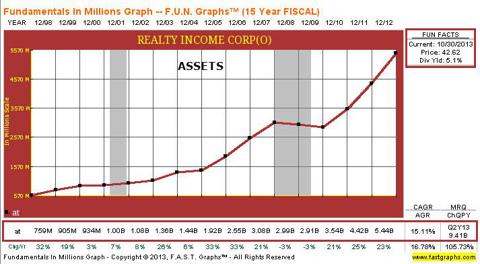 Click to enlarge
I am attracted to Realty Income's acquisition efforts that have continued to diversify the revenue stream, while simultaneously delivering the best balance sheet fundamentals in the sector. Remembering that a large portion of Realty Income's total return to shareholders is the monthly dividend (current yield is 5.24%) and the company has paid 518 consecutive common stock monthly dividends - raised 73 times since 1994. The current monthly dividend is $0.1818542 per share (annualized at $2.182 per share) - or 147 bps higher than RMS's dividend.
So owning shares in a REIT with the highest dividend is meaningless to me. In addition, owning the biggest REIT in the sector is less important. Conclusively, the most important thing for me (or any intelligent investor) can be summed up Howard Marks (in his book, The Most Important Thing):
When you boil it all down, it's the investor's job to intelligently bear risk for profit. Doing it well is what separates the best from the rest.
So whether Realty Income has the highest dividend yield (in the sector) is not relevant as Marks explained:
Great investing requires both generating returns and controlling risk. And recognizing risk is an absolute prerequisite for controlling it.
So as legendary investor Ben Graham also believed, a "defensive investor must confine himself to the shares of important companies with a long record of profitable operations and in strong financial condition." The snapshot below is perhaps exactly what Graham was referring to.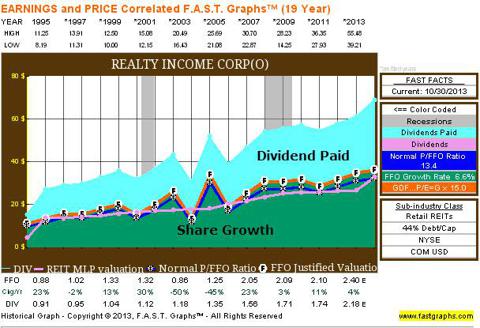 Click to enlarge
But we all know that Graham was also a value investor and accordingly, he used the margin of safety concept to "distinguish the differences in an investment operation and a speculative one." Realty Income closed today at $41.65, down 2.28% and the current Price to Funds from Operations (P/FFO) multiple is 17.2x (source: SNL). Compared to the peer group, Realty Income trades at a moderate premium; however, I consider the dividend yield (on a risk-adjusted basis) to be fairly valued.
I believe that Realty Income's fortress balance sheet, high acquisition volumes, seasoned management team (including the new CEO, John Case), and demand for yield-oriented stocks are driving the valuation. During the latest quarter, the REIT sell-off opened up new opportunities for Triple Net REITs and Realty Income has become more attractive, especially considering the high earnings quality and exceptionally consistent track record of dividend performance.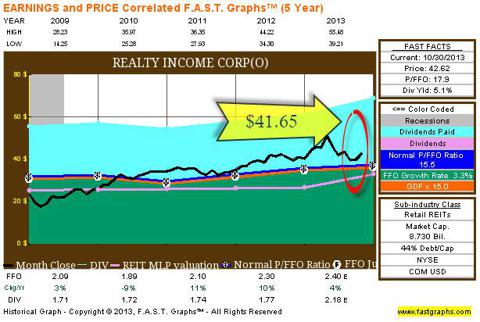 Click to enlarge
In summary, I'm more interested in seeing the dividend move than seeing the asset pool grow. It's clear that new investments will drive earnings growth; however, there is a certain point of inflection when growth doesn't really matter as much. Investors should always follow the money trail and make sure that there is immediate accretion and that every transaction benefits the shareholders. Simply said, there must be an alignment of interests and ALWAYS remember RULE #1: PROTECT YOUR PRINCIPAL AT ALL COSTS.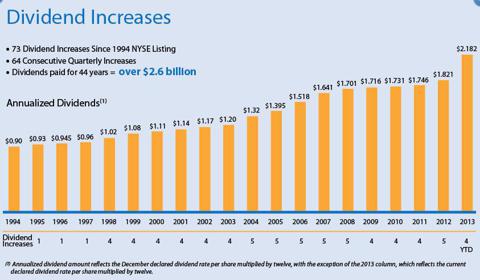 Click to enlarge
Check out my monthly REIT newsletter, The Intelligent REIT Investor.
Source: SNL Financial and FAST Graphs.
Disclaimer: This article is intended to provide information to interested parties. As I have no knowledge of individual investor circumstances, goals, and/or portfolio concentration or diversification, readers are expected to complete their own due diligence before purchasing any stocks mentioned or recommended.
Disclosure: I am long O, ARCP, CSG, HTA, VTR, UMH, DLR, STAG, ROIC, GPT. I wrote this article myself, and it expresses my own opinions. I am not receiving compensation for it (other than from Seeking Alpha). I have no business relationship with any company whose stock is mentioned in this article.