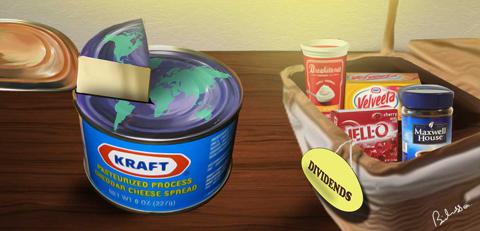 With the North American food and snack markets reaching saturation, Kraft Foods' limited international exposure puts the company's growth prospects under threat.
Kraft Foods Group Inc. (KRFT) raised its earnings guidance in its latest quarter earnings release but reported a 4.2% decline in revenues. Bidness Etc expects a contraction in the company's forward P/E multiple based on low growth prospects.
Analysts have consequently revised revenue estimates downwards. The company does not have many opportunities for revenue growth, given that it operates only in North America. However, its stock is still a buy for dividend investors. We maintain our neutral stance on Kraft Foods.
For an in-depth analysis on the company, read 'Kraft Foods - Serving up Wholesome Dividends.'
Earnings for 3QFY13
Kraft Foods announced adjusted EPS (earnings per share) of $0.75 for the third quarter (3Q) of fiscal year (FY) 2013 on October 31, 2013, beating consensus estimates by over 1.5%. However, its share price was down almost 2% by the day's end, mainly due to reported revenues missing estimates by 3.5%.

The company mentioned higher spin-off related shipments in the corresponding quarter last year (3QFY12) as the primary reason for the 4.1% YoY (year-over-year) drop in organic revenues. Furthermore, the 1ppt (percentage point) contribution of its base business to organic growth was also not very impressive, while lower overall pricing negatively affected revenue growth by 1ppt.
Although operating income for the quarter improved 14.9%, it does not reflect a significant success in productivity savings, as it was driven by favorable gains related to post-employment benefits as a result of higher discount rates in the US. Furthermore, the negative impact of pricing, lower volume sales, coupled with losses from hedging activities were strong enough factors to partially offset the growth of over 25% in operating income from post-employment benefits.
The company has also raised its EPS guidance for FY13 by 5.3% due to the favorable impact from post-employment benefit plans which had a positive impact of 22% on EPS.
Segment Results
Revenues declined in six of the seven reportable segments, which according to the company was due to spin-off related shipments during the same period in the prior year. The company shipped safety stock to retailers during 3QFY12 in anticipation of structural changes leading to its spin-off, Mondelēz International, Inc. (NASDAQ:MDLZ).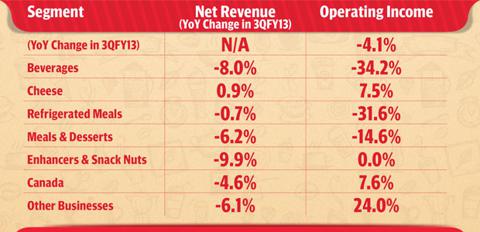 Beverages
The segment contributed 14.2% to the company's total revenues in the latest quarter. Lower pricing of Capri Sun and Kool-Aid Jammers along with lower pricing of green coffee led to the decline in revenues. However, an improvement in product mix for on-demand coffee, innovations in its liquid water enhancer products and Gevalia premium coffee had a positive impact on revenues. The improvement from these factors was more than enough to offset the negative impact on volumes due to spin-off related shipments in 3QFY12.
On the other hand, productivity savings remained weak and could not offset the increase in marketing investments and decline in PNOC (pricing net of commodity costs) which led to a decline in operating income.
Cheese
Kraft's largest segment contributed 21% to the total company's revenues. Higher pricing and consistent growth in Kraft natural cheeses and Velveeta slices were enough to offset the negative impact from spin-off related shipments last year. This led to positive revenue growth in the segment.
The segment also contributed to growth in operating income due to the timing of advertising expenditures, overhead cost savings and productivity gains. However, the increase in PNOC partially offset these gains.
Refrigerated Meals
With 20% of the company's total revenues, the refrigerated meals segment delivered continued revenue growth as a result of innovation in its Lunchables product offerings, as well as strong sales in its Oscar Mayer bacon and hot dog brands. Furthermore, increased pricing in refrigerated meals also contributed to the revenue gains. However the favorable impact from these factors was not enough to counter the negative impact of spin-off related shipments a year earlier. Operating income for the segment also declined due to the decline in PNOC and higher marketing investments.
Meals & Desserts
The segment contributed 12.5% to the total company's revenues. Velveeta dinners witnessed continued growth but it was largely offset by a weak growth in its JELL-O brand of desserts. Overall revenues from the segment declined as the continued growth in Velveeta wasn't strong enough to offset the slowdown in JELL-O sales and spin-off related volume impacts. Although the cost savings in overheads were strong enough to offset large marketing investments, operating income fell following a decline in volumes.
The JELL-O brand has largely underperformed in the quarter; however, the company does expect improved performance from the brand following its rejuvenation program. The company has just launched the first round of its rejuvenation efforts and expects revival in its famous JELL-O brand.
Other Segments
Other segments which showed a decline in revenues include Enhancers & Snack Nuts, Canada and Other Businesses. These contributed 32.3% of the total company's revenues.
The significant decline in revenues in the Enhancers & Snack Nuts segment, which contributed 11% to the company's total revenues, was driven by lower volumes in salad dressings and mayonnaise, and lower pricing. The lower pricing was a result of lower nut costs. Although, the improved product mix from Planters snack nuts led to an improved volume growth, it wasn't strong enough to offset the decline in revenues from other factors.
Although revenues declined in the company's Canada segment due to spin-off related shipments, its Tassimo coffee showed strong double digit growth and Kraft peanut butter showed volumes gains as well.
Analysts' Estimates
Most analysts have revised their estimates upwards following the release of earnings and increased guidance by the company. Analysts have raised adjusted EPS estimates for 4QFY13 by a net of 2.8%. They now estimate the diluted EPS for 4QFY13 to be $0.61, higher compared to the company's guidance of $0.58.
On the other hand, the estimates for revenues have been revised downwards by a net of 1.2% after seeing the weaker-than-expected performance this quarter.
Conclusion
Although the earnings guidance was revised up by the company and the decline in revenues came largely as a result of spin-off related shipments during the same period last year, there are still concerns over the company's revenue growth prospects. The grocery and snack markets in North America are reaching maturity and that is a clear threat to company's future growth prospects which has no exposure outside North America.
Bidness Etc believes that Kraft's one-year forward P/E multiple of 17.2x is fairly high and a contraction can be expected despite an improvement in earnings, particularly due to low prospects for future revenue growth. However, the stock can be bought for dividends.
To read our detailed analysis of Kraft Foods and know what makes this stock a buy for dividend investors, read our article 'Kraft Foods - Serving up Wholesome Dividends.'
Disclosure: I have no positions in any stocks mentioned, and no plans to initiate any positions within the next 72 hours.
Business relationship disclosure: This article is written by Bidness Etc's Consumer Staples analyst. Bidness Etc is not receiving compensation for it. We have no business relationship with any company whose stock is mentioned in this article