If analysts are right, the healthcare industry is going to be an area of significant growth in the years ahead, particularly due to the Affordable Care Act (ACA - also known as "Obamacare"). The healthcare industry is large, however, and it is replete with a number of companies that - while they may inspire great interest - do not constitute what many investors would consider "solid" investments.
In this article I focus on a set of five companies that are reasonably priced and which also exhibit a sound set of fundamentals, the expectation being that such companies would constitute affordable and reliable access to biotechnology.
The Selection Process
I recently ran a screen on biotechnology companies using my PIC criteria to see what looked interesting (the screener I used was FINVIZ.com - not the most consistently up-to-date screener, but I ran the filters over the course of several weeks). I used the following settings:
Sector: Healthcare
Industry: Biotechnology
Return on Assets > 0
Return on Equity > 0
Return on Investment > 0
Quick Ratio > 1
Long-Term Debt/Equity < 1
Total Debt/Equity < 1
Operating Margin > 15%
Payout Ratio < 100%
Performance [ttm] > 0
For those not familiar with my PIC (Potential Investment Candidate) criteria, they are designed to identify companies with effective management (indicated by the three return data), adequate liquidity (quick ratio), minimal debt (debt/equity data), efficient operations (operating margin), and - for those companies paying dividends - adequate earnings to pay dividends (payout ratio); performance, while not a fundamental datum, is included to weed out companies that have lost value over the past year.
The assigned values are designed to set minimal levels of acceptability; more stringent values may be used to narrow the range of companies selected; out of 211 companies listed as biotechs, only 16 were returned once the filters were applied. Note that these are potential investment candidates - it is still important to perform due diligence to determine if these (or any PIC criteria selections) are appropriate for your portfolio.
Selection by PIC criteria should not be taken to infer that all companies constitute viable investment opportunities; one selected company - Enzon Pharmaceuticals (OTCQX:ENZN) - is no longer actively operating, having sold all of its proprietary technology (including the rights thereto) and production facilities, and is currently functioning only to distribute royalties to shareholders (I discuss this company in What's Left Of Enzon Pharmaceuticals?). Enzon is not included in the list of PICs.
It should also be noted that not all viable investments in the biotechnology industry are going to be selected by the criteria, as it is not uncommon for many small biotechs to operate on shoestring budgets and in the red as they develop their principal technologies and products, and many of these companies become the targets of mergers and acquisitions. Some of these, such as Neuralstem Inc. (NYSEMKT:CUR), are viable - though risky - investments that have tremendous upside potential but would not - or at least should not - constitute a major holding in your portfolio.
The Selections
I used a ranking system to rate each of the companies chosen by the criteria. The rankings were based on how each company placed in each of the criteria, their EPS and market cap (in descending order), and their P/E, price to sales, and price to book (in ascending order). The scoring was such that the lower the score, the better the investment (in my opinion) the company would seem to be.
In this article, I want to take a look at the five companies that seem to be good values - companies with attractive fundamentals that can be had for a low price (where the company placed in the rankings is included - lower is better; clicking on the company's name will take you to that company's website):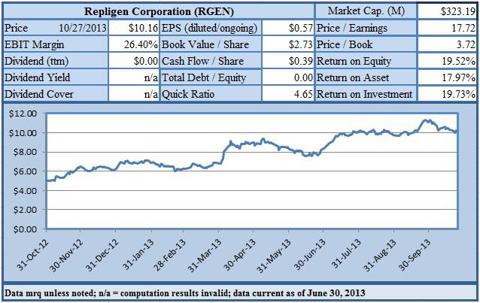 Repligen is a world-class provider of Protein A, used in biopharmaceutical production; the Company also produces cell culture growth factors. A third group of products is the OPUS (Open Platform User Specified) Columns - custom fitted and filled rosin containers for bioprocessing applications.
Repligen is also active in partnering with other companies for the development of its orphan drugs. Currently, it is looking for partners for two candidates:
RG1068, a synthetic form of human secretin designed to improve pancreatic imaging;
RG2833, a phase 1 treatment for Friedreich's Ataxia.
In January, 2013, Repligen entered into an exclusive worldwide licensing agreement with Pfizer (NYSE:PFE) focusing on Repligen's RG3039 treatment for spinal muscular atrophy. The agreement is worth as much as $70 million plus royalties. Pfizer paid $5 million up front, with the remainder of the $70 million payable upon achieving specified milestones. The first milestone was achieved in September, whereupon Repligen received a payment of $1 million.
This company has recently realized a significant growth in revenues. From 2009 - 2011, it had average annual revenues of $23.9 million, increasing in 2012 to $62.27 million; for the first two quarters of 2013 it has received $33.97 million, in keeping with the 2012 figures. As one can see from the data in the table above, Repligen maintains efficient and effective operations, no debt, and its shares do not seem overpriced at this point.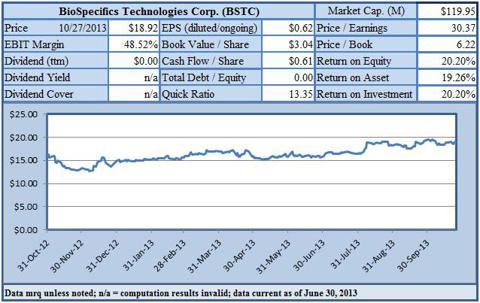 BioSpecifics has focused its research on collagen, which comprises approximately 1/3 of the total protein in the human body. Collagen is the main constituent of skin, tendons and cartilage, and is a component of teeth and bone.
BioSpecifics has developed XIAFLEX, an injectable collagenase, and has partnered with Auxilium Pharmaceuticals, Inc. (NASDAQ:AUXL) to test the efficacy of the treatment in certain diseases. XIAFLEX has been approved by the FDA as a treatment for Dupuytren's Contracture, and is in clinical trials for:
Peyronie's Disease (phase 3 trials);
Frozen Shoulder (phase 2);
Cellulite (phase 1);
BioSpecifics is also engaged in internal phase 2 studies involving collagenase treatment for human and canine forms of lipoma. The Company is supporting preclinical research involving collagenase as treatment for;
BioSpecifics is a micro-cap company, and appears to be an efficiently and effectively run business. The company currently carries no debt, and wields a quick ratio of 13.35. Its PE of 30.37 is on the higher side, but may reflect enthusiasm for the marketability of non-surgical treatment of a debilitating disorder; it is not impossible to view the company as oversold at present.
While the company's 2012 revenue of $11.15 million represents a 2% decrease from 2011's revenues, it is almost double the revenues for 2010; its mid-2013 revenue of $7.25 million would seem to indicate that its revenues for this year will surpass its performance in either 2011 or 2012.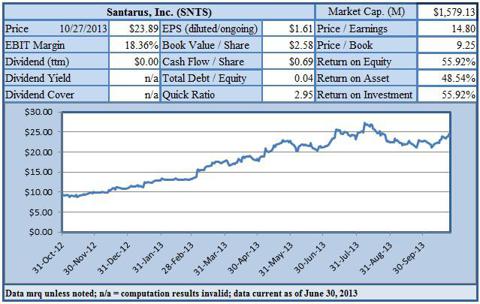 With a focus on gastroenterology and endocrinology, Santarus specializes in the acquisition, development and commercialization of proprietary products. It is currently involved in the commercialization of five products:
In addition to the above products, Santarus has the following pipeline products in development:
UCERIS: phase 2 studies are in progress to extend this drug for treatment of microscopic colitis and pediatric ulcerative colitis;
RUCONEST: a biologics license application is currently being reviewed by the FDA for this treatment for angioedema;
Rifamycin SV MMX: an antibiotic in phase 3 studies being tested as a treatment for travelers' diarrhea;
SAN-300: treatment for inflammatory and autoimmune diseases, completed phase 1, due to begin phase 2 studies during Q4, 2013.
Santarus utilizes strategic alliances to maximize the commercialization of some of its products, such as: Merck & Co., Inc. (NYSE:MRK), through Merck's subsidiary Schering Plough HealthCare Products, Inc. (ZEGERID OTC); GlaxoSmithKline Limited (NYSE:GSK) to commercialize products in over 100 countries; and Norgine B.V., to commercialize ZEGERID in specified European countries and Israel.
Santarus has the largest market cap in our group of bargains, topping out at nearly $1.6 billion. The Company has some very fine fundamentals: its P/E of 14.8 would seem to indicate that it is not overbought; returns indicate a very effective management, and its EBIT margin is appropriate. Santarus carries minimal debt and has the liquidity to manage its current obligations, as indicated by its quick ratio.
Although its revenues declined by over 30% from 2009 through 2011 (to $118.8 million in 2011, down from $172.5 million in 2009), Santarus received revenues of $217.96 million in 2012 (a gain of more than 80% over 2011), and it has revenues of $168.8 million in the first two quarters of 2013, setting a pace to exceed the 2012 revenues.
Santarus placed fourth in the PIC rankings.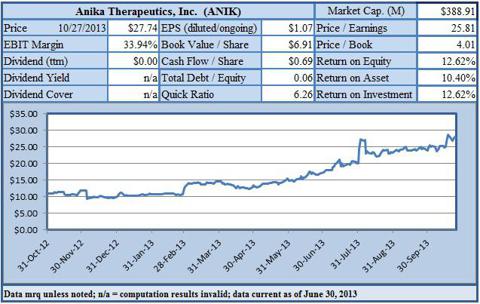 Anika Therapeutics has focused its efforts on achieving the full potential of its proprietary version of hyaluronic acid [HA], a polymer occurring naturally in the body which aids in coating, protecting, cushioning and lubricating soft tissue. The company produces treatments in:
Anika is in the grey area between small cap and micro cap. Its P/E of 25.81 may be on the high side, with some risk of being overbought; otherwise, its fundamentals are very good. The company's revenues have been growing steadily, with 2012 revenues of 71.36 million, beating 2011's $64.78 million by a margin of just over 10%. The first two quarters of 2013 saw revenues of $36.08 million, on a pace to just exceed 2012's figure.
[Note: as this article was being completed, Anika's 3Q13 earnings report was released. On initial examination, its revenues for the quarter were $17.8, an increase of approximately 20% YOY, keeping the company on a pace to surpass 2012 revenues.]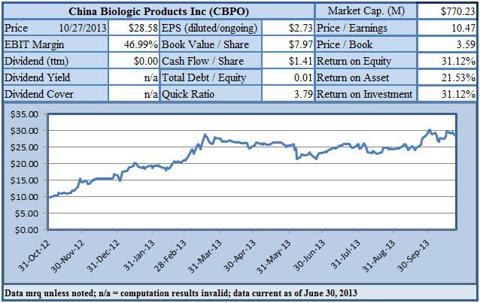 Headquartered in Beijing, China Biologic produces plasma-based biopharmaceuticals for the Chinese healthcare market. Plasma is collected from several facilities in China and processed at two majority-owned subsidiary companies. Products processed include:
The Company's pipeline includes:
Human Prothrombin Complex;
Intravenous Hepatitis B Immunoglobulin;
Human Fibrinogen;
Varicella Hyper-Immune Globulins.
China Biologic brings some impressive fundamentals to the table, its returns and its EBIT margin indicating a company that is efficient and effectively managed. Its P/E ratio of 10.47 would seem to indicate that the stock is not overbought at this time.
The Company's revenues have grown consistently over the past four years, with 2012's $184.81 million representing a 20% increase over 2011's $153.09 million. Revenues for the first half of 2013 are $107.61 million, on a pace to exceed 2012.
China Biologic placed second of the 15 companies I've considered.
I will present the remaining companies comprising the top-ten-ranked biotechs in an upcoming article. Stay tuned.
Addenda
China Biologic will be releasing 3Q13 results on Tuesday, November 5; Repligen and Santarus are scheduled to present 3Q13 earnings on Thursday, November 7.
All financial data is derived from the companies' 10-K and 10-Q filings; YTD price data provided courtesy of Google Financial.
The inclusion of companies in this article is not an endorsement for investing in these companies. Before investing in any of the companies mentioned in this article the investor should be careful to perform due diligence to determine the appropriateness of a company for their portfolio.
Disclosure: I am long OTCQX:ENZN, CUR. I wrote this article myself, and it expresses my own opinions. I am not receiving compensation for it (other than from Seeking Alpha). I have no business relationship with any company whose stock is mentioned in this article.