General Electric (NYSE:GE) put up a darling of an order number with its third-quarter financial results. Though revenue and operating income faced pressure during the period due to asset reductions at GE Capital and foreign-exchange headwinds, the industrial conglomerate's order performance was off the charts: US orders jumped 18%, Europe orders advanced 17%, and growth market orders leapt 22%.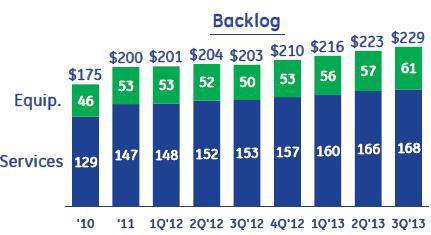 Needless to say, the global business environment improved significantly during the third quarter, and we're not sure the threat of a US government shutdown (and by extension, the shutdown itself) did much to impede the business of global industrial conglomerates. GE's backlog of equipment and services at the end of the quarter was its highest ever at $229 billion (up $6 billion sequentially), resulting in a book-to-bill ratio of 1.2 (a number above 1 is solid). We pay more attention to the pace of the firm's orders and book-to-bill ratio (as an indication of future performance) than we do its already-reported (past) results.
We were also pleased that the firm continues to shrink GE Capital and that industrial segment margins continue to advance (up 120 basis points in the quarter). Given the order strength, one may think GE is offering some hefty discounts, but management indicated that infrastructure order pricing was flat during the period. If that's the case, we can only expect margins on its current order book to be better than existing performance, particularly as management rolls out simplification efforts across the organization. GE generated industrial cash flow of $5.9 billion in the quarter, excluding NBCUniversal deal-related items, and now sits on $87 billion of consolidated cash and cash equivalents.
Valuentum's Take
General Electric has transformed itself from the days it had to slash its dividend back in 2009, as GE Capital is much smaller and poses less risk to the overall financial health of the organization. It's hard not to like the pace of orders, the size of its backlog, and the trajectory of industrial segment margins. We have recently opened positions in both the portfolios of our Dividend Growth Newsletter and Best Ideas Newsletter.
Performance of GE's Dividend Post-Cut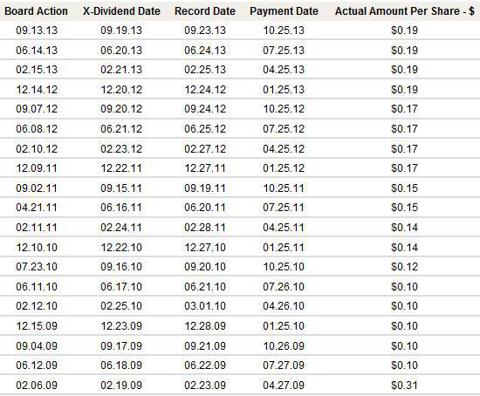 Image Source: GE
Disclosure: I have no positions in any stocks mentioned, and no plans to initiate any positions within the next 72 hours. I wrote this article myself, and it expresses my own opinions. I am not receiving compensation for it (other than from Seeking Alpha). I have no business relationship with any company whose stock is mentioned in this article.
Additional disclosure: GE is included in the portfolio of our Best Ideas Newsletter and the portfolio of our Dividend Growth Newsletter.