American International Group (NYSE:AIG) has made another vital step in shaking off its bail-out image earned during the financial crisis and presented an impressive quarter. AIG also declared a quarterly dividend of $0.10 per common share which will be paid on December 19, 2013. The continuation of a regular dividend highlights AIG's immense progress it has made since it was bailed out five years ago. Though the annual forward dividend yield stands at only 0.77%, it is definitely a good thing for shareholders, and dividend payments should ultimately attract new segments of buyers. AIG also continued minor share repurchases during the third quarter. The company invested $192 million to buy back 4 million of its common shares.
AIG's diluted EPS for the third quarter 2013 stood at $1.46 compared to $1.13 in the third quarter 2012 (a y-o-y increase of 30%). After-tax operating income per share came in at $0.96 vs. $0.99 last year.
AIG Property & Casualty
Net premiums written fell slightly to $8,660 million in Q3 2013 compared to $8,712 million in Q3 2012 (minus 1%). Pre-tax operating income increased 33% to $1.0 billion mainly because of better underwriting results. AIG's Property & Casualty unit had a combined ratio of 101.6 in the third quarter 2013 vs. 105.0 last year. Although the combined ratio declined 3.4 percentage points y-o-y based on better pricing and risk selection, it is clearly too high and lagging peers. AIG will need to focus on improving this key performance indicator in the future.
AIG Life & Retirement
Pre-tax operating income increased 38% to $1.1 billion compared to $826 million last year. Premiums and deposits increased 76% to $8.4 billion vs. $4.8 billion in 2012. Assets under management increased 10% to $304 billion. A rising interest rate environment is likely to turbocharge earnings in this division in the future.
United Guaranty
I am particularly upbeat about AIG's mortgage unit. The company posts fantastic results but is just too small to have a significant impact on AIG's results as it is overshadowed by AIG P&C and Life. I have argued that a spin-off of United Guaranty might be an option to unlock value and raise its visibility.
New insurance written increased 34% to $14.4 billion compared to $10.7 billion in Q3 2012. Pre-tax operating income increased 14-fold to $43 million. A recovering housing market in the US supports United Guaranty's above-average operating performance. Private mortgage insurers such as Radian (NYSE:RDN) and MGIC (NYSE:MTG) appear to still be in-play stocks with a lot of return potential and the same goes for United Guaranty. The mortgage sector is roaring back and AIG's mortgage unit is uniquely positioned to capitalize on strong expected mortgage growth.

Click to enlarge
Don't worry about ILFC
When it comes to ILFC, I do not understand the impatience of investors. AIG classified its aircraft leasing unit ILFC as a non-core asset years ago. It intended to sell the unit to a Chinese consortium which couldn't come up with financing in time and the sale fell through. Since then the market keeps referring to ILFC wondering when and how the unit will be sold off. Reuters reported on October 24, 2013:
AIG said in December 2012 that it had reached an agreement to sell a stake of up to 90 percent of California-based ILFC to a consortium of investors, based mainly in China, for $4.7 billion.

The investor group - P3 Investments and Taiwan's Fubon Group - is now buying an 81 percent stake and AIG will hold the remaining 19 percent, the sources said.
I don't really see any pressure to sell the unit fast. In my opinion, a trade-sale to a finance consortium leaving AIG with a minority stake is inferior to an IPO. Given the momentum in stocks, an IPO could probably go through really smoothly and at a good price. Whether trade-sale or IPO, ILFC will eventually be sold and a good chunk of liabilities will fall off AIG's shoulders with it.
Book value
In the third quarter 2013, AIG's book value per share stood at $67.10 and book value per share ex AOCI at $62.68. With a current share price of $51.65 AIG still trades at a 23% discount to total book value and at an 18% discount to book value ex AOCI.
AIG increased book value per share from $66.02 in Q2 2013 to $67.10 in Q3 2013: A plus of 1.6%. Book value per share ex AOCI increased from $61.25 in Q2 2013 to $62.68 in Q3 2013: An increase of 2.3%.
Share performance
AIG has been doing well over the last year with a gain of 47% and clearly is one of the top performers in the financial sector.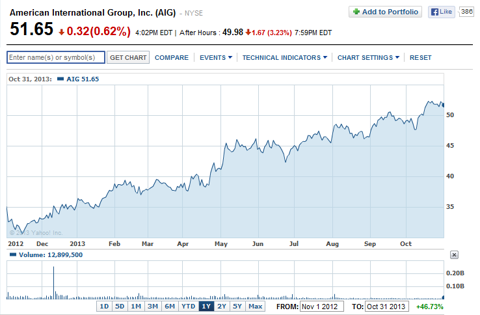 Click to enlarge
AIG's bailout history as well as its inferior combined ratios compared to peers are the reasons why the return differential between AIG and its competitors persists. MetLife (NYSE:MET) and The Travelers Companies (NYSE:TRV) are up 38% and 118% respectively. Prudential (NYSE:PRU) is the best performing large-cap insurance company with a five-year return of 136%.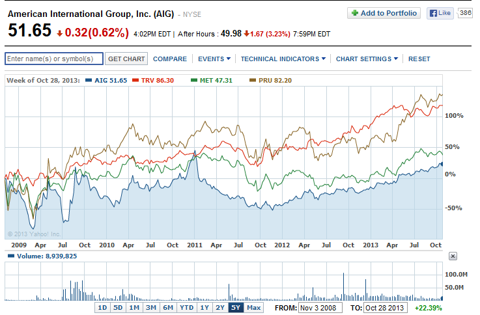 Click to enlarge
Conclusion
AIG's overall Q3 results were strong and clarity about dividend payments will likely attract a new set of buyers. Even though AIG is trading lower after hours and investors are selling on good news, AIG makes a compelling long-term value proposition based on momentum in insurance results and a low relative valuation. AIG still trades at meaningful discounts to book value per share and book value per share ex AOCI. AIG has also grown underlying book value markedly over the last three years. United Guaranty is set to profit from increased insurance activity in the mortgage sector and a sale of ILFC could function as another catalyst to propel the stock price higher.
AIG needs to focus, however, on its cost structure and pricing to improve the combined ratios in both consumer and commercial insurance underwriting. Both segments have combined ratios of around 100 which will neither be sustainable nor profitable in the long-term. I am confident that AIG can overcome those pricing challenges and reiterate my Strong BUY rating on AIG common stock and warrants.
Disclosure: I am long AIG. I wrote this article myself, and it expresses my own opinions. I am not receiving compensation for it (other than from Seeking Alpha). I have no business relationship with any company whose stock is mentioned in this article.