Price volatility of leveraged long ETFs often offer appealing opportunities to active investors, and the present is no exception. This article updates a similar review of a month ago.
We get the best possible look at probable coming prices for these ETFs by using Intelligent Behavioral Analysis. It is done by seeing how the agents that facilitate portfolio-adjusting volume trades hedge the at-risk positions they must take to get desired trades filled for market-moving, big-money-fund clients. What those pros are paying for protection, and the way the hedges are structured tell what is believed may be likely.
The resulting price-range expectations are regarded to be those of the clients, as seen by the facilitators, the professional market-makers [MMs]. Since these are reflected in their forward-looking, self-protective actions daily, they provide a sensitive measure of the impact quarterly earnings reports may have on both expectations and on actual prices in next day, next week, and next month's terms.
Here is the prospective trade-offs of upside price change vs. drawdown exposures for the most actively-traded of these ETFs:
Click to enlarge
(used with permission)
ETFs above the diagonal line are seen to have more risk than reward at present. Those in the green area offer at least 5 times as much gain opportunity as downside concern.
Forecast specifics are presented in the following table: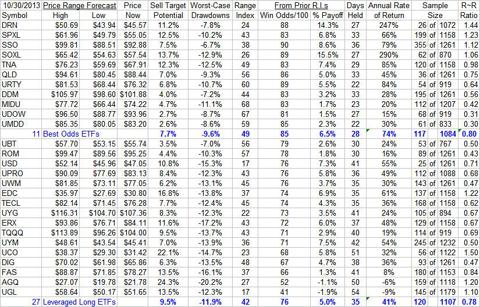 Click to enlarge
For those new to this analysis, the sell targets are the top of the range forecasts, worst-case drawdowns are an average experience of implied forecasts during the last 3-5 years' having a balance of upside to downside like today's. That balance is expressed in the Range Index, which tells the percentage of the forecast range from low to high, that lies below the Price Now. The win odds are the proportion of those similar prior forecasts that produced profitable experiences in the 3 months subsequent to the forecast, usually by reaching sell targets.
That R~R ratio is a comparison of the sizes of Sell Target prospect and Worst-Case price drawdown experiences. The top 11 ETFs all have had profit opportunity in at least 8 out of every 10 prior experiences of Range Indexes like today's, and are ranked by the far right column.
The top-ranked ETFs by this approach are Direxion Real Estate (3x) Bull ETF (NYSEARCA:DRN), Direxion S&P 500 (3x) Bull ETF (NYSEARCA:SPXL), Pro shares Ultra S&P500 (2x) ETF, (NYSEARCA:SSO), Direxion Semiconductor (3x) Bull ETF (NYSEARCA:SOXL), and Direxion Small Cap (3x) Bull ETF (NYSEARCA:TNA). Other preferences among the aspects presented may put forward a different sequencing.
Make the tradeoffs between these dimensions which are most meaningful to you, with our best wishes for satisfying outcomes. See you again in a month or so.
Disclosure: I have no positions in any stocks mentioned, and no plans to initiate any positions within the next 72 hours. I wrote this article myself, and it expresses my own opinions. I am not receiving compensation for it (other than from Seeking Alpha). I have no business relationship with any company whose stock is mentioned in this article.