Barrick Gold (NYSE:ABX) reported Q3 2013 results yesterday and the market wasn't too happy with them, sending shares 5.41% lower. Barrick Gold delivered $0.58 in Q3 EPS outperforming consensus estimates of $0.50. Quarterly revenue stood at $2.99 billion compared to estimates of $2.91 billion. After all, Barrick Gold has delivered a better than expected EPS and better than estimated revenues. ABX shares also lost 5.42% in after hours trading. Reason for the decline in share price is the after hour announcement that Barrick is launching a $3 billion public equity offering in order to pay down debt and get its capital structure under control. From Barrick Gold's website [emphasis added]:
TORONTO, October 31, 2013 - Barrick Gold Corporation (Barrick or the "company") announced today that it has entered into an underwriting agreement with a syndicate of underwriters, led by RBC Capital Markets, Barclays and GMP Securities L.P. (the "Underwriters"), for a bought deal public offering for gross proceeds of approximately $3.0 billion representing 163.5 million common shares (the "Common Shares") of Barrick at a price of $18.35 per share (the "Offering"). The company has also granted the Underwriters an over-allotment option, to purchase up to an additional 24.5 million Common Shares at the offering price exercisable for a period of 30 days after closing. The gross proceeds of the Offering will be approximately $3.45 billion if the over-allotment option is exercised in full.

Barrick intends to use the net proceeds of the Offering, including proceeds realized through the exercise of the Over-Allotment Option (if any) to strengthen its balance sheet and improve the long-term liquidity position of the company by using approximately $2.6 billion of the net proceeds to redeem or repurchase outstanding debt of, or guaranteed by, Barrick, with such redemptions and repurchases focused on debt maturing in the short and medium term.

Specifically, Barrick intends to use approximately $1.1 billion of the net proceeds of the Offering to redeem the outstanding $700 million aggregate principal amount of 1.75% notes due 2014 issued by Barrick, together with the $350 million aggregate principal amount of 4.875% notes due 2014 issued by Barrick Gold Finance Corporation and guaranteed by Barrick (collectively the "Redemption Notes").
Barrick expects net proceeds in the amount for $2.9 billion ($3.3 billion if overallotment option is exercised). Barrick's common shares outstanding are expected to increase from approximately 1.0 billion shares to approximately 1.16 billion shares (1.19 billion shares if the over-allotment option is exercised in full).
Barrick Gold also issued a notice of a $1.5 billion debt tender offer to purchase bonds named on Barrick's homepage.
While the announcement came as a surprise and pushed the after hours trading price right to the offering price, the capital raise is a positive for shareholders. With gold prices down 20% this year, $8.7 billion of impairments in the last quarter, a dividend cut and high leverage ratios, it was just a question of time until either an equity offering would take place or asset sales would be conducted. The challenges the sector faces can be directly tracked down to the gold price. The declining gold price over the last year has pushed many gold producers in the sector to concentrate on cost cutting and capex reductions in order to fight significant margin erosion (Barrick Gold aims for $500 million a year in total cost savings). Barrick Gold also announced that it is going to shelve its South American Pascua-Lama operation in order to relieve cash flows.
Restructuring offers opportunity
Barrick's equity offering will position the company for higher profitability in the future. Reduced leverage will free up cash flow due to lower interest expenses. Operational and financial restructuring processes take time but are clearly in the interest of long-term shareholders who want the company to be stable and streamlined. In my article about Goldcorp (NYSE:GG) I have argued that the underlying long-term drivers of gold demand are supporting an investment in gold miners. I think that Barrick Gold is one of the most interesting value plays in the sector even though a short-term restructuring and potential partnership agreements will cloud the intrinsic value of the company for a while.
Share performance
Shares tanked yesterday closing 5.41% lower at $19.39. Barrick Gold is down 47% over the last year.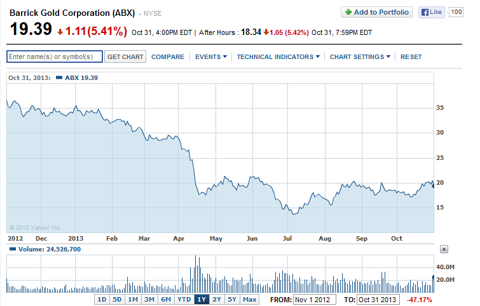 Peer firms Goldcorp, AngloGold Ashanti (NYSE:AU), Yamana Gold (NYSE:AUY) and Newmont Mining (NYSE:NEM) have done equally bad over the last year with an average loss of 50%. Share prices of major gold miners have been closely tracking the fall in gold price and highlight the strong dependence of industry profitability on the underlying commodity price.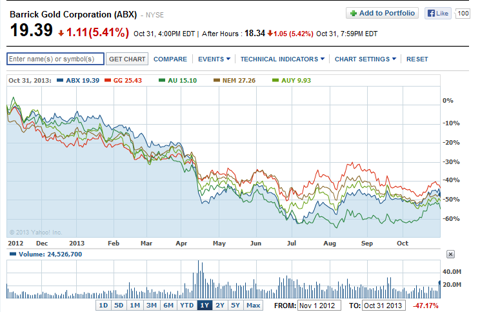 Cost advantage
Barrick Gold is still a senior, large-cap player in the industry with scale, mining experience and quality portfolio assets. The estimated 2013 all-in sustaining costs for Barrick stand at $900-975/oz compared to an industry average of $1,200-1,300. Barrick has a track record in reducing costs and returning mines to profitability. This experience in mine restructuring will eventually bear fruit when gold prices rebound.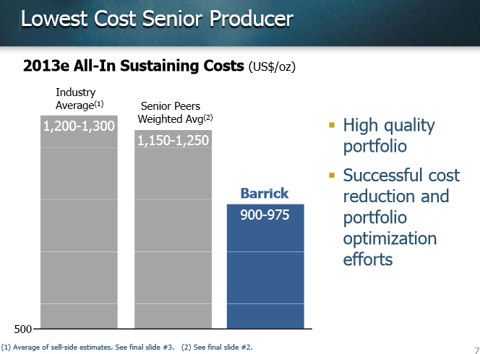 Market valuation still ridiculously low
As a contrarian investor I am specifically seeking out investments that are out of favor. Barrick Gold is such an investment simply because the majority of investors are thinking short-term and seeking instant gratification. A reorganization play like Barrick Gold doesn't fit those demands. In addition, market worries about further impairments (which affected a variety of basic materials companies in the last 2-3 quarters) have driven Barrick Gold to very attractive valuation levels.
Barrick Gold trades at only 8.54 forward earnings which is about a 50% discount from the peer group average of 15.55. Barrick is trading at those levels for a while and I do not think that Barrick Gold deserves that kind of low valuation level while other senior miners fetch significantly higher market valuations.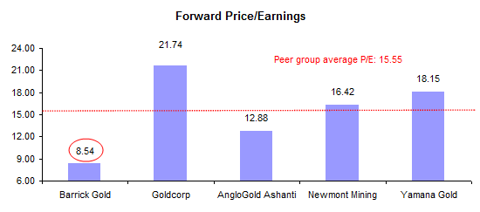 Summary
Contrarian investors as well as investors who desire a long-term gold exposure could find a real bargain with Barrick Gold. I like to emphasize the word 'long-term'. The average mutual fund holding period of a stock is about 1-2 years which doesn't fit my definition of long-term. Long-term usually means over a complete business cycle which could be somewhere in the neighborhood of 7-11 years.
Barrick is currently transitioning to a reorganization and restructuring investment. The public equity offering is the right step to improve its balance sheet and conserve cash flow. Additional strategic partnerships or asset sales could further strengthen the company and make its long-term operations footprint more attractive. While companies cannot control the gold price they certainly can take action to address cost structure and margin issues. Strong long-term BUY.
Disclosure: I am long ABX, GG. I wrote this article myself, and it expresses my own opinions. I am not receiving compensation for it (other than from Seeking Alpha). I have no business relationship with any company whose stock is mentioned in this article.