Joseph S. Tanious, CFA
Executive Director
Global Market Strategist
J.P. Morgan Funds
Anthony M. Wile
Research Analyst
Global Market Strategy Team
J.P. Morgan Funds
After record-setting earnings in the first two quarters of 2013, the S&P 500 is on track to hit another historic high in profits for 3Q13. If this occurs, the first three quarters of this year will have been the most profitable ever in the 56-year history of the S&P 500. Future earnings growth through margin expansion seems unlikely, as an improving labor market and higher interest rates will most likely squeeze margins. However, stable revenue growth, share buybacks and the additional use of debt financing should support modest earnings gains in the year ahead.
Given average valuations, return expectations in U.S. equities should be tempered. However, strong corporate fundamentals, and stock prices that are not yet overly expensive, signal that U.S. equities still have room to run.
Revenues: Slow but steady
Over the long run, S&P 500 company revenues should grow at about the same pace as nominal global GDP growth. While U.S. economic growth hasn't been spectacular this year, it has remained steady, and has translated into revenue growth in the low single-digits (below).
Global GDP Growth & S&P 500 Revenue Growth
Nominal, year-over-year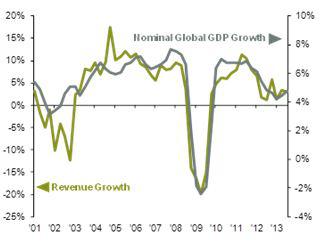 Sources: Standard & Poor's, J.P. Morgan Economics, J.P. Morgan Asset Management. Data are as of 10/28/13.
Revenues: International exposure
Over the past 10 years, large U.S. companies have shifted their business strategies in an effort to gain more exposure to international growth. However, there are times when growth in emerging markets will stall and international exposure can actually hurt revenues in the short run, which was the case for a handful of tech company disappointments in the third quarter. Fortunately, stronger-than-expected European growth offset much of the weakness in emerging markets. Based on aggregate results for the S&P 500, global exposure actually helped revenue growth in Q3 as companies with the highest international exposure (50%-90% of sales) have exceeded revenue estimates by the largest amount so far this earnings season.
Margins: Imminent collapse?
A sharp improvement in profit margins sparked much of the explosive growth in earnings following the 2008 financial crisis. The operational leverage embedded in companies after massive cost cutting was a powerful force, but could not be sustained forever. Over the past few quarters, margins have stagnated, limiting their contribution to earnings growth. While an improving labor market and higher interest rates will probably squeeze margins, the likelihood of a total collapse seems remote.
The chart below illustrates the negative relationship between a falling unemployment rate and increasing wage growth. Given continued improvement in the labor market, we expect the unemployment rate to reach a range of 6%-6.5% within the next 12 to 18 months, which should subsequently lead to higher wages and downward pressure on profit margins.
Change in the Unemployment Rate and Wages
Year-over-year, % change, 1949-2013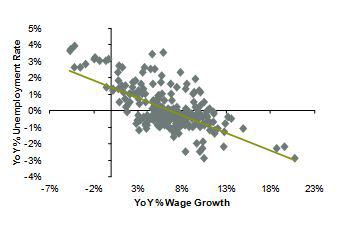 Sources: BEA, BLS, J.P. Morgan Asset Management. Wages are defined as wages and salary accruals from the Bureau of Economic Analysis's NIPA tables. Data are as of 10/28/13.
The Federal Reserve's easy monetary policy has helped drive bond yields lower, which has enabled companies to refinance a significant portion of their debt, locking in lower interest expense. As markets have begun to price for a world with less Fed easing, bond yields have risen, causing investors to worry that higher yields will pressure margins.
Concerns about higher interest rates are valid. But it is important to recognize that corporations are well positioned to handle higher rates. Record profitability and historically low interest expense have driven interest coverage ratios higher, indicating that companies have the earnings power to cover the additional cost of servicing their debt. Nevertheless, higher interest expense for U.S. companies seems inevitable, and will likely put some pressure on margins going forward.
Buybacks: Changes in the capital structure
EPS growth has been helped by share buybacks over the past few quarters as companies have used debt and cash to reduce the number of shares outstanding and, by definition, the denominator in the earnings per share calculation. Indeed, over the past four quarters, we estimate that S&P 500 companies spent approximately $375 billion on share buybacks. This additional use of leverage is likely to be a tailwind for earnings in the quarters ahead.
Investment Implications
With no impending recession in sight, stable revenue growth, share buybacks and the additional use of debt financing should support modest earnings gains going forward. Combined with strong corporate fundamentals, this points to continued strength in equities. While many valuation metrics rest at their long-run averages, bull markets do not end at average valuations. Investors should be aware of the risks inherent in expensive markets, but recognize equities may have room to push higher from current levels.
For more of our insights, please visit: http://bit.ly/1gfcKfM
DISCLOSURES:
Any performance quoted is past performance and is not a guarantee of future results.
Diversification does not guarantee investment returns and does not eliminate risk of loss.
The price of equity securities may rise or fall because of changes in the broad market or changes in a company's financial condition, sometimes rapidly or unpredictably. These price movements may result from factors affecting individual companies, sectors or industries selected for the Fund's portfolio or the securities market as a whole, such as changes in economic or political conditions. Equity securities are subject to "stock market risk," meaning that stock prices in general (or in particular, the prices of the types of securities in which a fund invests) may decline over short or extended periods of time. When the value of a fund's securities goes down, an investment in a fund decreases in value.
Opinions and estimates offered constitute our judgment and are subject to change without notice, as are statements of financial market trends, which are based on current market conditions. We believe the information provided here is reliable, but do not warrant its accuracy or completeness. This material is not intended as an offer or solicitation for the purchase or sale of any financial instrument. The views and strategies described may not be suitable for all investors. This material has been prepared for informational purposes only and is not intended to provide, and should not be relied on for, accounting, legal or tax advice. References to future returns are not promises or even estimates of actual returns a client portfolio may achieve. Reference to specific securities, asset classes and financial markets are for illustrative purposes only and are not intended to be, and should not be interpreted as, recommendations. Any forecasts contained herein are for illustrative purposes only and are not to be relied upon as advice or interpreted as a recommendation.
J.P. Morgan Funds are distributed by JPMorgan Distribution Services, Inc., which is an affiliate of JPMorgan Chase & Co. Affiliates of JPMorgan Chase & Co. receive fees for providing various services to the funds.
J.P. Morgan Asset Management is the marketing name for the asset management businesses of JPMorgan Chase & Co. Those businesses include, but are not limited to, J.P. Morgan Investment Management Inc., Security Capital Research & Management Incorporated and J.P. Morgan Alternative Asset Management, Inc.
JPMorgan Distribution Services, Inc., member FINRA/SIPC
© JPMorgan Chase & Co., October 2013
Disclosure: I have no positions in any stocks mentioned, and no plans to initiate any positions within the next 72 hours.
Business relationship disclosure: Business relationship disclosure: This article was written by Joe Tanious, Global Market Strategist, J.P. Morgan Funds, and Anthony Wile, Research Analyst, J.P. Morgan Funds. This article was submitted on their behalf via the J.P. Morgan Funds' Seeking Alpha profile.