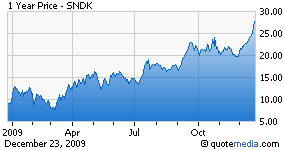 I was screening on
BarChart
for another addition to the Van Meerten/BarChart New High portfolio when I came across
SanDisk (SNDK). SanDisk designs, manufactures, and markets flash memory storage products that are used in a wide variety of electronic systems. The company have designed flash memory storage solutions to address the storage requirements of emerging applications in the consumer electronics and industrial/communications markets. Its products are used in a number of rapidly growing consumer electronics applications, such as digital cameras, personal digital assistants, portable digital music players, digital video recorders and smart phones. Look under your Christmas tree and I bet a gift under it contains a component made by them.

SNDK has had 17 price advances in the last 20 sessions and is 5 for 5 recently. A 65 day price appreciation of 47.39% is in the ball park I like. 13 of 13 BarChart technical indicators give the stock a 100% buy rating.

Wall Street brokerages have recently given out 2 new recommendations - Buy at ThinkEquity and Outperform at JMP Securities. Analysts look for a 17.56% increase in revenue next year and a 16.25% annual increase in EPS for the next 5 years.

Other sites give confirmation: Wall Street Survivor has a 5/5 Survivor Sentiment, 4/5 fundamental rating and a 5/5 technical rating. Motley Fool members think the stock will out-perform the market with a vote of 1612 to 130. The All Stars confirm also by a vote of 416 to 28.

What's not to like?

BarChart rating of 100% buy and 17 of 20 sessions of price increases
Positive Wall Street brokerage coverage
Confirmation on other sites of my research
Recommendation: Adding to Van Meerten/BarChart New High model portfolio around 28.25 with a protective stop loss no lower than 22. The stock has really been moving lately so I'd make sure you increase that stop loss at least once a week.
Disclosure: No position in SNDK at the time of publication.