In my previous article on Facebook (NASDAQ:FB), I suggested it was overvalued when you compare Facebook to Google (NASDAQ:GOOG) in 2005 when Google had similar revenues but higher growth rates to what Facebook has now. In this follow-up article, I'm going to consider the even more disturbing parallels to another company, Yahoo (NASDAQ:YHOO).
First of all, let me briefly recap my case against Facebook: I don't think Facebook's social interest advertising can rival Google's AdWords and AdSense programs. The important thing to note is advertising on Facebook is still largely based around companies' branding campaigns, and that success for a Facebook ad is defined- at least in the short run -simply by how many people click on it. My view is that there is a little bit of a bubble in social interest advertising on Facebook in the sense that at the moment that form of advertising is fairly new and users respond well initially to novel forms of advertising.
Now on to Yahoo.
Yahoo, as we all know, was started as a hobby by some friends and then quickly became one of the most valuable companies in the world, boasting of a $110 billion market cap at the top of the dotcom bubble. During the bubble, Yahoo's revenues were inflated by all the other dotcoms manically advertising themselves on Yahoo. Yahoo, just like Facebook, didn't really have any idea of how to monetize its users other than by advertising. At one point, Yahoo ventured into ecommerce and tried to take on eBay with Yahoo Auctions in the same way Facebook attempted to do daily deals.
Yet that isn't the historical period I want to compare Facebook to. It's actually the post bubble history of Yahoo that Facebook is eerily reminiscent to.
What might surprise many people is how well Yahoo was doing in the short few years before 2008 when its revenue peaked. I've included Yahoo's income statement from its 10Ks. As you can see, from 2003 to 2004, Yahoo's revenue doubled and from 2004 to 2005, there was a 44% increase. 2006 still managed a strong 23% increase. Yet little did Yahoo's shareholders know, Yahoo's revenues were but only 10% from their peak level.

Here is another 10K from Yahoo which covers the era from 2005 to 2009. As you can see, 2008 saw the peak of Yahoo's revenue, though actually 2007 was effectively the peak as well. What's astonishing is that it only took three years from Yahoo doubling revenue in 2004 to revenue essentially peaking in 2007.

After 2008, Yahoo's revenue would see a steep decline.
Before 2007, Yahoo shareholders had no inkling of their impending doom
What's really interesting is how Yahoo was valued shortly before 2007. Here is Yahoo's stock price chart.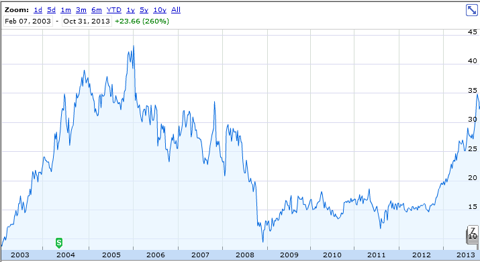 From 2005 to 2007, Yahoo was valued at nearly $40 billion or 6-8 X revenue. That's as rich as Google's current valuation. Yahoo shareholders simply assumed that the good times would continue to roll.
Now compare that with Facebook, here is Facebook's most recent full year 10K. Notice how revenue almost doubles between 2010 and 2011 and then increases another 38% between 2011 and 2012. This is eerily similar to Yahoo's growth in 2004 and 2005.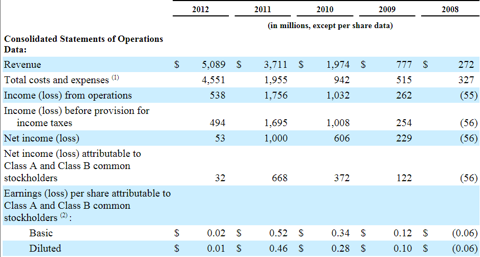 The outlier is this year, 2013, for Facebook, where Facebook is on track for 50% revenue growth, whereas in 2006 Yahoo only achieved 23%. But as I explained in my previous article on Facebook, this sharp increase in revenue is only down to Facebook's one-time monetization of mobile usage. The underlying growth, as represented by daily active usage, is 25% year over year. Or to put it another way, if Facebook had started monetizing mobile a few years ago, then growth would have been faster overall, but the long-term deceleration trend in Facebook's growth would still remain the same.
Facebook revenue will peak at $10 billion in 2015
Next year Facebook is forecasted by analysts to grow revenues by 30%. I think that this 30% figure is too high since user growth is almost tapped out within the developed world and Facebook's monetization of mobile is now almost over since mobile average revenue per user, ARPUs, are within striking distance of desktop rates. Thus I believe 2014 revenue growth will turn out to be under 20%, but even if Facebook achieves 30%, it's a massive decline from 2011 when Facebook doubled revenue.
I noted before that in the case of Yahoo it only took three years, between 2004 and 2007, for revenue growth rates to go from 100% to zero. Facebook is on that same trajectory and I would expect revenue to peak at $10 billion in 2015 after growing 20% in 2014 and 10% in 2015. Now one difference between Facebook and Yahoo is that Facebook's revenue may not necessarily decline much or at all from that peak, but ultimately it doesn't matter in the slightest from the point of view of Facebook's current valuation.
Before, I noted how Yahoo in 2007 was priced even higher than Google is now at 6-8 X revenue; well Facebook is currently valued at 16 X 2013 revenue estimates. Facebook, therefore, has twice as far as Yahoo to fall and unlike Yahoo, Facebook doesn't have Alibaba to fall back on.
Conclusion
Facebook shareholders haven't learned the lessons of history and are doomed to repeat them. Facebook's share price may fall by up to 90% in the next few years.
Disclosure: I have no positions in any stocks mentioned, and no plans to initiate any positions within the next 72 hours. I wrote this article myself, and it expresses my own opinions. I am not receiving compensation for it (other than from Seeking Alpha). I have no business relationship with any company whose stock is mentioned in this article.