"I'm twice as old, but I feel good." - James Brown
When the time of retirement comes, nothing feels better than knowing you have joy and security in your life. With an income-producing portfolio of assets ranging from stocks to property and beyond, financial security allows investors the freedom to live comfortably and seek joy as they please. After all, the years of labor are now behind and this is what they earned and deserve.
Regarding stock market purchases, most income investors have increased their next egg through index funds such as the S&P 500. This index, as well as most U.S. large-cap mutual funds, include individual stocks that have helped distribute resources throughout the world but at the cost of harm to people, wildlife and the environment.
Take Altria Group Inc. (NYSE:MO) for example. This company had one of the best performing stock returns in the latter half of the 20th century, however many deaths occurred due to the effects of tobacco use. Also, many oil companies such as Exxon Mobil Corporation (NYSE:XOM) have been responsible for unintentional environmental damages, all as a cost of doing business as a global oil distributor.
While a combination of cigarette, alcohol, oil and defense stocks have likely contributed to a portion of retiree portfolio gains over the last 30-40 years, each company has played a role that was needed in the U.S. economy. For example, individuals should have the right to smoke and drink. Also, the economy requires oil to function efficiently and defense spending has been necessary to protect our way of life.
The good thing about managing your own income portfolio is the ability to learn about which companies you support as a stockholder. While investors are not responsible for the damages that such aforementioned companies helped cause as a byproduct of their products and related growth, they are able to choose a variety of investments in the current market that offset future harm through the use of green technologies.
Green Is A New Movement - But Buyer Beware
While "going green" is a relatively new concept, it has taken root and has become a global movement. Consumers are following suit through the purchase of environmentally-conscious products in mass such as green cars, organic foods, recycled products and renewable energy.
As an income investor, supporting such a cause may feel good but is should not come at the cost of dividends or capital safety. With green a new concept and several growth-stage companies focused on such endeavors, many feel-good investments may be unwise or perhaps foolish when considering current income and earnings growth.
Take Tesla Motors, Inc. (NASDAQ:TSLA) for example. The 2014 analyst earnings estimate is for $1.72 per share, yet the company has no dividend plans. Secondly, if the compound annual growth rate from 2014 to 2019 is 20% (analysts expect 18.7%), the 2019 earnings will be $4.28 per share. At a current market price of $164.47, TSLA is trading at a 5-year forward P/E ratio of 38.43.
If you use the S&P Capital IQ projections for Tesla ($1.53 EPS 2014, 5-year compound annual growth rate of 40%), earnings will rise to $8.23 per share by 2019. S&P rates TSLA a sell and ranks the stock as overvalued.
With over-hyped players in the field that are betting on remarkable growth, the income investor must be careful when looking to invest in green-oriented businesses.
An Excellent Green Company With Dividend Growth
The list of environmentally-friendly companies that put forth a public effort to reduce their global footprint goes beyond the latest electric car or solar panel manufacturers. There are several publicly-traded U.S. companies that provide value and have a long history of stable earnings, dividend growth and sound debt levels that would make a great addition to any income-producing portfolio. The following company, HCP, is a domestic sustainability leader with a long history of strong dividend growth.
HCP, Inc. (NYSE:HCP), 4.98% yield
HCP is a $19.2 billion real estate investment trust (REIT) that focuses on healthcare-related properties that include senior living facilities, skilled nursing facilities, hospitals, life science buildings and medical office buildings. With a rising senior population, HCP is a landlord in a sector with a secular growth story that will trend over the next 20 years.
With REITs, earnings can be tough to use as a valuation metric due to depreciation and amortization. As such, a metric solely used for REITs is funds from operations (FFO) which adds depreciation and amortization to earnings and is quoted on a per-share basis. HCP analysts expect FFO of $3.10 in 2014, which puts the 2014 forward P/FFO ratio (what REITs use instead of P/E) at 13.33 based on the current market price ($42.15).
The HCP Sustainability Initiative
While HCP is very active in acquisitions that improve FFO, has access to very liquid and hospitable (no pun intended) capital markets and is the leader in the U.S. health care REIT sector, the green factor is what sets HCP apart from its peers.
HCP has a sustainability category in the highlight of their recent earnings filing, as well as on the company homepage. In the Q3 2013 earnings report, HCP announced the following sustainability highlights:
HCP has been named the Global and North American Leader for the Healthcare Sector by the Global Real Estate Sustainability Benchmark (GRESB) for the second consecutive year. Further, HCP was added to CDP's Global 500 and S&P 500 Climate Disclosure Leadership Indices, as well as the Dow Jones Sustainability North America Index.
In addition, HCP management added:
During the quarter, we (1) earned seven ENERGY STAR awards in our medical office and senior housing segments; and (2) received three LEED certifications in our medical office and life science segments. As of September 30, 2013, we have been awarded 111 ENERGY STAR certifications and 10 LEED certifications.
HCP also creates an annual GRI report, which is issued under the guidelines of the Global Reporting Initiative, as an effort to showcase company contributions to sustainable development. The 2012 HCP GRI report is 58 pages and includes an audit by independent accountants to ensure accuracy.
The GRI report covers HCP statistics on environmental and social responsibility that includes reporting across several categories including energy consumption, greenhouse gas emissions, water use, waste disposal and employment diversity.
In addition, these efforts have helped the bottom line. According to the report, HCP saved $1.3 million alone on utility expenses last year.
HCP has increased its quarterly dividend each year since its first dividend of $0.16 in February 1988. With a 25 year history of dividend stability and growth, HCP has proven to be a dream stock for income investors. Today the quarterly dividend is $0.525, for a 25-year dividend compound annual growth rate [CAGR] of 4.87% per year.
Using the midpoint of the most-recent company internal FFO estimate range for 2013 ($2.94), the 5-year FFO history showcases a drop due to affects of the global financial crisis.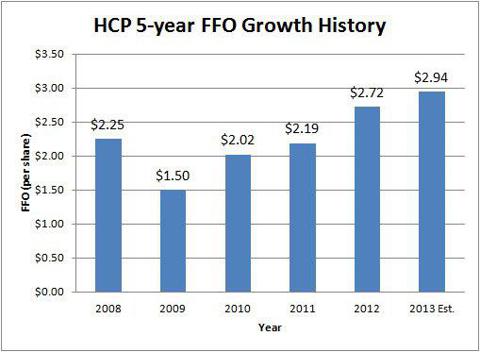 Over the past five years, HCP has slowed the rate of the dividend CAGR to 2.9% due to the drop in FFO between 2008 and 2009. With a conservative balance sheet and safe payout ratio, HCP was able to continue its long history of stable and increasing dividends through the great recession. Also to note, over the past two years the dividend CAGR has improved to 4.58%, which is more in-line with the 25-year dividend historical CAGR.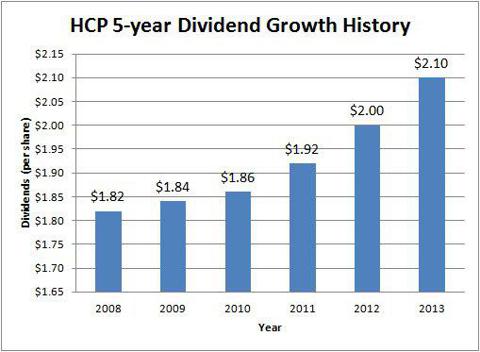 HCP - A Leader In Financial Safety
HCP has a current payout/FFO ratio of 71.42%, using the $2.94 midpoint company guidance number. REITs are required to pass at least 90% of their taxable income to shareholders, which is why payout/FFO ratios are higher with REITs versus most other stocks.
For REITs, an FFO payout ratio under 90% is considered conservative while over 100% is considered risky. A low payout ratio provides a cushion in downturns to protect the dividend, while a high ratio presents the risk of a dividend cut if an unforeseen increase in vacancies, defaults or operating expenses were to occur. At just over 71%, HCP has a very conservative FFO payout ratio and as such, the company has room to raise the dividend at a faster rate than FFO growth moving forward.
Regarding debt, HCP has a long-term debt to market capitalization ratio of 44.22%, down from 45.78% from the second quarter. A ratio of 35% to 50% is seen as an efficient use of debt with added financial flexibility to add risk if warranted. REITs with a ratio of over 50% showcase both limited financial flexibility and higher risk. As such, HCP could borrow an additional $1.1 billion for acquisitions and still be under 50%.
Conclusion
As most investors have reaped rewards through owning companies that have caused harm to the world, a feel-good, socially-conscious investment can mentally help offset those losses. The income investor should carefully consider all risks involved and choose an investment where capital contributions remain a low risk with dividends aplenty.
The great news is there are several multi-billion dollar publicly-traded dividend achievers that present a large focus on reducing their environmental blueprint. One such company that focuses on a sustainable path is the leading health care REIT HCP.
With 25 years of stable and increasing dividends, a conservative payout ratio, the efficient use of debt and exposure to secular-growth trends, HCP ranks high among socially-conscious investment options. For those looking to make green while supporting green, this well-run company with a near-5% yield may be worth further meditation.
Disclosure: I have no positions in any stocks mentioned, and no plans to initiate any positions within the next 72 hours. I wrote this article myself, and it expresses my own opinions. I am not receiving compensation for it (other than from Seeking Alpha). I have no business relationship with any company whose stock is mentioned in this article.