Arena Pharmaceuticals (NASDAQ:ARNA) is down in pre-market as its marketing partner Eisai (OTCPK:ESALY) reports its quarterly results. The biggest issue is that Eisai booked roughly $4.8 million in Net sales of the anti-obesity drug Belviq in the most recent quarter, vs. a booking of $4.3 million in the prior quarter.
There appears to be a lot of confusion among investors, so hopefully this will offer some clarity. The first issue is that this most recent report from Eisai is for its Q2 which ended September 30, 2013. Eisai works off of a fiscal year instead of a calendar year. The data from Eisai's Q2 report would align with something reported by Arena in its Q3.
The second issue is that Eisai is booking the sale of Belviq to wholesalers and distributors, not consumers. Essentially Eisai gets product from Arena and estimates what the net sales figure will be. Arena is paid on this estimate with a "true-up" coming later.
Here is where we are. In Arena's Q2, the net estimate was $4.3 million and Arena's share was about $1.3 million. It would appear that the Net sales in Arena's Q3 will be about $4.8 million, of which Arena will get about $1.5 million. I covered the potential of what is transpiring today almost 3 months ago in an article titled, "Understanding Arena's Revenue". In that article, and several times since, I have stated that Q3 may only see one warehousing restocking of product, but that Q4 would potentially bring two. I warned that it was a matter of timing. While of little solace, Arena will recognize an up-front payment from CYB of $2 million, and there will be some other, more modest revenues.
The bottom line here is that we are seeing the equity react strongly to what is a modest launch. The slower pace does not mean that Belviq will fail, but nor do we have a guarantee of success. This process will simply take time. As I have stated, it appears that next quarter will at a minimum be double what we see this quarter.
Some readers are critical of the weekly sales data I present (see below), but it is that tracking that allowed me to project what we just saw Eisai confirm months in advance. The data may not present what we want to see, but it does present what we need to see.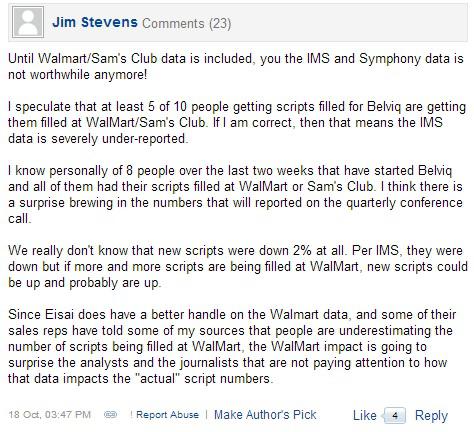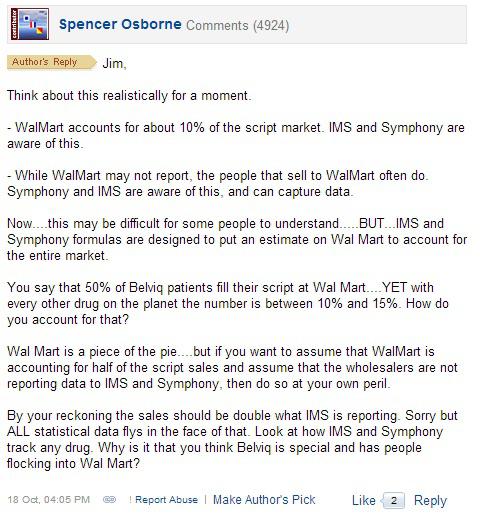 On November 7th, Arena will offer up its quarterly report. There will be some damage control needed here that defines how the launch is going. It is my sincere hope that the company issues some form of guidance to keep the expectation level realistic. Much of the stock p[rice battle we have seen since launch has been modest sales vs. aggressive expectations. Expectations finally tempered by the street, but today, with the Eisai report, is really the first time the harsh reality has been presented by one of these two companies tied to Belviq. Stay Tuned!
Disclosure: I am long ARNA. I wrote this article myself, and it expresses my own opinions. I am not receiving compensation for it (other than from Seeking Alpha). I have no business relationship with any company whose stock is mentioned in this article. I have no position in Eisai