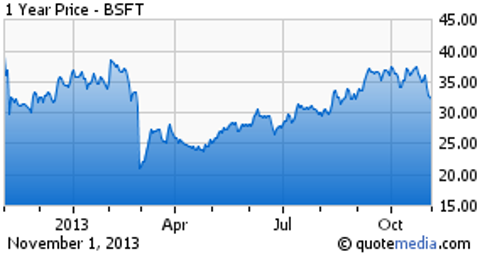 The toughest part of buying any stock is deciding where and when to sell. The key, and I say this with resounding confidence as I have made the mistake many times before, is to clearly define your exit before you buy the stock. So with the recent weakness in BroadSoft (NASDAQ:BSFT) do I cut bait and take my loss or do I hold firm? Read on for how I am thinking through it.
While it may seem difficult, and it is, to accurately predict a company's future and then try to accurately value the stock, you need to draft a roadmap. What is a roadmap? A roadmap is a view of what will happen with a stock over a long period of time broken down into shorter intervals of time with corresponding sign posts to see if your thesis is playing out.
The problem many investors make, myself included, is changing your thesis as you go. One very important, painful lesson to learn early is when your thesis is wrong don't try to look smart, just sell the stock and save the justification for another day. So I will lay out my 2 year roadmap for BSFT that will help guide whether I am right or wrong on my thesis.
For BSFT stock my 12 month target is $50, longer term target is $60+ but how do I think it will get there? Let me lay out my BSFT roadmap whereby I will walk you through why it will reach $50 at a minimum in the next 12 months. Hint- I am selectively adding during the recent pullback.
How is Management Incentivized?
It is important to know how senior management is incentivized when computing a roadmap of where a stock will go. Interestingly for BSFT, after Acme Packet was gobbled up by Oracle on February 4, 2013, BroadSoft filed an 8K dated February 19th. The 8k (current event filing) contained a revised compensation plan for the 4 top senior executives.
Coincidence? Clearly BSFT understood that they were in play and that they would either execute their business plan or be acquired by Oracle or someone else. So they laid out stock targeted levels that management should target over the next 4 years to get paid.
BSFT awarded each executive their standard RSU's (restricted stock units) that vested over a 4 year period based on operating income targets for the year. The RSU's vest based upon a combination of meeting yearly targets -- 75% revenue and 25% operating income. If by chance management does not achieve 88.4% or 97.4% of their yearly operating income and revenue targets, respectively, they earn no RSU's.
As a result, management is incentivized to achieve their targets with upside which brings modest sweeteners but most importantly to protect against missing the low end targets and getting no bonus. Just think if you were CFO of BSFT and a good part of your bonus was based on you hitting within 3% your revenue target, how aggressive would you be?
So it is no surprise that CFO James Tholen, who sets the annual guidance and updates it every quarter, is initially very conservative in forecasting the guidance, especially when it comes to revenue, and keeping expectations in check.
Current Targets for 2013
When BSFT reported Q4 2012 results in late February 2013, BroadSoft issued disappointing guidance that hammered the stock, taking it down 30% to $21. Management labeled 2013 "a transition year" as the consumer business along with professional services would decline precipitously offsetting strong growth from the core product line.
Through the first half of 2013, revenue has come in at the high end of quarterly ranges while the upper end of the full year revenue target has come in, from $189 to 186 million. As a result, 2H total revenue estimates have come in by about $3 million while billings have accelerated (read management conservatism). Software billings, the most important leading indicator, increased a resounding 25% y/y in the June quarter.
BSFT management needs to post revenue within the $181-186 million range or risk not getting any bonus for the entire year. BSFT was smart in not letting their Q1 and Q2 upside to flow through to the annual guidance. BSFT also acquired HIPCOM that adds $1.6 million to full year 2013 revenue but analysts have not raised their numbers, an added cushion.
It is also imperative that management execute with increased predictability, i.e. beat and maintain/raise the year, which in turn will lift the stock multiple and the price. Why should management care about the stock price if they continue to hit yearly targets? Read on.
The most revealing part of the 8K is related to the move to issue PSUs (performance stock units), the first time in the company's history. These PSUs vest based upon 4 different levels of stock price achieved- $40, $48, $56, and $64. They vest when the stock trades at or above any of the 4 different levels for 120 consecutive trading days. The PSUs also vest if there is a change of control provision, i.e. acquisition.
In order for BSFT to get their stock at these levels, apart from selling to an acquirer, they need to bulk up their growth engine and start showing some operating leverage. This current year has seen heavy BroadCloud investment, investments in professional services headcount, smart acquisitions, plus the expansion in their biggest ever project that is currently sitting in deferred revenue. These investments along with consumer segment returning to growth spurred by VoLTE will create a strong tailwind to revenue growth.
As for margin leverage, look for 2014 to return to pre-2013 levels operating margins in the 26% range, a level posted in both 2011 and 2012. Professional services will no longer serve as a major headwind as utilization increases as these consultants are deployed for projects already earmarked. The BroadCloud investment also was a noticeable headwind that will ease in 2014 as revenue picks up and the systems build out will be largely behind the company.
Resurgent top line growth combined with a return to 26% operating margins gets to my $2.00 eps for 2014. In CFO James Tholens words at the William Blair conference:
"2014 will be a very good year."
Road Map to $40, $48, $56 and $64
If they can execute on their financial model as outlined above, how do we get to $40, 48, 56 and 64 targets? With two quarters remaining to be reported this year, BSFT wants to make the year revenue and operating income targets, get their bonuses and regain lost confidence from investors. A modest top and bottom line beat this quarter combined with a slight upward move in the year's eps should get the stock moving higher. Then investors will be able to reasonably focus on 2014- the big move.
Given management's RSU's are tied to achieving the revenue (75%) and operating income (25%) targets CFO Tholen will likely set the initial 2014 eps target around $1.65-$1.85 vs. $1.67 Street. At that level, the Street numbers will move up and numbers will be set at a level that they can consistently beat each quarter and raise the year steadily. As investors gain confidence that numbers are reasonable and beat/raise quarters lie ahead then the multiple will start to expand.
Here's my "Road Map":
Q3 report early November- solid quarter and narrow year toward high end. Stock moves toward $40 as investors regain confidence in management and investors start to focus more on 2014
Q4 report February 2014- solid beat and initial 2014 guidance gets investors starting to think about the big 2014 year. The $1.65-1.85 range is thrown out and investors use 25x $1.75 2014 eps (i.e. $44) as company points to low to mid 20% OM and revenue growth returns to 20% range.
Google (NASDAQ:GOOG) partnership gathers momentum. At the BroadSoft Connections conference Google and BroadSoft announced their partnership but as I wrote it was downplayed for numerous competitive reasons.
Investors should note that Google dropped voice from Google Hangouts. It appears that they really like the BroadSoft solution. Don't be surprised if Microsoft (NASDAQ:MSFT) feels further threatened by BroadSoft-Google alliance and moves closer to Cisco (NASDAQ:CSCO) of all companies.
As I wrote in my first BSFT article, the Google relationship could bring BSFT upwards of $300 million in annual revenue as cited by William Blair analyst Dmitry Netis. If even a fraction of this number gets added to investors' models, the multiple expands and eps $2.00 becomes a baseline. At that point 25-30x multiple on $2.00 gets us to the $56 target.
Once BSFT returns to its mode of beating and raising (which will start in 2014 in earnest), look for acquirers like Oracle (NASDAQ:ORCL) to start aggressively courting BSFT. The synergies with Acme Packet are obvious but Oracle is among the savviest buyers in the world so they will not pursue BSFT unless they get a sense of urgency.
If Oracle feels like BSFT is starting to get away from them, they will pounce. That is when the stock price of $64 as a takeout value will come into play. A 25x multiple on $2.50 in 2015 earnings (i.e. $63) gets us pretty close to the last stock tier ($64) as per their PSU plan.
Now you have the road map to follow BSFT to a double from here. Ride out the bumps, yes this week has been hard, and you shall be richly rewarded.
Disclosure: I am long BSFT. I wrote this article myself, and it expresses my own opinions. I am not receiving compensation for it. I have no business relationship with any company whose stock is mentioned in this article.