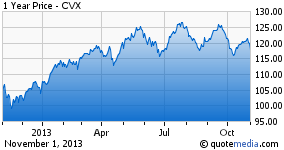 Shares of Chevron (NYSE:CVX) were trading about 2% lower as investors digested its financial results, even though these results were telegraphed three weeks ago in the pre-release. The quarter was relatively good and leaves the bull case in Chevron intact.
Revenue rose by 2% from $56 billion to $57 billion, though earnings fell from $2.69 to $2.57. The primary driver of the lower earnings was weakness in CVX's refining segment. Weak refining margins are not unique to CVX. Refiners make money when the WTI-Crude is wider as they are able to sell finished product at a bigger premium to their crude. Last year, spreads were near historic highs at $10, and over the past 12 months have been steadily tightening. This is out of CVX's control and knocked about $300 million from refining earnings. Just about every refiner (or refining subsidiary) has been reported significantly lower results. Last year's refining numbers were really unsustainable, and investors should remember Chevron is mostly an upstream play with refining accounting for less than 10% of earnings power. This decline is not a reason to sell.
That is why I was comforted by Chevron's upstream results. Chevron has invested heavily ($29 billion year to date) in growing production through new fields and expanding ones currently on-line. In the quarter, the company grew production by about 3% to 2.59 million barrels a day from 2.52 million barrels a day. US and International oil production grew by 2.5% while natural gas production grew an extremely strong 4%. Chevron remains poised to keep growing production, something competitors like Exxon Mobil (NYSE:XOM) have struggled to do, with several major projects ramping up into 2014.
Chevron's balance sheet remains robust with no net-debt and gross cash of $18.5 billion and annual operating cash flow of $30 billion. The company also continues to return capital to shareholders, spending $1.25 billion on buybacks last quarter and pays a $1.00 quarterly dividend, up 11% yearly. The company has grown its payout every year for the last decade with accelerating growth. Chevron still only pays out 35-40% of earnings in dividends, so I would expect strong dividend growth for the next five years.
With $11 in 2014 earnings, Chevron trades at a cheap 10.5x multiple, despite its strong production growth profile. This quarter confirmed that this production growth of 2-3% annually is on track. With a 3.4% dividend yield that will grow, a buyback plan, strong balance sheet, and low multiple, Chevron makes sense on this pullback. This is an opportunity for the long-term investor to take a position in a truly premier energy company.
Disclosure: I have no positions in any stocks mentioned, and no plans to initiate any positions within the next 72 hours. I wrote this article myself, and it expresses my own opinions. I am not receiving compensation for it (other than from Seeking Alpha). I have no business relationship with any company whose stock is mentioned in this article.