Medtronic, Inc. (MDT) recently reported the launch of its new product, the SOVEREIGN Spinal System, in the United States. The SOVEREIGN Spinal System is used to treat patients suffering from a degenerative condition affecting the lumbar spine.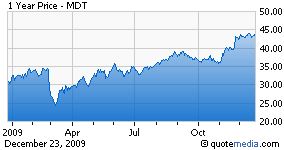 The new product is an intervertebral body (interbody) fusion device designed to stabilize the spine and promote bony fusion, which involves the joining of two bones together, such as adjacent vertebrae. It is seen that when a lumbar disc is diseased it can lose height, thereby compressing nerve roots and the spinal cord that cause pain in the legs and lower back. It has been estimated that more than 200,000 lumbar fusion procedures are performed annually in the United States.
The new product, the SOVEREIGN Spinal System, is made up of polyetheretherketone (PEEK) and is radiolucent on x-rays. This allows the surgeon to view the spinal fusion during a follow-up visit. The new product may be used as a stand-alone device or in combination with supplemental fixation.
We think that the new product will substantially boost sales in Medtronic's Spinal and Biologics segment. This in turn will expand the company's top-line.
Medtronic is one of the world's leading medical technology companies, specializing in implantable and interventional therapy devices and products. The company's closest rivals are Boston Scientific Corp. (BSX) and St. Jude Medical, Inc. (STJ).
Recently, we downgraded Medtronic to 'Neutral' in view of limited upside potential for the stock from current levels. However, the company's long-term growth story remains intact.