On Monday, MoneyGram International Inc. (NYSE:MGI) announced its decision to make an optional repayment of $40 million to its debtors on Dec 22, 2009. The prepayment of $40 million is against its tranche B term loan taken under the senior secured credit facility. This will bring down the total outstanding debt of the company to $187 million, shrinking it by 19% since Jan 2009.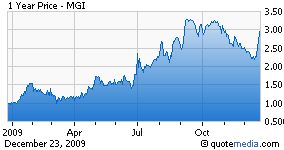 MoneyGram's debt-cutting initiatives have become a major priority for the company as mounting losses in the securities portfolio are already hampering the organic growth and earnings. These losses have largely resulted from the deterioration in the value of the company's holdings of asset-backed securities, which were negatively impacted by changes in the credit ratings or their underlying collateral. However, the company is realigning its portfolio and has also used valuation gains on put options to partially offset the net security losses.

Additionally, as of Oct 2009, Fitch's issuer default ratings on MoneyGram were downgraded to "BBB-" from "BBB". Due to on-going issues in the credit market, Fitch remains concerned that MoneyGram could be prevented from accessing a portion or all of the uncommitted sources of liquidity. The company has already fully utilized its $250 million senior unsecured revolving credit facility maturing Jun 2010. Under this scenario, MoneyGram would likely need to sell assets to raise liquidity, potentially at below market prices. This could even be detrimental to the company's balance sheet position. Hence, we believe that MoneyGram has taken a vital decision to strategically focus on reducing its total outstanding debt obligation. Compared to its peers such as Western Union Co. (NYSE:WU) and American Express Co. (NYSE:AXP), MoneyGram's balance sheet is rather weak.

Hence we believe, the debt-relieving strategies will not only help in strengthening the capital position and operating leverage but will also help the company prepare itself to move beyond the current limitations once the economy rebounds.

On another note, on Dec 21, 2009, MoneyGram announced its agreement with SMART Communications, Inc., the leading wireless services provider in the Philippines, to make money transfers easier and more convenient in the Philippines simply through a SMART Money account on mobile phones.

Currently, MoneyGram has launched a direct channel of its SMART Money service in a select number of agent locations in San Diego, California, and Hong Kong. Consumers can send transactions from these pilot locations to any SMART Money account linked to the SMART mobile phone in the Philippines. The deal will enhance MoneyGram's international coverage, which can soon become a revenue spinner.

On Tuesday, the shares of MoneyGram closed at $2.96, up from 12%, on the New York Stock Exchange.