Introduction
In this article, I'll have a look at the just-released Q3 results for Barrick Gold (NYSE:ABX). As the company now also has announced it is suspending all future capital spending at its gigantic Pascua Lama project, I feel the market might be underappreciating the relatively OK quarterly results. I'll provide my view on the company's financial statements and balance sheet and will briefly discuss Barrick's dividend plans. This will result in the investment thesis at the end of this article.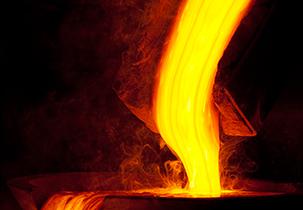 My view on the financial results
In the third quarter of this year, Barrick Gold produced 1.85 million ounces of gold at an average all-in sustaining cost (AISC) of $916/oz, which indicates that Barrick Gold is currently producing at a cheaper cost than for instance Goldcorp (NYSE:GG) which revealed an AISC of $992/oz and thus produces at an 8% higher cost.
The high copper and gold production resulted in revenue of almost $3B, generating an adjusted operational cash flow of $1.3B and an adjusted net profit per share of $0.58. This might sound excellent, but as I explained in previous articles, it might make more sense to have a look at the cash flow statements instead of the income statement, as the cash flows might give a better indication about the quality of the underlying business.
So if we move over to the cash flow statement, one clearly sees Barrick generated an operating cash flow of $1.4B ($1.23B after taxes), which equals approximately $1.4/share. However, Barrick also spent $1.2B in capex, so almost all of its net operating cash flow was spent on other projects. Fortunately, Barrick also recorded a cash inflow from divestments totaling $417M. This allowed the company to repay $565M in debt which only had a negative influence of $147M on the cash position.
I think Barrick's quarterly results are better than expected, and I'm especially happy with the relatively low AISC of $916/oz, which allowed the company to reduce its expected cost for the year into triple digit territory. If one wouldn't consider non-recurring events, Barrick Gold would actually have been free cash flow positive, and as ABX has announced it would stop spending money at the Pascua Lama project, I'm expecting a FCF positive Q4 for Barrick.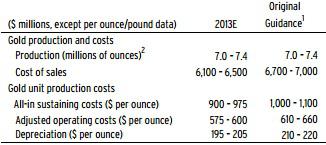 My view on the balance sheet
As always, it's important to have a look at the balance sheet of companies to see how flexible they can be. In Barrick's case, its working capital position is very decent at $2.6B, and the current ratio is 1.78. This means that Barrick has sufficient current assets to cover its current liabilities. As I expect Barrick Gold to be free cash flow positive from Q4 on, the working capital position should increase, which will provide the company with more flexibility.
However, I think investors should not ignore the total liabilities position of $23.8B, which is considerable, given that the Debt/Operating Cash Flow ratio is approximately 4.25, which is quite high. So I think Barrick will keep most of its newly generated cash on the balance sheet to effectively reduce the net debt position.
The dividend
Barrick has recently cut its dividend from $0.20/quarter to "just" $0.05 per quarter, which results in an approximate dividend yield of 1%. I think the dividend cut was necessary, as the 75% reduction allows Barrick to keep $600M per year on its balance sheets in order to reduce the net debt and debt ratios.
If Barrick would slash its dividend entirely, the additional savings would be :just" $200M per year, a number which probably isn't high enough to offset the negative implications of a dividend cancellation. Because of these reasons, I think ABX will continue to pay a quarterly dividend of $0.05, which will be funded from its internally generated free cash flow.
Update - The capital raise
Right after submitting this article, Barrick Gold announced a capital increase of $3B at $18.35 per share. The raised money will be used to reduce the company's net debt position, something I can only applaud.
This placement also means that the option premiums in the "investment thesis" will no longer be valid tomorrow, and I will update the strategy in a comment as soon as the market opens.
Investment Thesis
Barrick Gold reported better quarterly results than I expected, but I have the impression that the "big news" on halting the Pascua Lama project is overshadowing the decent operational results. Digging in the financial statements revealed that the company will very likely be free cash flow positive from this quarter on as the capital expenditures will decrease further now all expenses on the Pascua Lama project have been suspended.
I believe the light is shining at the end of the tunnel for Barrick, but I would like to emphasize that investors should remain very cautious because of the company's heavy debt on the balance sheet. However, I feel like today's drop in share price isn't warranted, based on the operational results.
It might make sense to write put options, and I'm particularly looking at a P17 Jan 2014 for an option premium of $0.52 (which results in an annualized yield of 12%), or a P15 April 2014 for the same price for an annualized yield of 7%.
Disclosure: I have no positions in any stocks mentioned, and no plans to initiate any positions within the next 72 hours. I wrote this article myself, and it expresses my own opinions. I am not receiving compensation for it (other than from Seeking Alpha). I have no business relationship with any company whose stock is mentioned in this article.
Additional disclosure: I have no position in ABX, but might write put options as explained in the article.