The golden eggs of any investor's portfolio often result from stocks at 52-week lows, particularly multi-year lows. These investments often carry the most risk though, and it is important to separate the good eggs from the bad. Exelon Corp (NYSE:EXC) presents an excellent opportunity to add a golden egg to your portfolio, despite what the bears are saying. I strongly believe the share price has bottomed out at ~$28, and will outperform over the next eighteen months. Baron Rothschild once said "Buy when there is blood in the streets," and the current share price presents a fantastic opportunity to buy while others are wary. This contrarian investment has an irresistible risk/reward tradeoff, and it is a utilities company so it adds a nice balance to any aggressive growth or value portfolios that would usually be devoid of utilities.
Exelon Corp's Operations
Exelon is engaged in utilities, primarily the generation and distribution of electricity on a domestic level. It operates in 47 states and the D.C. area through many different subsidiaries including Baltimore Gas & Electric, and PECO Energy Company. Its Constellation business unit manages its energy sales while its primary generation service is run through the Exelon Generation Company.
Exelon is renowned in the energy market for being the largest operator of nuclear power plants, which provide in with a low-cost revenue stream and high profit margins, even within the current depressed market. The company is very exposed to certain sector of the U.S. energy market, deriving ~50% of its sales from the East Coast, and the Midwest. Its primary competitors in the US utilities markets include American Electric Power Co. (NYSE:AEP) and Edison International (NYSE:EIX).
The Drivers Behind The Current Share Price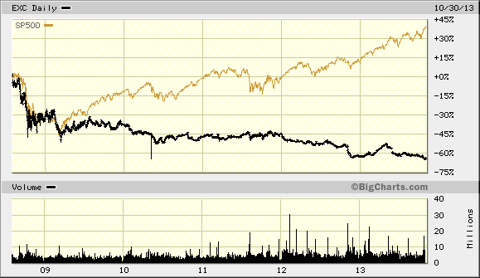 It should not be a secret that utilities have not fared well since the recession. It would be wrong to suggest the recession caused falling energy prices, rather the fall in energy prices was caused by a rise in cheap gas caused by vast increases in supply. Consequently, since late 2008, Exelon has fared very poorly when compared with the general market. Over the past five years, the company's share price has fallen at a monthly geometric average of 0.88%, significantly inferior to the 1.17% monthly return the S&P 500 recorded over the same time period. It was by no means the worst performing utility, however, its return was low enough to rank it in the worst 15% of stocks to own since the recession.
Exelon is also in the unfortunate position that it derives 100% of its sales from the domestic market. Consequently a variety of important pricing decisions in areas of the U.S., most notably the Chicago auction, have forced Exelon to significantly cut its revenue forecasts, as future growth potential declines. The Chicago decision led to the May-June price decline, as confidence in the stock's earnings potential plummeted.
Prices Are Down, Profits Are Up
The utilities sector has been among the hardest hit in the years following the recession. Falling energy prices virtually eliminated previously healthy profit margins, and energy prices have remained low since this period, even falling further. Impressively, however, Exelon have managed to turn out higher profits, even after the further price fall. This is indicative of management's forward looking strategy, focusing primarily on low cost sources of energy such as nuclear, and high vertical integration to eliminate statistical fluctuations in prices occurring in different parts of the energy distribution process.
I strongly agree with this paper that the natural gas decline has run its course, and is set to rise over the winter months. By investing in Exelon, I am not just making a contrarian investment in the company, I am also making a contrarian bet on natural gas prices. As natural gas becomes the preferred source of energy in the United States, much of the excess will start to be consumed, this along with rig numbers falling, and production declining, will lead to upward pricing pressure. As the winter nears, I believe that this pricing trend is beginning and natural gas prices will head upward.
Exelon is also the most efficient of the different utility companies. The firm's nuclear power plants operate at 95% of potential capacity, and are very low cost energy generators compared to its competitors. This will allow Exelon to benefit the most from rising gas and coal prices.
Growth Through Acquisition Expected To Continue
Exelon's $7.9bn acquisition of Constellation Energy (NYSE:CEG) has allowed it to organize and streamline its energy sales. This acquisition has enabled it to increase its profit margins while diversifying earnings. It also brought a whole host of new customers, and more experience to the managing board (four Constellation executives joined the Exelon board). Exelon also acquired Deere & Company's (NYSE:DE) wind farms back in 2010, providing more than 700 megawatts of wind generation capacity.
It seems that the board is pursuing another major acquisition, however, it is unclear what sort of company Exelon would want to acquire. Nonetheless, we can expect that Exelon will look for a company not subject to heavy regulation which would suggest that they will target a power generation company. FirstEnergy Corp (NYSE:FE) would be just one of a number of potential target. FirstEnergy has a P/E of 51x which might dissuade a takeover, however, its strong projected earnings growth, leading to a forward P/E of 11x means it is still a scintillating idea and a profitable one at that.
Exelon's Nuclear Energy Is Hard To Match
Perhaps the most compelling aspect of Exelon, is its nuclear energy capacity. The nuclear power plants are what set Exelon apart from its competition and provide a strong economic moat. Nuclear power plants are extraordinarily hard to build as they take a long time and have very large costs associated with construction. They are also often banned by local government, or face strict regulation. Consequently, Exelon virtually has a monopoly in low-cost energy in the areas it has nuclear plants. These nuclear plants operate at extremely low variable costs, despite the high initial fixed costs, and generate few harmful emissions. As prices seem set to rise, profits from their nuclear fleet will place Exelon in a tier above its competitors.
Growth In Share Price, Driven By Growth In Earnings
Analysts expect that Exelon will create $2.45 per share in value for shareholders in 2013. Consequently, with a $28 per share valuation, earnings would have to sink 5% on average over the next five years while the firm's constant long term growth would be just 1%. We also have to apply a hefty discount rate of 13%, and even in this case we get an intrinsic value of $27.99, which is extremely close to the current share price of ~$28. I am quite comfortable labeling this as my worst case scenario, as I don't believe the stock will perform worse that this.
In an ideal world, I would expect earnings to grow at a geometric average of 1% for the next five years and then continue at a long term rate of 3%. A discount rate of 10%, provides a less conservative estimate for the weighted average cost of capital. This valuation gives a share price of $52.2, 86.5% upside from the current share price. We can label this situation our best case scenario. Consequently, the intrinsic value of Exelon's shares lie between $27.99 and $52.2 with a high degree of certainty.
For my portfolio, I calculated the intrinsic value using stagnant earnings growth over the next five years, a long term growth rate of 2%, and a weighted average cost of capital of 12%. Therefore, my intrinsic value for Exelon is $39.2 a share, 40% upside from the current share price. I do not believe the stock will further decline and I believe there is limited risk, combined will a large reward. I will sell the first 20% of my position after the stock has increased by 8%, and then I will sell in 10% increments, as the stock increases each further 4%. I believe I will realize the totality of this gain over the next eighteen months, and I expect to close out my position no later than April of 2015. If the stock declines by more than 15%, I will increase my position by 50%, as I am confident in my analysis. Thanks for reading!
Side note: The company also offers a 4.55% dividend for those of you who are dividend investors. Therefore, it is also a solid investment to derive income from.
Disclosure: I am long EXC. I wrote this article myself, and it expresses my own opinions. I am not receiving compensation for it (other than from Seeking Alpha). I have no business relationship with any company whose stock is mentioned in this article.