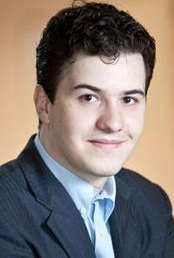 Gregory Pepin is chief analyst for the Vatea Fund, an equity fund based in the Cayman Islands. The fund's portfolio is built upon fundamental analysis of stocks, with a long term horizon. The fund has been modeled on the investment approaches of Benjamin Graham, Warren Buffett and Philip Fischer.
Pepin is also a board member of Oxygen Biotherapeutics (OXBT.OB), a stock which Vatea owns and has strong expectations for in the coming years ("the upside in Oxygen could be huge"). However, Pepin notes, "it cannot be our highest conviction stock pick since it is a small cap right now." Instead, Pepin focused on Verifone (NYSE:PAY), a mid cap valued currently at around $1.34 billion. The company is engaged in secure electronic payment solutions. Here's Gregory's investment thesis:
What is your highest conviction stock position in your fund - long or short?
We recommend going long Verifone. You should plan to own the stock over a 2-3 year period at least.
Tell us a bit about the company and what it does.
Verifone is engaged in secure electronic payment solutions, a business area with a lot of growth potential. The company provides solutions and services that add value to the point of sale with merchant-operated, consumer-facing and self service payment systems for the financial, retail, hospitality, petroleum, transportation, government and healthcare vertical markets. Every time your purchase using your card on a Verifone system the company earns revenue. The company also develops a new payment system through the Apple (NASDAQ:AAPL) iPhone.
Can you talk a bit about the industry/sector? How much is this an "industry pick" as opposed to a pure bottom-up pick?
The industry/sector has, according to us, huge growth potential, especially in the BRIC countries (Brazil, Russia, India and China).
We think that more and more people will use debit and credit cards or mobile devices to pay for their purchases. Despite the strong growth potential and the strong market potential, currently, there aren't many players in that market. We can really only count three: Hypercom (NYSE:HYC), Ingenico and Verifone.
Our pick is kind of a mix between pure bottom-up and industry pick. We like the industry in and of itself but that's not what's most interesting--to us it's the growth potential. We do believe that other industries offer more long term growth (renewable energy for example or biotechnology) but it is still a very attractive sector. Along with the good growth potential of the sector, we like Verifone because of their portfolio of products and more importantly th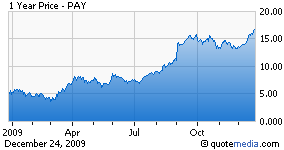 eir portfolio of customers. We also think the upside on the stock is quite compelling because of the 2007 earnings reinstatement that generated too much selling on the stock.
Can you describe the company's competitive environment? How is this company positioned vis a vis its competitors?
As I mentioned above, the sector has just three major players, which means there's enough room for everyone. However, we do note that there is some kind of collaboration underway concerning security and encryption of data, which is a major component of their services and products.
What really differentiates all three players is their customer targets and therefore the companies' margins. We think for example, that Ingenico is a great company but they didn't develop themselves enough along high growth and within the high end market that provides the best margins and development potential. Most of their revenue is a percentage of total sales generated through their device. Therefore if you pick big consumer markets or high growth markets you will get better revenues and better margins.
Verifone is the leader in the USA but they also are the leader in the Swiss and German markets which are high end (thanks to the high purchasing power of those countries). Along with that, the most attractive thing about Verifone is their leadership in BRIC countries, particularly in Brazil.
Verifone's approach--picking only high end customers, high end retailers and high end markets--along with its great potential for market growth should pay off over the long term and distance it from competitors. You also have to take into account their new payment app on the iPhone which opens a new business opportunity for Verifone. It seems the company is moving more and more toward providing solutions for mobile payment through smartphones for example. That market offers amazing growth opportunities.
Can you talk about valuation, and how its valuation compares to competitors?
Right now the company is priced at approx. 16x FE. It is quite a low valuation when you see for example that Ingenico, the other big player, is valued at 26xFE. The main reason the company is undervalued is due to their 2007 earnings re-statement. There was an issue with inventory accounting. That news, which broke right in the middle of the financial crisis, increased the negative reactions, and dealt a huge blow to the stock, which dropped from $50 to $15 and eventually to $4 when they issued some kind of profit warning in early 2009.
Since then, for investors and analysts, the stock has been considered a wait-and-see. We do believe that the issue has been overplayed and the company is now undervalued because there is still a negative premium as a result of the re-statement. The new CFO, who was formerly CFO of Juniper Networks (NYSE:
JNPR
) as well as CFO of Symantec (NASDAQ:
SYMC
), has been able to clean the entire balance sheet and properly restate the previous CFO's misaccounting.
What is the current sentiment on the stock? How does your view differ from the consensus?
Right now most analysts as well as the market value the company as a "hold" with a target price around the actual stock price or slightly below. We do believe the stock is pressured by the short term outlook and therefore isn't valued appropriately--on their potential long term growth which will be built on their very solid development strategy.
We think that the company should be a solid long term buy mainly because of how well positioned they are in the market. Thus far, the company has been able to minimize the impact of the financial crisis on their results despite the economy and their strong exposure in the US because of their double digit growth in most of their other markets (primarily Brazil).
They have been hit in the short term by the consumer pullback in the US and other markets, but the management stayed true to their strategy and continued to invest and develop high end customers, betting on a return to normal consumption in 2011-2012. This should then pay off thanks to their strong position.
We like the long term prospects for the company for these reasons:
We believe that US consumption levels will recover somewhere around the end of 2010-2011 which will reverse the negative growth this market is currently providing Verifone.
We believe that emerging markets where Verifone is a clear leader will continue to see growth (probably double digit growth) with still high margin levels.
We believe that the development of their mobile payment system will also provide a new source of growth that is currently undervalued.
Does the company's management play a role in your position? If so, how?
When you do long term investment on fundamentals, the management of the company always plays a major role in the decision whether to buy a company or not since the quality of the company's management will impact the value of the business plan.
In fact, we discovered the company because of the earning re-statement and the mistakes of the previous CFO. We started to study the stock when we saw the huge drop which just couldn't be ignored. We realized we liked the business plan the CEO had in place which was (and remains) to reach high end markets and high growth markets.
But we wanted to be sure that the new CFO would be solid since we firmly believe a company rises and falls with their CFO. When we heard that Robert Dykes, with all of his previous experience, was the new man we become more and more interested. We liked his very cautious and pragmatic approach, something he brought from his previous tenure.
When the new management team was put in place we perceived it to be a strong team that could lead the company in the right direction over the long term. That has been confirmed by developments at the company throughout the financial crisis and more importantly their decision to invest in R&D during the crisis instead of cutting costs, which allowed them to supply some very high level products to the market and gave them a competitive advantage in terms of technology.
What catalysts do you see that could move the stock?
Two major catalysts that would trigger a strong move in the stock: A solid comeback of US consumption, and the continued growth of the emerging markets especially, for example, Brazil, which will be hosting the Olympic games.
What could go wrong with this stock pick?
When we invest in a stock, we always try to pinpoint the major risks, events that could modify the company's value (though not the market capitalisation). Here's what we came up with :
Market share loss--especially in the US and emerging markets--to Ingenico. That risk is low, due to Verifone's high customer satisfaction rate and the quality of their services and product, but it is still an element that has to be taken into consideration.
A new lawsuit because of the 2007 re-statement. We feel that this risk is almost non-existent since an agreement has been reached during the past months, but this should still be kept in mind, just in case. We think it would in fact become a strong buying opportunity if a pullback occurs because of a lawsuit on the re-statement.
No comeback for US consumption. Since Verifone's revenues are clearly linked to the volume of sales through their device, a slowdown in sales or consumption would impact the company's results. However we think it is a short term risk. The long term prospects for a worldwide economic recovery (along with the company's solid market position) should offset that fear in favor of a strong overall market for the product. However, if the economy takes time to recover and consumers continue to delay spending, we would expect a pullback on the stock since the company's growth margin is somewhat linked to the volume of revenues.
What would your approach on the stock then be?
We believe that Verifone is an attractive long term hold. We think that the fair value of the stock could easily be around the $25-35 range, at least. However, we also believe that 2010 could be very volatile with at least some bearish periods.
Since we also believe the comeback of consumption will take time, we would advise a slow build up of one's position in Verifone. In our fund, for example, we plan to buy the stock over a 12-16 month period by selling covered puts and exercising those puts every month. By doing this, we should have a very attractive average price on the stock over the long term and despite the markets' overall moves. We advise taking this approach because our recommendation is for a 3-5 year holding period during which we can take the time to build our position in the stock without worrying about the short term movements of the market.