Among the more popular portfolios on Scott's Investments has been the ETFReplay.com Portfolio. The strategy has been revised and improved for 2013 in order to make it simpler to follow.
I previously detailed here and here how an investor can use ETFReplay.com to screen for best performing ETFs based on momentum and volatility. I select only the top 4 ETFs out of a static basket of ETFs and re-balance the portfolio monthly.
For 2013 the static basket of ETFs was reduced from 25 to 15. From this basket of 15, the top 4 are purchased each month. The portfolio will be re-balanced at the beginning of each month. When a holding drops out of the top 5 ETFs it will be sold and replaced with the next highest ranked ETF. I added the top 5 requirement in order to further limit turnover. ETFs will be ranked on a combination of their 6 month returns, 3 month returns, and 3 month volatility (lower volatility receives a higher ranking).
In addition, ETFs must be ranked above the cash ETF SHY in order to be included in the portfolio, similar to the absolute momentum strategy I profiled here. This modification could help reduce drawdowns during periods of high volatility and/or negative market conditions (see 2008-2009), but it could also reduce total returns by allocating to cash in lieu of an asset class.
The top 5 ranked ETFs as of 10/31/13 are below:
| | |
| --- | --- |
| VTI | Vanguard MSCI Total U.S. Stock Market |
| HYG | iShares iBoxx High-Yield Corp Bond |
| EFA | iShares MSCI EAFE |
| SHY | Barclays Low Duration Treasury |
| WIP | SPDR Int'l Govt Infl-Protect Bond |
Since cash (represented by SHY) is the fourth highest rated ETF, anything rated below it does not qualify for purchase. Last month SHY was the third highest rated ETF, so November is positioned less defensively than October.
For November the portfolio maintains positions in VTI and EFA, and keeps approximately 25% in cash. HYG will be purchased using October 31st's closing price. A more aggressive approach would disregard the cash filter. However, the objective of the portfolio is balance risk and reward while reducing drawdowns.
The strategy's performance since inception is below, as is comparative performance of the SPDR S&P 500 ETF (SPY), iShares Growth Allocation (AOR), and the Permanent Portfolio (PRPFX):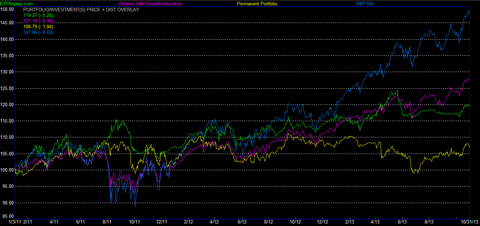 Disclaimer: Stock Loon LLC, Scott's Investments and its author is not a financial adviser. Stock Loon LLC, Scott's Investments and its author does not offer recommendations or personal investment advice to any specific person for any particular purpose. Please consult your own investment adviser and do your own due diligence before making any investment decisions.