Northeast Utilities (NU) is a diversified mid-cap electric transmission and distribution company with substantial exposure to natural gas distribution. The company services 3.5 million customers in three states - Massachusetts, New Hampshire and Connecticut. The company is overlooked by many utility investors and does not get the attention it deserves. However, according to Forbes, 75% of broker analysts rates NU as a "buy" versus 35% "buy" recommendations for similar companies.
NU operates the following subsidiaries: Connecticut Light & Power, NSTAR Electric & Gas, NU Transmission, Public Service of New Hampshire, Western Massachusetts Electric Co., and Yankee Gas Services Company. NU operates the largest energy delivery system in New England.
Listed below is a map of NU service area from their latest investor presentation (pdf).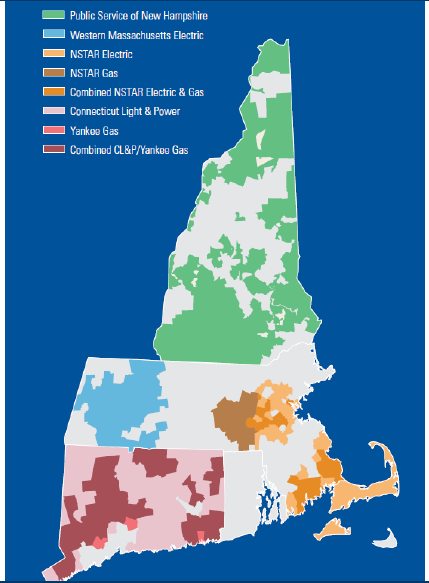 Unlike many other electric utilities, NU is mainly a distribution company with very little power generation. PSNH operates 31 generating facilities with a total capacity of 1,200 MW, and the vast majority of these are small hydro facilities. Hydro and biomass capacity represents less than 10% of total generating capacity.
In April 2012, NU completed the acquisition of NSTAR, expanding both its customer base and its service territory to include Cape Cod and the Greater Boston area. Management's task ahead is to create greater shareholder value through 3% annual savings in operating expenses that will generate a 10-year goal of $784 million in total cost reductions.
Northeast plans on investing $7 billion between 2013 and 2016. The bulk of this investment, approximately $4 billion, will go to expand its electricity transmission footprint with about $1.4 billion to be spent on a long-delayed project known as the Northern Pass. This project will bring large amounts of hydro power from Quebec to central New Hampshire and then feed into its existing transmission networks. However, the proposed route has been strongly criticized by environmental groups such as the Appalachian Mountain Club as being detrimental to the scenery in the mountains of New Hampshire.
This level of rate-base asset growth will increase assets under regulatory pricing from $13 billion to $20 billion over the next 4 years, and represents 13.4% annual growth in rate-based assets. This should add fuel for expansion of earnings and dividends. Over the past few years, the utility sector has undertaken substantial capital spending programs and annual rate-based asset growth has increased from a historic 3% to 4% experienced during the 20-year period from 1990 to 2010 to upwards of 5 to 8% currently. Even within the context of industry-wide higher capital spending, NU rate of asset growth far outstrips many regulated utilities.
It is important to note transmission assets are regulated by the Federal Energy Regulatory Commission and the allowable returns are substantially higher than the average state-approved return on equity. The national average of state allowed returns during the last quarter was just under 10% while the FERC is approving returns of around 13%. Transmission assets could grow to 40% of NU rate-base assets and upwards of 50% of earnings due to this higher allowed return.
In addition to increasing its transmission network, NU is actively expanding its natural gas business. Unique to the Northeast, natural gas used for heating is underutilized. In Connecticut, natural gas represents only 32% market penetration and in Massachusetts, market penetration is 48%. The balance of homes are usually heated with either heating oil or propane, both more expensive than natural gas - especially with the current slump in gas pricing. The national average for natural gas heating is approximately 78% market penetration. The current conversion rate of 8,200 homes annually could jump to as much as 17,000 based on a recently enacted Connecticut plan to expand the state's natural gas infrastructure and to encourage more conversions.
Offsetting these positives is a poor electric utility regulatory environment in NU service territory. While S&P Credit ranks Connecticut, Massachusetts and New Hampshire as "Credit Supportive" which is about the national average, the recent electric 2010-rate case approval in Connecticut only allowed for a 9.4% return on equity, among one of the lowest in the US. Historically, natural gas allowed returns are higher than electric.
NU has historically been relatively poor in generating returns on invested capital ROIC. According to fastgraph.com, NU has generated a 15-year average annual ROIC of 2.34%. However, since 2008, NU has improved this matrix to a more acceptable 4.09%. With higher allowed returns from natural gas and FERC-regulated assets, NU should continue to expand its ROIC over time. Below is a 15-yr graph of annual ROIC: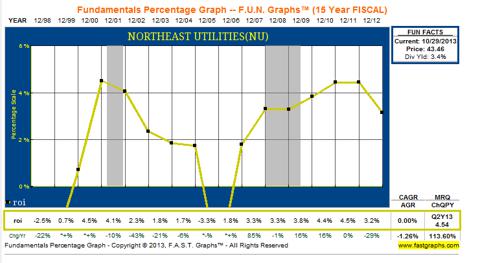 Due to its small power generation business, NU has little exposure to the disruptive nature of wind or solar power. As additional New England wind farms are located in rural mountainous areas, such as those in Northern Maine, Vermont and New Hampshire, NU could generate additional transmission projects to move this new power to urban consumers. Just last month, six New England utilities agreed to purchase 565 MW of power from new wind farms. The purchase power agreement calls for an average purchase price of less than 8 cents per kilowatt-hour. According to the Cape Cod Times newspaper, this compares favorably with the proposed offshore Cape Wind project of a 430 MW wind farm consisting of 130 turbines off the coast of Cape Cod. NSTAR has agreed to buy power from this project for 18.8 cents per KW, but the project has experienced both financial and site location pushback, and is still in its planning stages.
Earnings are anticipated at $2.56 per share this year and $2.76 in 2014. Based on a 6% to 9% EPS growth rate, earnings in 2016 could reach $3.28 to $3.58. This growth curve could expand dividends from its current $1.47 to somewhere between $1.86 and $2.05 while maintaining a very comfortable 57% payout ratio. While the current yield is below the average regulated electric utility average at 3.4%, it is competitive with other natural gas utilities.
Mario Gabelli has owned both NU and NSTAR in his Gabelli Utility Fund (MUTF:GABUX). The following is an excerpt from his June 30, 2012 quarterly report (pdf):
Northeast Utilities is New England's largest electric and gas distribution utility and delivery system, serving 3.5 million customers. On April 10, 2012, NU, headquartered in Hartford, CT, closed its merger with NSTAR (NST shareholders received 1.312 shares of NU), headquartered in Boston, MA, to create an even stronger New England distribution utility. Northeast Utilities serves 2.0 million customers in CT, NH, and MA, and NSTAR serves 1.4 million electric and gas customers in Eastern and Central MA. We believe that the combined company will be able to take advantage of its larger scale and scope to execute on a number of regulated investment projects. NST's strong balance sheet allows for the funding of the combined transmission investment opportunities, including the Northern Pass (designed to bring enormous hydro capacity from Quebec into New England), New England reliability (the NEEWS Projects) and smaller projects within their service territory. We consider NU to be one of the better transmission plays and, given merger synergies and larger scale, expect an enhanced earnings growth profile (the higher end of ~6% - 9% REPS CAGR).
Third quarter earnings were reported on 10/31 and they were slightly below expectations. Quarterly operating EPS came in at $0.69 versus an expected $0.73. Below are the first nine months of 2013 results from their press release and comparisons to 2012 will not include the 1st quarter 2012 contribution from the merger with NSTAR.:

Below is a table that reconciles 2012 and 2013 earnings per share: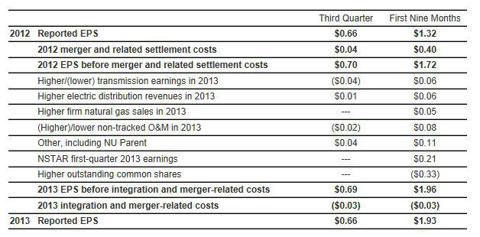 Management also confirmed their full year 2013 earnings guidance of between $2.45 and $2.60 a share.
Investors may not first think of New England as a hot spot for utility growth. However, NU is the exception to this bias. With rising dividends and earnings over time, the current price of $42 could provide 10% to 12% annual investor total returns.
Author's Note: Please review important disclaimer in author's profile.
Disclosure: I have no positions in any stocks mentioned, and no plans to initiate any positions within the next 72 hours. I wrote this article myself, and it expresses my own opinions. I am not receiving compensation for it (other than from Seeking Alpha). I have no business relationship with any company whose stock is mentioned in this article.
Additional disclosure: I am long GABUX