Volume in shares of Corporate Resource Services, Inc. (NASDAQ: CRRS) has suddenly spiked in recent days, rising nearly 150 percent in October from September, and up nearly 100-fold from a year ago.



With a share price in the pennies last year (low of $0.30), then soaring to more than $5, CRRS has made some investors a 10-bagger-plus return within one short year.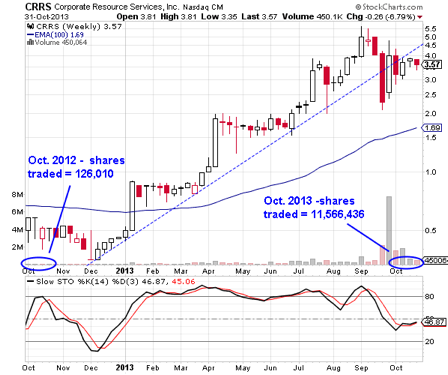 With a lot of play squeezed out of CRRS, will the stock keep the good times rolling for investors? I think so in the case of this, what I call, sleeper stock, and here's why?
Fundamentals
Description
Corporate Resource Services, Inc. provides temporary staffing for professional services, administrative and light industrial positions at 231 staffing facilities in 42 states. CRRS bills itself as a "one stop shop" for staffing needs, as the company offers temporary personnel in all areas of the labor force.
Sector Analysis
Though Republicans continue to fight the Affordable Care Act (ACA), more commonly known as Obamacare, like the plan or not, it appears the essence of the healthcare system overhaul is here to stay. And that's good for companies in the temporary workers space, like CRRS.
"In general [Obamacare] is viewed as something that will lead to increases in the penetration rate of temporary workers," Tobey Sommer, an analyst with SunTrust Robinson Humphrey, told Time Magazine.
Companies like CRRS are well-positioned to benefit from the growing trend of increasing temporary and part-time employees in the US. Because of the confusion and needed expertise regarding new US regulations, "[t]he increasing burden of these regulations will cause some clients to throw up their hands and say, 'I can't deal with all of this'," said Sommer.
"We are already getting inquiries from our client base for companies in and around 50 [employees], asking us to help them understand this legislation, and to inquire as to how we might be helpful," M. Keith Waddell, Robert Half's president, told investors on a conference in Mar. 2013. "Our response is that we can legally help them remain under 50."
According to legal firms specializing in Internal Revenue Service (NYSE:IRS) code, Section 1513, 4(NYSE:A) of ACA provides a loophole for companies most affected by the Obamacare mandate.
''IN GENERAL-The term 'full-time employee' means an employee who is employed on average at least 30 hours of service per week," according to section 1513, 4(A) of the bill-which means, temporary employees are not inclusive of the bill's definition of a 'full-time' employee.
Section 1513 includes a mighty big loophole for companies wishing to skirt the federal healthcare mandate, and CRRS is only happy to accommodate its client companies in a buyer's market for workers.
And to put the size of this loophole into prospective, according to White House's own analysis, the number of companies in the US, operating with less than 50 employees is quite high, higher than most may know.
"The law specifically exempts all firms that have fewer than 50 employees - 96 percent of all firms in the United States or 5.8 million out of 6 million total firms -from any employer responsibility requirements," according to the document, titled The Affordable Care Act Increases Choice and Saving Money for Small Businesses. "These 5.8 million firms employ nearly 34 million workers."
CRRS Management's Strategy to Grow
According to CRRS's Aug. 14 10-Q, management intends to grow the company rapidly through the acquisitions of other staffing companies with higher billing rates and margins. It appears that management has taken on the tack of aggressively pursuing market share while attempting to increase margins.
With the acquisition of Summit Software and joint venture with Abest Power and Gas in January, as well as the most recent acquisition of Cameo Employment Services in October, top-line growth is expected to continue, which, presently, runs at a 74 percent compounded clip through fiscal 2010 and 2012.
Without acquisitions, CRRS's revenue growth continues to expand faster than its peers. "We believe that the 22.0% incremental growth in revenues not associated with our acquisitions exceeds the industry average because of our aggressive sales strategies designed to increase our market share," according to CRRS's latest 10-Q of August.
Q3 Earnings - Nov. 13, 2013
Earnings
Earnings for Q3 are expected to be released Nov. 13, after the market close, with two issues of interest to look for aside from profitability. Firstly, watch for the top-line revenue for signs of slowing from the backbreaking 74 percent rate. Secondly, see if there's a sign that the increasing Cost of Revenue has dropped from the 86.4 percent rate of fiscal 2012.
Disclosure: I am long CRRS. I wrote this article myself, and it expresses my own opinions. I am not receiving compensation for it (other than from Seeking Alpha). I have no business relationship with any company whose stock is mentioned in this article.