On Thursday, October 31, Starwood Property Trust (NYSE:STWD) announced plans to spin off its single-family home rental unit into a separate publicly-traded trust, which will be named Starwood Waypoint Residential Trust and trade on NYSE under the proposed symbol "SWAY". In the wake of Thursday's announcement, I wanted to highlight a number of the reasons why I think Starwood could be a great addition to any income-centric portfolio.
A Brief Look at Starwood's Single-Family Residential Portfolio
According to Starwood's press release, "Starwood Property Trust's single-family residential portfolio (as of Sept. 30, 2013), which will be owned and operated by SWAY following the completion of the spin-off, consisted of approximately 5,817 units in single-family homes and NPLs, totaling approximately $750 million of invested capital. SWAY will leverage Waypoint's highly experienced management team, employees and industry-leading operating platform to manage the assets, convert NPLs to single-family homes for sale or rent, and continue to maximize total shareholder return on equity and grow the portfolio in a highly selective fashion".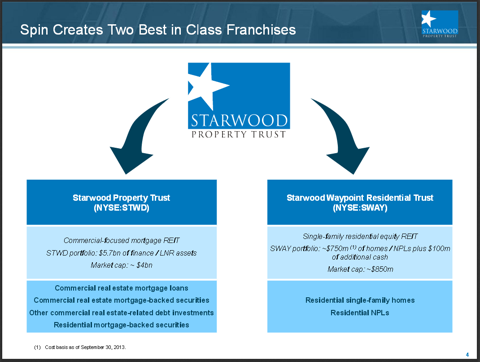 (Source: Spin-Off Presentation)
If SWAY can successfully maximize shareholder returns on equity, by implementing and maintaining a successful NPL acquisition strategy that reduces competition and creates a better entry point for the investment or acquisition of longer-term residential assets, shareholders may want to consider establishing a position in STWD prior to the spin-off of SWAY that is scheduled for February 2014.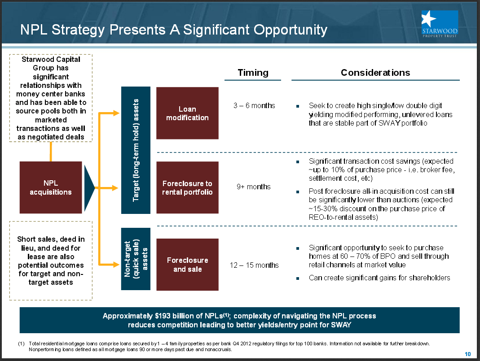 (Source: Spin-Off Presentation)
Benefits of the Transaction
When it comes to transactions of this nature there are always a number of potential benefits investors must consider. In the case of Starwood's spin-off of SWAY, the spin is not only expected to be accretive to STWD's return on equity and dividend yield, but also allows for investors to evaluate the performance of each entity on a separate basis which in turn creates a sense of increased transparency.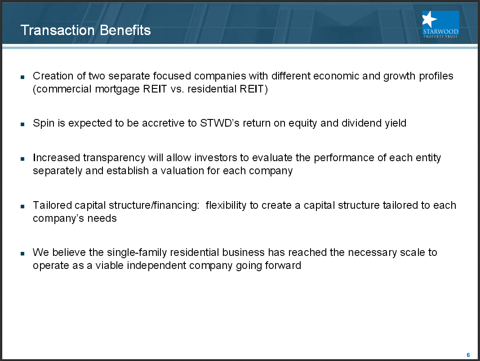 (Source: Spin-Off Presentation)
Recent Performance & Trend Behavior
On Thursday shares of STWD, which currently possess a market cap of $4.17 billion, a beta of 0.67, a forward P/E ratio of 10.88, and a current dividend yield of 7.16% ($1.84), settled at a price of $25.69/share. Based on their closing price of $25.69/share, shares of STWD are trading 4.48% above their 20-day simple moving average, 5.70% above their 50-day simple moving average, and 2.68% above their 200-day simple moving average. These numbers indicate a short-term, mid-term, and long-term uptrend for the stock which generally translates into a moderate buying mode for most near-term traders and longer-term investors.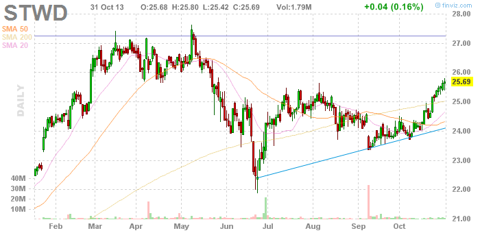 Recent Dividend Behavior
Since October 29, 2010 the company has actually increased its annual dividend three times in the last 36 months. The company's forward yield of 7.16 %($1.84) makes this particular REIT play a highly considerable option, especially for those who may be in the market for a higher-yielding stream of quarterly income. One thing that needs to be pointed out is the fact that there is a very noticeable spike in the company's dividend chart featured below. This particular spike represents a $0.10/share special dividend that was paid that was paid to investors on December 27, 2012.
According to Starwood Property Trust's most recent 10-K, there are a number of risk factors all investors should consider. These factors include but are not limited to various conflicts of interest in the trust's relationship with Starwood Capital Group, including its Manager, which could result in decisions that are not in the best interests of its stockholders, as well as any change any of its investment strategy, guidelines, financing strategy, or leverage policies without stockholder consent, and lastly, acts of violence or war may affect the real estate industry and its business, financial condition or any of its results from operations.
Conclusion
For those of you who may be considering a position in Starwood Property Trust, I'd keep a watchful eye on a number of catalysts over the next 12-24 months as each could play a role in the REIT's long-term growth. For example, near-term investors should focus on the partnership's recent trend status and long-term investors should pay close attention to any growth related to the company's dividend as well as any potential dividend restructuring that may occur as the direct result of the company's plan to spin-off SWAY.
Disclosure: I have no positions in any stocks mentioned, and no plans to initiate any positions within the next 72 hours. I wrote this article myself, and it expresses my own opinions. I am not receiving compensation for it (other than from Seeking Alpha). I have no business relationship with any company whose stock is mentioned in this article.