Facebook (NASDAQ:FB) reported their third quarter results after the market closed October 30th. Shares quickly jumped approximately 15% in after-market trading and just as quickly fell back to the market closing price. The jump was due to a huge revenue and earnings beat brought about primarily by mobile ad growth. The fall was caused by executive comments that teens are spending less time on Facebook and they would not be increasing the number of ads that appear in users news feeds.
These in-feed ads have been the major growth driver in Facebook's advertising revenues since they were introduced in June of 2012. They are especially vital for mobile users where there is not enough extra space on the screen for banner ads in the sidebars. Facebook currently inserts one advertisement for every 20 stories in the news feed and that ratio will stay roughly the same. The concern is that increasing this ratio any further will scare users away from Facebook.
What does all this tell us about the future success of the soon to be publicly traded Twitter (NYSE:TWTR)? Twitter is obviously a very different platform from Facebook. Facebook reported in its earnings call that 49% of its users connect from a mobile device, this percentage has been increasing quickly over the last several quarters. Twitter however, was born on mobile and 75% of its users access it from a mobile device. This is evidence that Twitter's revenues are even more dependent on in-feed ads like those that have brought financial success to Facebook.
Twitter actually introduced in-feed advertisements in July 2011, almost a full year before Facebook. So while many analysts worried until recently (the last 3-4 months) about Facebook being able to transition to mobile, Twitter is already there. Since Facebook introduced its in-feed ads in Q3 2012 their earnings have grown from 12 cents per share to 25 cents per share. While quarterly data is not publicly available from Twitter at this time, we know from their IPO filings that the company is not yet profitable. The company lost $69.3 million on $253.6 million in revenue in the first 6 months of this year.
When most people make a comparison between these two companies they cite that Facebook is an older, more fully developed company and that Twitter still has a lot of room to grow. However, in terms of mobile advertising I would argue that Twitter is at least as fully developed as Facebook. Twitter had the in-feed ads that have proven to be the key long before Facebook did. Because of this, I believe Twitter will not grow revenue and earnings as fast as many expect. I do not believe they will be able to significantly increase revenue per user, as they have already refined these important in-feed ads. With more than two years of in-feed advertisements to fully capitalize on their 75% of users who access Twitter from a mobile device, it concerns me that they are still not profitable. This is because they have high expenses due to their rapid expansion. These costs will eventually come down, but I don't think that will be enough to lead to huge profits.
One other new piece of interesting data regarding the advertising success of these two companies is a research report released by Forrester on Monday. The report showed that Facebook was in dead last in a survey asking which marketing channels have generated the most business value for their clients. The fact not addressed in most of the articles about the report is that Twitter barely did any better, coming second-last in the survey.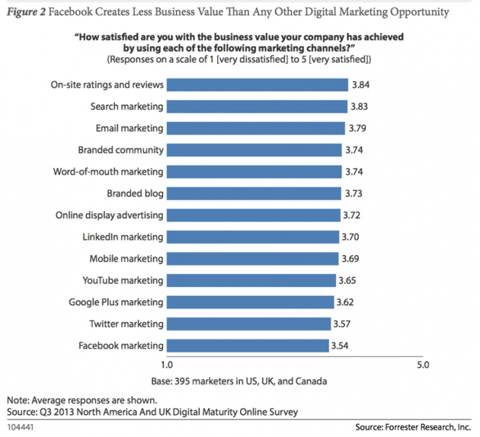 Another question in the survey asked clients which companies they were most satisfied with as a marketing partner. In this survey Twitter came below Facebook and near the bottom of the list.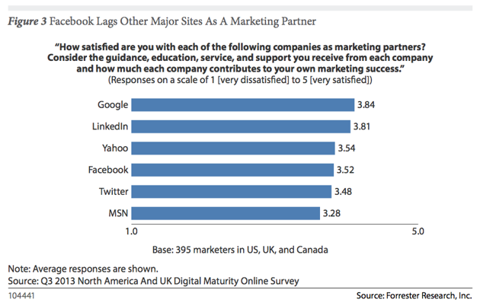 In short, advertisers are not happy with Facebook or Twitter. This information makes me even less confident in Twitter's ability to significantly grow its advertising revenue.
I have no doubt that Twitter will become profitable as their user base grows and they reduce their expansion costs over the next couple years. However, I do not believe they will be able to grow fast enough to justify a $15 billion valuation. I am staying away from the Twitter IPO.
Disclosure: I have no positions in any stocks mentioned, and no plans to initiate any positions within the next 72 hours. I wrote this article myself, and it expresses my own opinions. I am not receiving compensation for it (other than from Seeking Alpha). I have no business relationship with any company whose stock is mentioned in this article.