Since March 2009, most steel maker stocks have rallied tremendously. Steel prices bottomed near then. The near term upturn in the market for steel became obvious. If the economy was recovering, steel would recover. Prices of steel did rise as people had expected. However, has there now been a disconnect between reality and steel maker stock prices? Have they over shot? Or do these great performers of the recent past deserve to keep sailing higher?
Perhaps the best way to forecast how steel makers will do going forward is to look for a trend in steel prices. If steel prices are trending strongly upward, steel makers will likely trend upward with them. The London Metals Exchange steel futures are probably the best gauge of steel price. Currently there are two regional futures markets: the Far East and the Mediterranean. I will present data from them both. In 2Q 2010 the London Metal Exchange will make everyone's life easier by going to one global futures market, but until then we'll go with what they have. The price charts are below:
London Metals Exchange Mediterranean Futures Index Chart for July 1, 2008 - Dec. 26, 2009: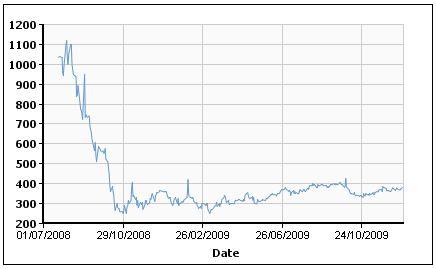 London Metals Exchange Mediterranean Futures Index Chart for July 1, 2009 - Dec. 26, 2009: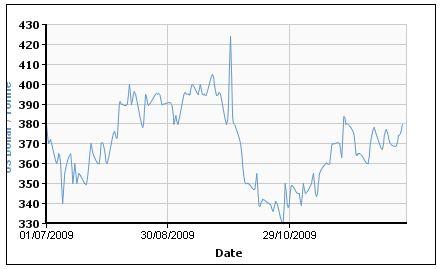 London Metals Exchange Far East Futures Index Chart for July 2, 2008 - Dec. 26, 2009: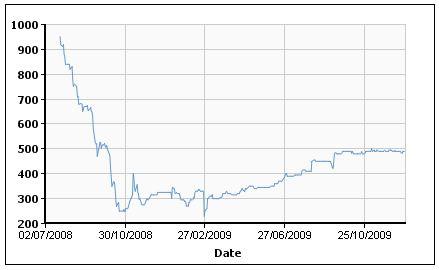 London Metals Exchange Far East Futures Index Chart for July 2, 2009 - Dec. 26, 2009: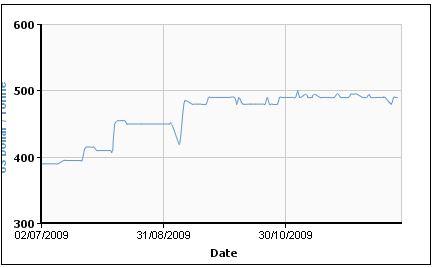 The above charts all show prices for "cash buyers". However, the charts for the various types of credit buyers are similar. All prices are in USD/tonne. The influence of China on prices in the Far East Index is obvious. Those prices are considerably higher than the Mediterranean Index prices.
Most think prices for steel will rise "modestly" in 2010, barring a double dip recession. However, a good number of economists are forecasting a "double dip" beginning in 2H 2010, so this possibility is not something to be completely ignored. Given this improving picture, do the recent steel makers' stock gains seem warranted, or are they over done? A comparison of the Market Vectors Steel ETF and a few of the steel makers charts to the steel futures charts may help to answer that question. A few of those charts are below:
SLX (Market Vectors Steel ETF) Chart for 1/1/2009 - 12/26/2009: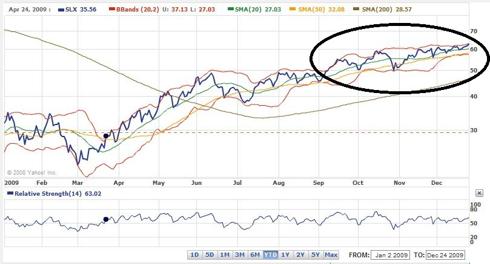 Click to enlarge 
The circled area indicates the rise in steel makers stock prices, which does not seem to be justified from the steel futures charts.
US Steel (NYSE:X):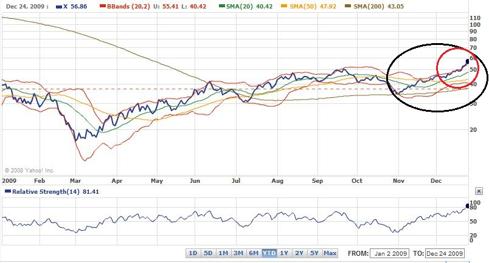 Click to enlarge
The rise circled in red is the area that does not seem to be justified based on the steel futures charts. Admittedly X makes their own iron ore. This largely insulates them from the recent increases in scrap prices. In other words, X should not be as pressured by scrap prices as some other steel makers. It does not mean any of X's fundamentals have improved recently
CLF: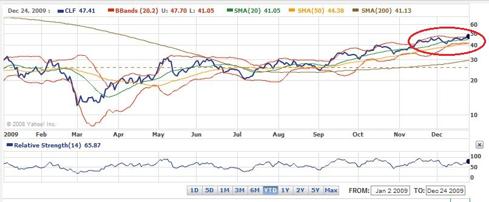 Click to enlarge 
The red circled area is the rise in CLF, which does not seem to be justified by a commensurate rise in steel futures.
Charts show only so much. Let's hear what a few of the actual companies have to say recently:

Nucor (NYSE:NUE) CEO Dan DiMicco stated (source: Motley Fool):
Real or end-use demand has not improved to any significant extent over this period, and we do not expect any improvement anytime soon.

I note that NUE recently revised its guidance downward for its Q4 2009 results.
Joy Global confirms that improved capacity utilization among domestic steelmakers -- related to the recently complete inventory de-stocking cycle -- has not been followed by any meaningful improvement to the underlying demand (source: Motley Fool).
Commercial Metals (NYSE:CMC) confirms that "real sustainable domestic increases in demand were not apparent and there was no discernable stimulus effect. Despite this failing grade for government stimulus initiatives to date, Commercial Metals expressed hope that an impact "may finally be evidenced by spring," resulting in a modestly "more promising" outlook for the second half of fiscal 2010 (source: Motley Fool). I note that CMC recently missed estimates badly in its Q2 2010 report on Dec. 22, 2009.
X CEO John Surma opined about steel industry conditions for X in the Q3 conference call,
We continue to face difficult operating conditions in the third quarter as evidenced by a domestic steel industry utilization rate of 54% for the period as was reported by AISI. We experienced some improvement in order rates earlier in the quarter and we currently have more of our facilities operating and more of our people back to work. Recently, order rates in our Flat-rolled and European segments have decreased and demand trends remain uncertain as both the U.S. and global economies struggle to recover.
X CEO John Surma said,
I'm not sure we can add again, much to what's been in the general TradePress if you just follow the indices. There were a number of price increases that were sought, including by us. We did reasonably well on that through October and some additional price increases have not been as successful, and it would appear at this point that spot market prices are leveling and perhaps retracing a bit, that's exactly what we're seeing.

We think we're going do at least as good as the market as we work through this with our customers, but the broad trends that are observable in the market are no different for us, and we can't really add much to what's already been written about it. This seems that things happen very quickly these days after numerous stories now in the TradePress about spot prices softening in North America. Low and behold, the overnight press tells us that spot prices are increasing in China. Shows they (inaudible) looking things can change. I'm reluctant to draw a straight line from here forward, but if you look back in history this is generally a slower time of the year, and I don't see any reason why it's going to defy the laws of gravity this year.
In other words, these companies are just seeing what the LME Steel Futures charts are showing. The steel demand is leveling off. Many steel makers are expecting "gradual" or "modestly" improving demand in 2010.
However, I have found no companies that are expecting steel price explosions. The recent explosion in steel makers stock prices (from November - December 26) seems unjustified by fundamentals.
In fact fundamentals probably do not even justify all of the stock price increases in the March through October run up. The March through October excess run up in steel maker prices can probably be attributed to optimism in the global economic conditions improving. Still optimism can only take you so far. The recent run up in steel maker stock prices (as steel futures prices have generally been stagnate) seems all "HYPE" to me.
This means that the market will likely soon give most or all of this excess run up back. In the SLX chart, the excess appears to be about $4 to $14 depending on what you decide to consider excess. For CLF the excess appears to be about $10. For X the excess based solely on the charts seems to be about $14.
However, X's fundamentals are significantly worse than most other US steel makers. Most are trading at 10 to 20 times FY2010 earnings. X is trading at about 52 times FY2010 earnings. Most of X's other fundamentals are also excessively worse than those of the other USA steel makers.
X has the potential to fall a long distance down from its recent highs. There is a lot of short interest -- 17+% -- in X. A short squeeze during this sector rally seems to be contributing greatly to X's price rise. This gives all the appearances of a classic pump and dump scheme. X could fall hard in the near future. The trick of course is to determine just exactly when that fall is going to happen. It should be soon. X has been nearly doubling other steel makers recent gains (likely due to the short squeeze effect). There is no fundamental justification for this. Eventually the fundamentals will catch up to X.
Based on FY2010 PE estimates, X could fall to 1/3 of its current value. I don't really believe this will happen. However, that idea does make an approx. $14 retracement seem not only plausible, but likely (perhaps 3 times more likely than the retracement of other USA steel makers stocks).
The recent appreciation of the USD should make steels from Russia and the Ukraine that much more competitive with US steel makers products, especially in Europe. Many think the USD will appreciate further near term as the US economy slowly recovers. This should make US steels less competitive outside the US. This is yet another reason for a near term retracement in USA steel makers.
Recently GS put out a new economic forecast (source: Marketwatch).
Economists at Goldman Sachs figure the unemployment rate won't peak until the middle of 2011 and will drop back to 10.5% by the end of 2011. That's at least two more years of remarkably high unemployment.
People pay attention to GS. They are not usually far off in their economic forecasts. This forecast is in agreement with the recent downward revision of the Q3 GDP to 2.2%. The GS forecast along with the Q3 GDP revision downward should make analysts pay more attention to fundamentals in the near future. If they do that for steels, X should fall dramatically. Other steels should fall also.
Reread the CEO's recent comments. None of them are excessively optimistic (nor incredibly pessimistic). This most recent steel makers rally has been an analyst HYPE rally. Watch for the turn, then sell it.
Disclosure: I am short X