There is a lot of buzz around BBM (BlackBerry Messenger) these days, and you might get lots of data regarding the number of downloads it's gotten so far. So, let us look at a couple of them before moving ahead, as well as why BBM is not a game changer for BlackBerry (NASDAQ:BBRY), which is struggling to increase its revenue.
BBM downloaded on 10 million smartphones on the first day of its launching.
BBM topped in free iPhone apps chart.
As soon as BlackBerry launched BBM on Google's (NASDAQ:GOOG) Android and Apple's (NASDAQ:AAPL) iOS, people flooded the gates to download the app, and so much so that most users had to wait for the company to issue them BBM pins. Well, I see this as a marketing tactic of the company, which was adopted earlier by "Mailbox" on iOS and Gmail. Queuing for something creates a lot of buzz psychologically, especially when it is new. However, I think, there is a lot to achieve by BlackBerry with BBM, as it is a late entrant in the Instant Messaging, or IM, on a different platform. I have no doubt regarding the usage of BBM, as it was one of the most attractive factors for buying a BlackBerry device. Nonetheless, BBM has to prove its mettle against WhatsApp, which is being used by more than 300 million users, globally. Although, BlackBerry got a good start after the launch of BBM for Android and iOS, I will remain cautious on the growth of BBM in the long run due to the following seven reasons:
1. WhatsApp's Wider Reach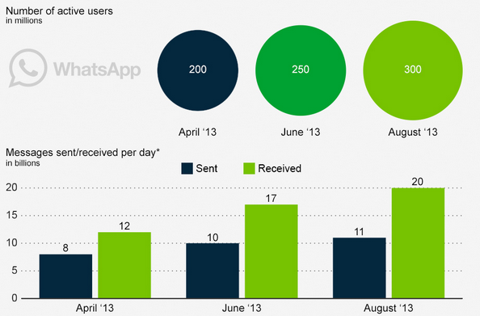 Source: Statista
Despite the presence of other big players in the IM world, like Facebook (NASDAQ:FB) and Skype (managed by Microsoft (NASDAQ:MSFT)), active users on WhatsApp are increasing by leaps and bounds, as the number of users has jumped from 200 million in April 2013 to 300 million in August 2013. Moreover, WhatsApp processes around 20 billion messages per day, which is much higher than the other platforms available. On the other hand, BBM has a pin-based invitation model, which is considered safer, especially when users don't want to share their numbers with others. However, WhatsApp enables you to contact any person from the contact list to send and receive messages, while BBM loses on this front.
2. Smileys and Emoticons
People use lots of smileys and emoticons in their conversations, and BBM is lagging behind in providing enough emoticons in its tool kit. In WhatsApp, there are more than 800 icons to choose from, while BBM facilitates users with 55 to 60 emoticons. WhatsApp's icons are so diverse and well-designed that you can practically write a whole message with them! This is one of the factors where, I think BlackBerry will have a difficult time fixing.
3. Limitation of platforms
BBM has only been launched on the Android and iOS platforms, and it will take some time for this service to avail into other platforms. On the other hand, WhatsApp is easily accessible on all platforms like iOS, Android, Windows phone, Symbian, Nokia S40 amongst others. There is no doubt that users of BBM will increase, but unavailability on other platforms and increasing popularity of WhatsApp can eliminate BBM from the race in the long term. Moreover, users can share photos, videos and audio files directly from a WhatsApp chat window, while one can only share photos and voice notes from the BBM chat. A BBM user has to visit the media file's location in order to share, at the same time it does not let you share contacts and locations. Additionally, on WhatsApp, you can send a number of selected pictures in one go, but you can't do the same in BBM. These are the functionality drawbacks in BBM, where there is more usage of WhatsApp due to its user-friendliness.
4. The "Last seen" factor
The "Last seen" factor is considered one of the avoidable mistakes of WhatsApp, but instead of overcoming it, this has been continued over time. There was a chance for BlackBerry to exploit this factor, but BBM has its own nightmare of "Read and Delivered" signs. Well, it's not as simple as it looks, as in when you send a message to someone and you think they've received it when they haven't because you did not receive a reply, this might create problems between both the users. BlackBerry has to focus on the privacy of the person, and I think removing this can give better results to its application.
BlackBerry Profitability Ratios
BlackBerry operates on a gross margin of around 26%, which is far behind the sector average of around 49%, while its operating margin and profit margin is also in the negative. The company requires a big turnaround, as it has an operating margin of -18% against a 10.59% sector average. Moreover, the net profit of BlackBerry stands at around -9%, while the overall sector average in net profit is 5.51%. BlackBerry has experienced a drastic loss in its market share, which is reflected in its sales too. Its trailing twelve months sales growth is negative at approximately 33%, against sector average sales of around 17.40%. The company gave negative returns on investment, although overall sector gave a higher return.
Conclusion
Aside from the above discussed factors, there are concerns over BlackBerry's revenue and profitability. With many threats to tackle for the company, I will not advice investors to initiate a buy at the current stage. Instead, I will reiterate the average broker recommendation of holding this stock until the company brings about major changes. Moreover, its 50 days moving average is below the 200 day moving average, a tool used to predict the trend of a stock. There is no correlation between those moving averages, and this will further substantiate my view on the stock.
Disclosure: I have no positions in any stocks mentioned, and no plans to initiate any positions within the next 72 hours. I wrote this article myself, and it expresses my own opinions. I am not receiving compensation for it (other than from Seeking Alpha). I have no business relationship with any company whose stock is mentioned in this article.