Introduction
As Microsoft's (NASDAQ:MSFT) acquisition of Nokia (NYSE:NOK) hasn't completely gone through yet, Devices & Services earnings are still being reported on Nokia's financial statements. Therefore, as a potential Microsoft investor, I will analyze Nokia's Devices & Services earnings in this article and assess how the quarterly earnings report should impact the valuation of Microsoft.
Devices & Services earnings
When the acquisition was announced, it was revealed that Microsoft hadn't just purchased Nokia's Lumia/Smart Device Division, but also its Mobile/feature phone division. Unlike the Smart Device Division, there aren't any real synergies between sales of this division and sales of Microsoft's other businesses. In terms of earnings, it also doesn't really contribute anything. Revenue was up a bit sequentially, but ASP declined as well which pressed down margins. Therefore, I believe that investors shouldn't really focus on this part of the division. It is a non-factor today, and will continue to shrink as sales of feature-phones decline.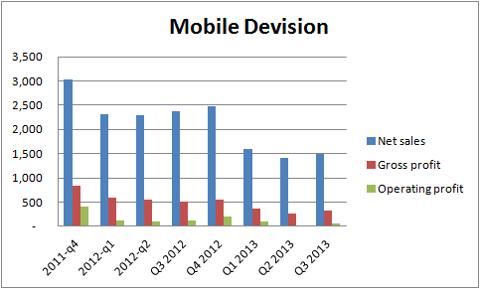 Click to enlarge
The Smart Device Division is of course a completely different story. With 8.8M Lumia phones sold in Q3, the business showed a lot of promise. However, both operating and gross profit declined a bit sequentially.
Click to enlarge
So how come earnings are declining despite it selling more phones?
To answer that question, I gathered some data from the website Adduplex.com, which shows how sales of the low-end, mid-end and high-end Lumias have changed over time.
In the diagram below, you can see that the increase in Lumia sales over the last 6 months can almost entirely be attributed to the performance of the low-end phones (Lumia 5xx). Since these phones have lower selling prices and margins, the decline in gross margin can to a large extent be attributed to a different product mix.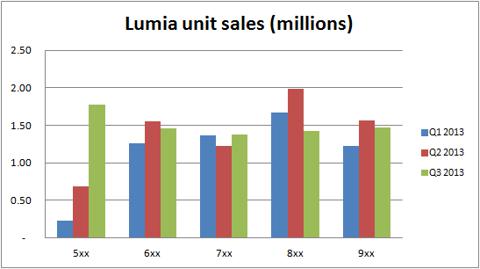 Click to enlarge
However, the lower profitability cannot fully be explained by higher sales of the lower-end phones. By multiplying sales for each phone with their respective selling prices, ARPU should have declined by 2 Euro from Q1 to Q2 and 12 Euro from Q1 to Q2. But in reality, the ARPU declined by 10 Euro in Q1 and 15 Euro in Q2. This implies that Nokia also has been offering discounts on its Lumia phones in order to generate sales.
Click to enlarge
What to think of this as a Microsoft investor?
When Microsoft acquired Nokia, it made a presentation where it argued that it needed to sell roughly 50M Lumia phones annually to break even. However, that calculation assumed that Microsoft would earn roughly 36 Euro per Lumia sold. In the most recent quarter, Nokia only earned 24 Euro per Lumia sold. Thus, assuming annual operating costs of 1.8B Euro, Microsoft needs to sell 69M Lumia smartphones to break even.
As you can see in the below table, it will require a significant increase in market share for Microsoft to obtain this within a couple of years (given the expected growth rate of the smartphone market).

Click to enlarge
Source: Market share forecast from IDC
Before Lumia sales for the quarter were reported, I would have deemed it unlikely that Microsoft could break even within the next 3 years. However, if Lumia sales can continue to increase sequentially by 5-10% q/q, Microsoft could hit the break-even market share in late 2015/early 2016.
Further, remember that the Smart Device Division can lose money and still be valuable for Microsoft due to the ecosystem benefits. Each time Microsoft sells a Lumia phone, it generates extra revenue to its other businesses (Bing, Windows, Xbox, Office, Outlook). So as long as Microsoft can keep the loss modest, it will still be a decent acquisition for the company.
To sum up, I think this was a pretty good quarter if you are a Microsoft investor.
Disclosure: I have no positions in any stocks mentioned, and no plans to initiate any positions within the next 72 hours. I wrote this article myself, and it expresses my own opinions. I am not receiving compensation for it (other than from Seeking Alpha). I have no business relationship with any company whose stock is mentioned in this article.