by Chris McKhann
Century Aluminum (NASDAQ:CENX) continues its unbelievable run for 2009, and option traders are taking advantage by selling calls.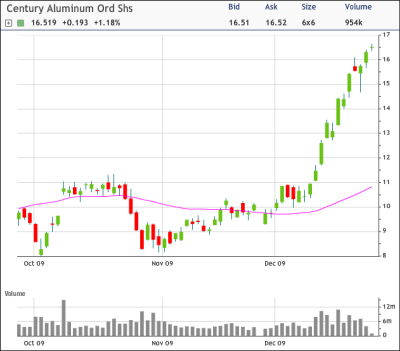 In a clear demonstration of the devastation of the crisis a year ago, as well as the rebound, CENX is up 1,500 percent from the March low but remains 80 percent below the May 2008 high. Shares hit a new 52-week high traded just below that, closing at $16.46 on Christmas Eve, up more than 60 percent from the beginning of the month.

Traders are selling the June 22.50 calls, more than 2,500 contracts, with the largest block of 1,700 selling for $1.10. This call selling is very likely against long shares as most traders aren't willing to sell naked calls, especially in this type of volatile name.

The covered call position is actually reasonably bullish, as the trade will take a maximum profit if shares are up at that $22.50 strike at that June expiration.