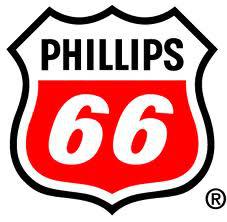 On Monday, Reuters reported that Sandell Asset Management, which owns less than 1% of pipeline company Spectra Energy (NYSE:SE) and 1% of Phillips 66 (NYSE:PSX), was pushing for Spectra to swap its 50% interest in DCP Midstream for equity in Phillips 66 Partners (NYSE:PSXP). The goal is to improve the valuations of all companies involved by increasing scale, simplifying corporate structure, and reducing the cost of capital. It's an interesting plan, but will it find a receptive ear at PSX?
Back in May I wrote the article Phillips 66's Midstream Business Is Poised For Impressive Growth wherein I outlined the company's midstream assets (this was before the PSXP spin-off). In that article I showed the organization of DCP Midstream, the 50/50 joint venture between PSX and Spectra: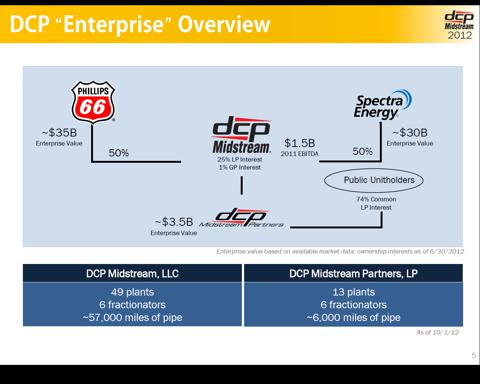 Since then, DCP Midstream announced in September that it was ranked the #1 natural gas processor and #1 natural gas liquids ("NGLs") producer in the US according to an industry ranking performed by Hart Energy. DCP processed 6.1 bcf/day in 2012 - more than 12% of the gas processed in the continental US. It is also the #3 NGL pipeline operator. Although DCP Midstream is not a household name, it is obliviously the biggest player in this market. So we are talking about a huge basket of assets that are jointly owned between Spectra and Phillips 66. The question is, what is the best way to leverage these assets? Thomas Sandell thinks he knows and said so in a letter to the Board of Directors of DCP Midstream.
You can read the full text of Sandell's letter here. In the letter, Sandell believes there are two major issues inhibiting DCP (and thus Spectra and Phillips 66) value creation:
Given that DCP and its assets are privately held, there is limited information for public market participants to evaluate and model earnings, cash flows, and growth
Given the differing financial needs of SE and PSX, DCP is not operated in the most value-enhancing manner.
Sandell continues by observing that DCP's assets are more naturally aligned with PSX and would be able to derive more operational synergies and better earnings growth if they were under the PSX umbrella. He points out that SE's other businesses are regulated utility-like operations that do not strategically integrate well with DCP's businesses. As a result, Sandell suggested the companies involved consider the following structure: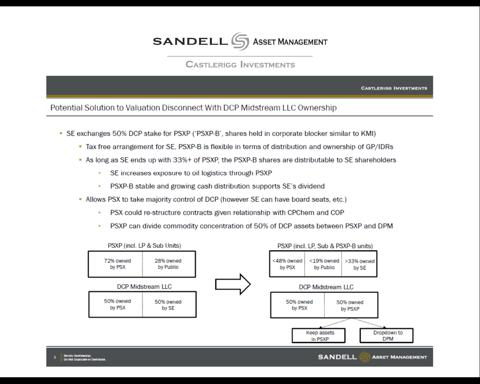 In effect, Sandell is recommending Spectra swap its 50% ownership in DCP Midstream for ~33% stake in PSXP and proposed, newly issued, "PSXP-B" shares. It would be a tax-free arrangement for SE and the PSXP-B shares would have an as yet to be determined distribution and GP/IDR terms. In return, the combination of PSX and PSXP would own 100% of DCP Midstream. Dropdowns would be enabled from PSXP to DPM.
Mr. Sandell's letter says the specific structure and terms is not the issue here. What he wants is for SE, PSX and DCP to work together to develop a solution to maximize the value of DCP and address the two issues stated above. And of course he wants it done now. Unfortunately for him, the timetable for any deal is up to PSX, not SE or DCP Midstream. But he does own 1% of PSX, so he does have a say in the matter. I wonder if he has discussed it with Warren Buffett.
The plan makes a lot of sense from a high level view. DCP is certainly more aligned with PSX (and PSXP) as compared to Spectra Energy. Also, given the tight connection between COP and PSX, the synergies of the #7 domestic natural gas producer which also happens to produce oodles of NGLs (i.e. COP), feeding into the #1 natural gas processor and #1 NGL producer (i.e. DCP), and being 100% controlled by the duo of PSX + PSXP would appear too good to resist.
Also, as majority owner, PSX would be able to re-structure contracts to be advantageous for Chevron Phillips Chemical Company ("CPChem"), the 50/50 chemicals joint venture between Chevron (NYSE:CVX) and Phillips 66. As a big, and growing, consumer of natural gas and NGL feedstock, the ability to optimize contracts should lead to improved margins for PSX's chemicals business.
In short, Sandell's proposition would make the PSX+PSXP duo a midstream powerhouse connecting an associated producer (NYSE:COP) with associated consumers (PSX via CPChem). But this doesn't necessarily mean a deal will get done on Sandell's timetable. PSX obviously already had long-term growth plans for its MLP.
PSXP Growth Plans
When PSXP was rolled out, Phillips 66 said the MLP would be structured as a vehicle for long-term growth with additional drop-downs being planned. Phillips 66's 1/3 interest in the Southern Hills and Sand Hills pipelines were the first assets PSX mentioned as drop-down candidates. In Seeking Alpha's Q3 transcript, Chairman and CEO Greg Garland said other potential drop-down assets would include the 100,000 barrel-per-day NGL fractionator at Sweeny and the LPG export terminal project under development at Freeport, Texas. So it's clear PSX has had a long-term plan for PSXP from the get-go. It's also clear PSX made sure PSXP was very well capitalized in order to facilitate the planned drop-downs.
PSXP: Strength In Financial Flexibility
PSXP's Q3 earnings were in-line with expectations if not a bit stronger. Note that Q3 revenues were only $21.2 million. One thing PSX did with the MLP was to start small and ensure it was fully funded. Note slide four of the Q3 presentation: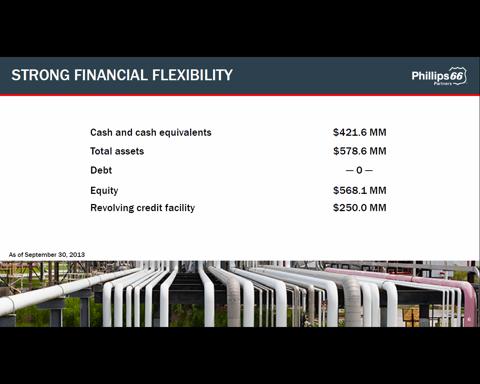 So we have a company with under $100 million in annual revenues, no debt, $412 million in cash, and an untapped $250 million line of credit. Is this a company positioned to grow or what?
Will a DCP Deal Get Done?
In a direct question from Faisal Kahn of Citigroup about the DCP question during the Q3 conference call, PSX CEO Greg Garland said:
There is lots of ways that we can create value at DCP and I will just say that those conversations are ongoing between the partners all the time as we're looking at multiple options and how do we create more value for both SE and PSX.
As Khan pointed out, in the long-run there is a possibility DCP and PSX/PSXP could actually end up competing against each other.
Summary And Conclusions
Combining all of DCP with the midstream assets of PSX and PSXP will yield large and obvious synergies. Yet PSX already has solid growth plans for PSXP and is executing that plan very well so far. Such a large transaction as the one Mr. Sandell is advocating, while making a lot of sense, may be too big a bite for PSX to swallow at the moment. That said, PSX has reduced its debt-to-capital to 22% - down substantially from the 30% level when COP first spun them off.
PSX and PSXP are obviously working from a position of strength here. If PSX so desires, it should be able to negotiate advantageous GP and IDR terms for a transaction along the lines of what Mr. Sandell advocates. While the biggest short-term gain might be seen in shares of Spectra Energy, longer term such a transaction appears very bullish for shares of PSX and PSXP. Such a transaction would appear to enable margin expansion at CPChem and an expanded asset drop-down program for PSXP. At the end of the day, such a deal would be bullish for shares of Phillips 66, which should see higher earnings and higher MLP distributions. As a result, it would improve PSX's long-term dividend growth outlook. However, that outlook is bright whether Mr Sandell's proposal, or something close to it, gets done or not. If any deal does get done, it will be likely be on PSX's timeline and on their terms, not on Mr. Sandell's. However, Mr. Sandell'a analysis raises several good points on how to increase value for DCP Midstream and its owners.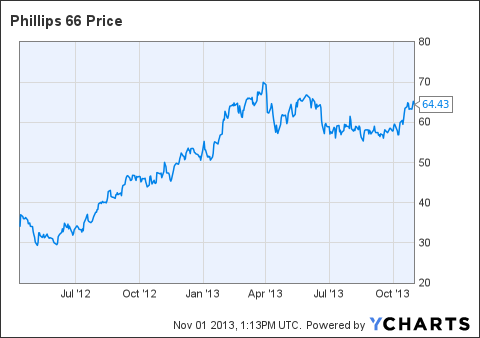 Mkt Cap: $39.4 billion
EPS ((ttm)): $7.38
P/E: 8.7
Div (yield): $1.56 (2.5%)
Disclosure: I am long CVX, PSX. I wrote this article myself, and it expresses my own opinions. I am not receiving compensation for it (other than from Seeking Alpha). I have no business relationship with any company whose stock is mentioned in this article.
Additional disclosure: I am an engineer, not a CFA. The information and data presented in this article was obtained from company documents and/or sources believed to be reliable, but has not been independently verified. Therefore, the author cannot guarantee its accuracy. Please do your own research and contact a qualified investment advisor. I am not responsible for investment decisions you make. Thanks for reading and good luck!