We just added a relatively new (May 2011 IPO) but rapidly growing LP to the Energy section of our High Dividend Stocks By Sector Tables: NGL Energy Partners, (NYSE:NGL). NGL Energy Partners is a vertically integrated, full service midstream provider focused on these business segments: Crude Oil Logistics, Water Treatment Services and Retail Propane.
What caught our eye on this stock was not only how they've ramped up their entire operation, but in particular, their Water Treatment activities since its IPO in 2011, when it had just a few Logistics and Retail Propane locations: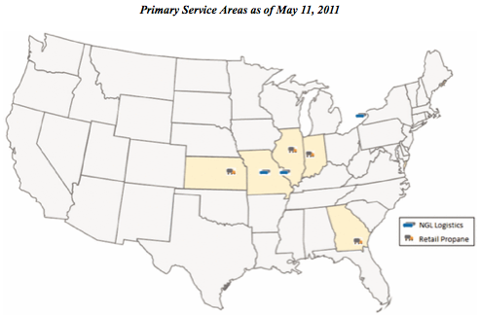 ... vs. March 2013 - Now it has a Water Services and Crude Logistics presence in or near many of the biggest shale oil plays: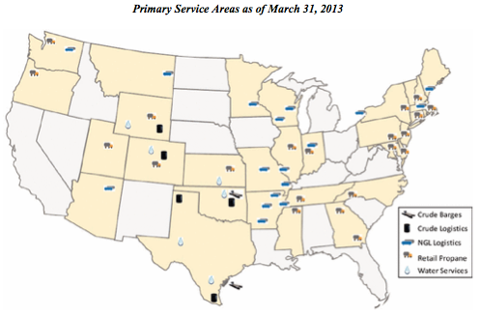 Here's why this matters - As you may have heard - the shale fracking technique is extremely water-intensive. Take a look at NGL's latest quarterly gross profits and revenues by segment (quarter ending 6/30/13). Even though Water Services only accounted for 1.52% of NGL's revenue, it accounted for over 24% of its gross profit: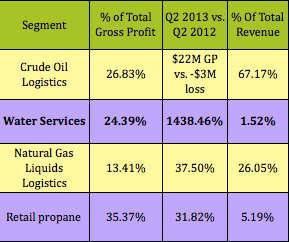 Earnings: NGL doesn't look undervalued on a Price/Book basis, or on a straight P/E basis for trailing earnings, but its Forward P/E is much lower than its trailing P/E due to strong earnings estimates: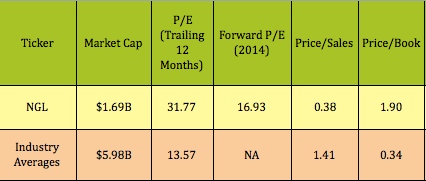 The average analyst EPS growth estimates of 39.58% for fiscal 2014, and 35.82% for fiscal 2015, make NGL look undervalued on a 2014 and 2015 PEG basis. (NGL's fiscal year ends in March, so these projections aren't as far off as they may seem.)

Trailing 12-month Growth has been robust:

Distributions: NGL has grown its distribution over the past 2 years from an initial $.167 in August 2011, up to the current $.5112. It has reasonable distribution coverage of 1.58.

Options: NGL does have call options available, but they are not high enough to list in our Covered Calls Table.
Although NGL just went ex-dividend this past week, there are attractive April 2014 put option premiums which pay around 4 times the amount of NGL's next projected quarterly distribution of $.51. Considering that NGL is only about 7%-8% below its 52-week high, selling $30 put options, which are below NGL's price/share, can offer you a lower breakeven and much more immediate income than just buying it outright. Our Cash Secured Puts Table will give you more details on this and over 30 other put-selling trades.


Financials: NGL does have a much lower Operating Margin than its peers, but that should improve if it continues to ramp up its higher margin Water Services business:

Disclosure: Author had no NGL stock or options positions yet at the time of this writing.
Disclaimer: This article was written for informational purposes only.
Disclosure: I have no positions in any stocks mentioned, and no plans to initiate any positions within the next 72 hours. I wrote this article myself, and it expresses my own opinions. I am not receiving compensation for it (other than from Seeking Alpha). I have no business relationship with any company whose stock is mentioned in this article.