A company's reported assets very often do not tell the whole story of the actual amount of capital the company has invested in business. The existing accounting rules provide companies with numerous loopholes that they can use to hide weaknesses in their balance sheets and obscure the actual amount of invested capital.
A company's net-funded status of its pension and other post-retirement plans are included in the balance sheet. When a company's pension plans are overfunded, it means that the company's is not using its excess assets actively to create revenue. Overfunded pension assets can be equated to excess cash, and should, therefore, not be included in the calculation of ROIC (Return on Invested Capital).
JPMorgan (NYSE:JPM) holds over $17.9 billion in assets funding its post-retirement and pension plans. The firm, however, has obligations for just $15.7 billion of these assets. The other $2.2 billion should not be factored in when calculating the firm's ROIC. For a behemoth like JPMorgan with $2.3 trillion in assets, the $2.2 billion is, of course, a drop in the ocean. But not all pension plans are as huge as JPMorgan. The table below lists the top five firms with the largest overfunded pension plans in absolute terms, and the top five firms with the largest overfunded assets expressed as a percentage of total assets
Companies with the largest overfunded pension plans (removed from invested capital)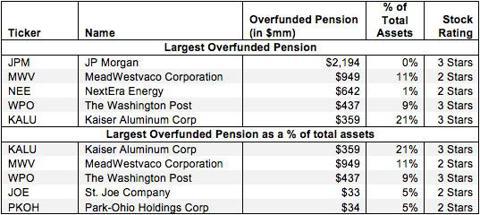 Sources: New Constructs, LLC and company filings
Current situation not nearly as bad as the 90s
There were 50 companies with overfunded pensions in 2012, overfunded by a combined $5.5 billion. This is a huge improvement over the 1990s when overfunded pension plans were much more common. There were a total of 1,876 overfunded pension plans in 1996, overfunded by a combined $458 billion.
The ROIC of companies with overfunded post-retirement and pension plans can get a significant boost when the excess assets are removed from the invested capital. Take the case of Kaiser Aluminum Corp. (NASDAQ:KALU), whose pension and post-retirement benefits are overfunded by about $359 billion. When you include the overfunded assets in the calculation of the firm's ROIC, it works out to around 6%. After adjusting for the overfunded assets, Kaiser Aluminum's ROIC works out to 8%. The change is significant and can make the difference between a company making positive or negative economic earnings.
The Washington Post Corp. (WPO) has $437 million in overfunded assets, equivalent to 9% of its total assets which amount to $4.86 billion. The company sports a 3.67% ROA and a 1.91% ROE%. Another behemoth of the space, Meadwestvaco Corporation (MWV) has a total of $949 million in overfunded assets, equivalent to 11% of its total assets of $8.63 billion. The firm sports a 2.79% ROA and a 4.92% ROE. The inclusion of the overfunded assets in the calculation of the two firms' ROIC can significantly lower the figures and distort the true picture of their performance.
Investors who routinely ignore overfunded pensions are in effect holding the companies accountable for capital that is not actively used for generating returns. Investors can obtain clearer picture of the real value that a company's management is creating for its shareholders by removing the company's overfunded pension assets. Diligence pays.
Utilizing surplus assets: the horn of plenty
Accessing surplus pension assets is usually a costly affair for companies. Cases of corporate raiders buying companies with the aim of getting at their pension funds were rampant in the 80s and 90s, prompting Congress to change existing tax laws in a bid to deter termination of overfunded plans. Companies that terminate overfunded plans are liable to paying out all existing benefit obligations, plus a 50% federal excise tax on the excess funds, in addition to the normal corporate tax.
Below are some ways in which companies can use their pension surpluses without incurring gigantic tax penalties:
Provide additional benefits. A pension plan surplus can be used to enrich the benefits of current participants without changing actuarial assumptions or benefit formulas.
Fund Retiree health benefits
Fund non-qualified benefits.
Redirect assets to offer expanded benefits such as life insurance or disability benefits.
Consider a merger.
Conclusion
When investing in overfunded pension plans, investors should first take a look at the firms' surplus assets when trying to calculate the companies' ROICs. This is even more critical for firms whose surplus assets form a relatively large percentage of their total assets. Accounting for the overfunded assets can significantly improve a firm's return on invested capital.
Disclosure: I have no positions in any stocks mentioned, and no plans to initiate any positions within the next 72 hours.
Business relationship disclosure: Syncopy Research is a team of financial analysts. This article was written by Alex Kimani, the firm's senior analyst. We did not receive compensation for this article (other than from Seeking Alpha), and we have no business relationship with any company whose stock is mentioned in the article.