Unless something dramatic happens in the next couple of market days, the Friday December 26 charts tell the story of 2009. Here is a quick round trip view that may be of use to you as you formulate your views of the coming months in 2010.
Each chart shows the daily OHLC and the 21-day price channel, with the percentage change for the year for the upper and lower price channel.
click images to enlarge
US Stocks by Mkt-Cap: SPY, MDY, IWM
US Bonds by Duration: BSV, BIV, BLV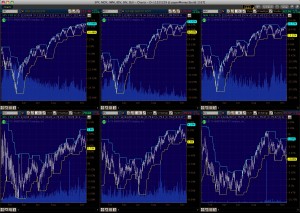 US stocks are still in a primary uptrend. Mid-cap stocks were the best performers. US bonds are breaking down with long-term bonds in the worst shape (ST bond up about 0.5%, IT bonds up about 1.15% and LT bonds down about 3.75%).
Global Stock Regions: SPY, VEA, VWO
Global Intermediate Sovereign Debt: IEF, BWX, EMB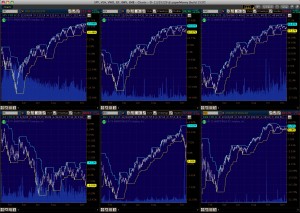 Global regional stocks are still in a primary uptrend. Emerging markets did the best, with non-US developed markets second and the US third. However, the US shows the strongest current trend pattern, while emerging markets show the weakest pattern.
Emerging market Dollar denominated sovereign debt performed the best and is in the strongest, although currently with a flat chart pattern. Non-US developed country local currency sovereign debt had been a strong performer until just recently when the Dollar surged. That category fell apart a few days ago. US intermediate-term Treasuries have been in a downward movement all year.
Gold, Oil, Industrial Metals: GLD, DBO, DBB
Meat, Grains, Softs: COW, JJG, JJS

Gold has been the big headline commodity, but is is up less than stocks for the year, somewhat less than oil and significantly less than industrial metals. Gold was set back by the recent Dollar surge. Industrial metals are in a strong uptrend.
Meat is down, grains are range bound and softs are up considerably.
Dollar Index, Eur0, Yen: UUP, FXE, FXY
Pound Sterling, Canadian Dollar, Mexican Peso: FXB, FXC, FXM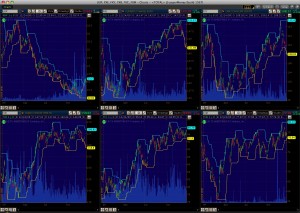 We had an up and down year for currencies — mostly down for the US Dollar until the very recent surge — mostly up for the Euro until very the recent dive relative to US Dollar — same for Yen. Those three currencies account for the vast bulk of FX trading. The pound sterling is up for the year, but has been range bound for months. The Canadian Dollar and the Mexican Peso are in up trends against the US Dollar.
China, Brazil, India: FXI, EWZ, PIN
Russia, Korea, Malaysia: RSX, EWY, EWW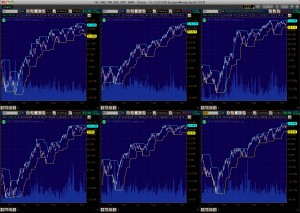 China is the lead emerging markets economic story. It stands as the #3 economy in the world, just a hair below Japan. It will probably become #2 in 2010, behind the USA. That said, China was the least profitable investment of the six in this grouping. The #1 return by far was Russia, followed in order by Brazil, India, Korea, Malaysia and lastly China.
North American, Asian and European REITs: IFNA, IFAS, IFEU
US Equity REIT Sectors: FIO, RTL, REZ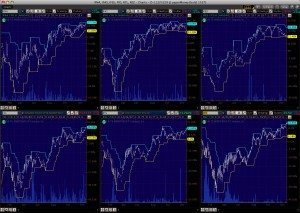 North American equity REITs are in a price uptrend pattern, whereas Asian and European REITs are more flat. This conflicts with the news of red hot Chinese housing markets, but for the funds the prices are what they are. US residential equity REITs are in a continuing up trend, whereas industrial and retail equity REITs are up for the year, but showing some consolidation or flattening as of late.
US Agg. Bonds, Munis, Inv. Grade Corp.: BND, MUB, LQD
Junk Bonds, IT Treasuries, TIPS: HYG, IEF, TIP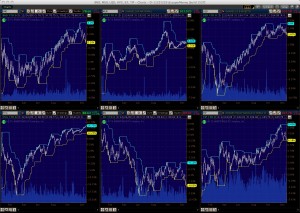 These bond ETFs are all up for the year, except for intermediate-term US Treasuries, which are down substantially for the year. Municipals, investment grade corporates, and TIPS are still in up trends, but are showing weakness lately. Junk bonds are still firmly in an up trend. The aggregate bond index is weighed down by its heavy allocation to government debt.
ST, IT and LT Municipals: VWSTX, VWITX, VWLTX
High Yield Municipals: VWAHX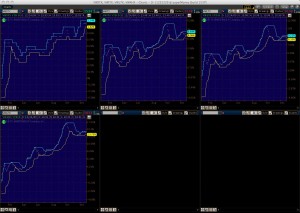 Short-term municipals are still in a strong up trend, but the intermediate-term and long-term as well as high yield municipals have recently shown weakness, although they have not reversed.
Materials, Energy, Financials: XLB, XLE, XLF
Industrials, Technology, Staples: XLI, XLK, XLP
Utilties, Healthcare, Cyclicals: XLU, XLV, XLY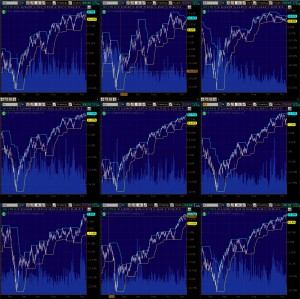 All of the S&P 500 sectors are in up trends. Financials are flat lately, with a bit of negative drift. Staples are up, but with a small dip recently, from which they have recovered.
Compliance Disclosure:
In the aggregate, we currently own SPY, VWO, EMB, BND, MUB, LQD, HYG, TIP, VWITX, VWAHX, XLE, XLF and XLU in some but not all managed accounts. We do not currently own other mentioned securities. We are a fee-only investment advisor, and are compensated only by our clients. We do not sell securities, and do not receive any form of revenue or incentive from any source other than directly from clients. We are not affiliated with any securities dealer, any fund, any fund sponsor or any company issuer of any security. This report is for informational purposes only, and is not personal investment advice to any specific person for any particular purpose. We utilize information sources that we believe to be reliable, but do not warrant the accuracy of those sources or our analysis. Past performance is no guarantee of future performance. Do not rely solely on this research report when making an investment decision. Other factors may be important too. Consider seeking professional advice before implementing your portfolio ideas.