The Applied Finance Group (AFG) works with some of the most well respected investment firms in the U.S. to help them develop quantitative screening processes to identify a better pool of companies to choose from for their portfolio holdings. However, picking winning investment opportunities isn't the only value AFG provides clients. AFG also develops quantitative strategies to quickly identify possible torpedoes lurking in your client or prospective client's portfolio.
AFG's quantitative process is centered on the proprietary Economic Margin (EM) Framework (what a company earns above its true cost of capital). The core of AFG's quantitative process starts with evaluating corporate performance and the expected improvement relative to their peers, evaluating the valuation attractiveness of the company, and determining if a firm is following a wealth creating or wealth destroying strategy.
To stay updated on companies AFG believes are attractive investment opportunities register here.
A brief description of those variables is available below the list of companies.
When identifying potential torpedoes AFG looks for companies with the least valuation upside compared to their sector peers, below sector median expected Economic Margin change, and a management quality score that reflects a management team following a wealth destroying strategy.
These 12 S&P 500 companies are potential torpedoes that could be lurking in your portfolio. These companies all possess characteristics that make for a bad investment opportunity. If you own one of these companies or consider adding one to your portfolio, we suggest taking a closer look as they look the most likely to underperform their sector peers according to criteria that have proven successful at identifying winners and losers in the market.
click to enlarge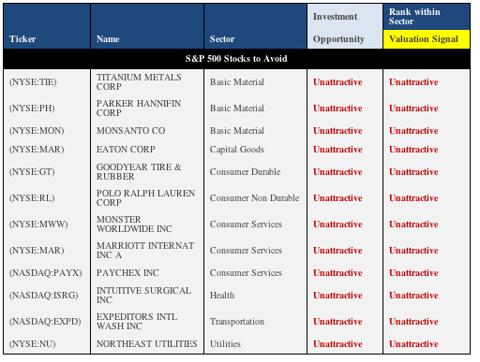 AFG's Valuation Metric – Measures the percent to target (deviation between a stock's current trading price and its AFG current default target price). To derive the intrinsic value of a firm, AFG uses its proprietary Valuation Model (modified discounted cash flow model).

Economic Margin - A corporate performance measurement that addresses the gaps in GAAP, eliminating distortions caused by accounting policies to measure what a company is truly earning above or below their cost of capital.

Management Quality – Assesses management's ability to make wealth creating decisions.
Disclosure: no positions