Cognex Corporation (CGNX) recently announced that it has signed a supply agreement with German automaker BMW AG.

Under the terms of the multi-year agreement, Cognex will supply its leading products DataMan handheld and In-Sight fixed-mount ID readers to BMW manufacturing plants worldwide.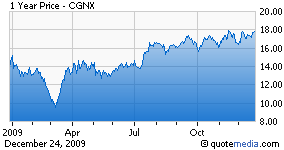 DataMan and In-Sight image-based ID readers provide high-reliability reading of 1D and 2D codes in a wide range of applications, from the easiest-to-read high contrast codes that are printed on labels to the most difficult codes that are directly marked on metal, glass, ceramic, and plastic parts.

Cognex ID readers enable reading codes which are marked directly on engine parts and gear assemblies as they go through production. Reading codes that are marked directly on parts at multiple stages during production enables manufacturers to verify whether the parts have been processed correctly at each stage and creates a traceable path for each part throughout the entire production process and supply chain.

In addition, Cognex will provide ongoing technical support to BMW personnel.

Cognex plans to develop new products and functionality which makes vision easy to use along with building a worldwide sales and support infrastructure in order to access more of the potential market for machine vision. The company also intends to enter into new industrial and commercial vision applications through the internal development of new products along with acquisition of businesses and technologies.

Cognex is a leading provider of machine vision products which capture and analyze visual information in order to automate tasks, primarily in manufacturing processes, where vision is required. A lot of manufacturing equipments require machine vision because of the increasing demand for speed and accuracy in manufacturing processes.