Anticipation runs high for Organovo Holdings, Inc. (ONVO). Organovo stands at the crossroads between two popular trends when it comes to 3-D printing technology and the rising demand for organ tissues. The company utilizes a bio-ink consisting of a patient's cells taken from a specific organ. By layering the bio-ink and controlling the environment, the company has already proven its ability to design organ tissues that retain organ functions. Such an advancement in science has excited investors as witnessed by the rapid rise in the company's stock over the last two years.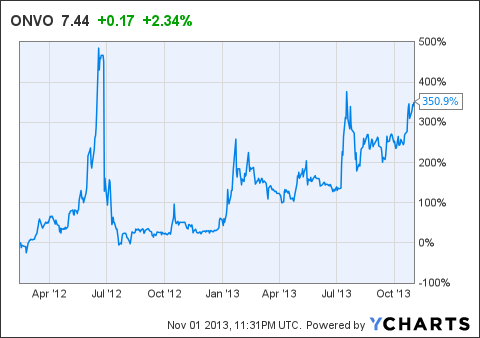 Raising Cash At Shareholder's Expense
As seen above, the 3-D bioprinting company currently trades 350% higher than its market debut in February 2012. At that time, the company had recently completed its backdoor entry onto the over-the-counter market through a process known as a reverse merger. The company merged with a publicly-traded Nevada shell company named Real Estate Restoration and Rental, Inc. and subsequently reformed itself into Organovo, Inc. Upon completion of the merger, the company had quickly issued 22.4 million shares of company stock to raise $6.5 million.
Despite its promising technology, Organovo remains far from healthy. When Organovo released its Q1 2014 results, the company declared that the total issued and outstanding share count (after accounting for warrants and incentive plans) was tallied at 74,267,596 shares of common stock as of June 30. Put in perspective, we see that Organovo had issued roughly 30% of these shares upon its market entrance for a mere $6.5 million.
The unconventional market entrance via reverse merger (in contrast to an IPO) and the early market dilution remain two early indicators that the company got off to a rough start when it comes to shaping its share structure. On August 7, the company raised another $43.3 million through the sale of 10.35 million shares. While this cash was raised at a more comfortable price level, it illustrates the ongoing need to raise additional capital. It remains left to be seen how many years the company will need before it can become profitable. Likewise, it remains questionable how much more money the company will have to raise before it is able to support itself through its operating activities.
Concern Over Insider Sales
One additional concern that has begun to show face is the recent increase in insider selling activity. In October, the company's Chief Executive Officer, Chief Technology Officer, and Chief Strategy Officer sold a combined 241,530 shares for approximately $1.4 million. For CTO Sharon Collins Presnell, the sale marks the second in the last 3 months. According to her Form 4's found here and here, the two sales represent a decrease of 67% of her holdings in ONVO.

Click to enlarge
However, it is worthwhile to point out that all of these shares were sold by insiders under the company's Rule 10b5-1 trading plan. These sales are planned in advance rather than timed by market opportunity. Prior to August, the company had not experienced any insider selling. While this could suggest that the company is reaching a more reasonable valuation, it could also suggest that insiders are beginning to take some well-deserved profits to diversify their own portfolios.
A Look At The Company Now
In 2012 alone, the company had a net loss of $43.6 million. However, much of this was due to a change in the fair value of warrant liabilities. In Q1 2014, Organovo increased its net loss to $3.73 million from the $1.45 million loss in Q1 2013. The growing loss suggests that the company will need to spend more as its technology continues to mature. The lengthy and expensive process of clinical trials is also likely to require ongoing support from the market.
Prior to its latest share offering in August, Organovo carried total assets of $14.5 million as of June 2013. Of this, $12.8 million was comprised of cash and cash equivalents. With the additional cash raise, Organovo now reasonably carries approximately $55 million in cash. Along with this reinforced balance sheet, the company now trades with a lofty market capitalization of roughly $570 million as of November 1.
Justifying The Demand
Nevertheless, biotechnology companies typically trade with a premium to their current valuations. Increased media exposure from the cover story of Popular Science to the airwaves of public radio have helped to bring national attention to this developing company. Further pushing the drive higher is a growing list of new relationships being formed by Organovo. Large names such as Pfizer (PFE), United Therapeutic (UTHR), Knight Cancer Institute, ZenBio, and L'Oreal have all partnered on some level with Organovo. This has helped to raise investor confidence and is largely seen as a boon for technology viability.
Final Thoughts:
There is little denying that Organovo trades with a significant premium when contrasted against its book value. However, the company is currently trading on the future expectations of its technology. The rising trend of its stock can continue as long as Organovo can persistently deliver news that shows the company is progressing in its pursuits to develop organ tissues for research and organs for human transplants. Yet due to its high valuation, any setbacks along the way are likely to be met with a disproportionate decline in response.
The latest capital raise has significantly bolstered the company's financial position. However, with the rising cost of its operating activities, investors can expect that much more will be needed along the way. It does remain promising that the company can tap into the research market by developing tissue test kits. This initial market is likely to produce a near-term product that can help offset some of the ongoing costs of advancing the technology.
Nevertheless, investors should be aware that Organovo is still in the very early stages of developing the ultimate goal of designing organs for transplant. It remains very disappointing that the company diluted as much as it did when it first arrived onto the public market. The need for additional capital is likely to be an ongoing issue for Organovo. Investors should continue to treat this company as a speculative investment only. Far from a proven technology, it is likely that company will endure increasing volatility as the research continues.
Disclosure: I am long ONVO. I wrote this article myself, and it expresses my own opinions. I am not receiving compensation for it (other than from Seeking Alpha). I have no business relationship with any company whose stock is mentioned in this article.