Prior to giving our updates, I would like to focus in on a new stock selection that will be added to both portfolios: Franklin Street Properties (NYSEMKT:FSP). This REIT makes investments in commercial real estate. It owns and leases its space at premium, yet affordable prices. The company also sells properties as they increase in value, so I consider this a hybrid of sorts.
Being that the stock is a REIT, it is IRS mandated to pay out at least 90% of income earned to shareholders as dividends.
The company has some very good fundamentals:
A price to book value of just 1.2.
YOY revenue growth of more than 22%.
Based on the earnings just reported, FSP's profits as represented by FFO rose approximately $5.0 million to $27.1 million or $0.27 per share compared to $22.1 million or $0.24 per share in the second quarter of 2013.
The current dividend yield is 5.50%, and even with a ridiculously high payout ratio, this small cap REIT offers plenty of potential for higher dividends, as the commercial real estate market continues to pick up.
A very reasonable forward PE of 11.79.
Insiders hold about 10% of outstanding shares, and institutions hold more than 52%.
A low beta of just 1.14.
Nearly 94% of all property is currently being leased.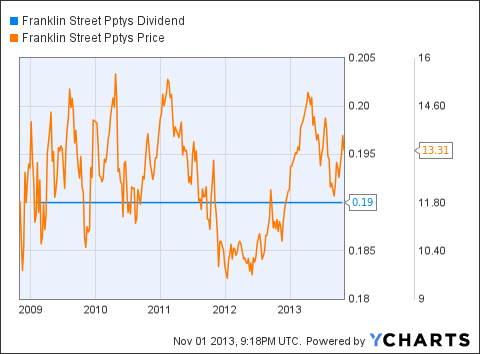 As you can see from this chart, the price of the stock has stayed in a rather tight range of between $10-$15/share. At the same time, the company has not missed a dividend even though it also has not increased them. That could change based on the latest positive earnings report.
As discussed in the conference call, the CFO and EVP, John Demeritt, commented:
For the third quarter, 2013, we continued to generate strong results, benefiting from the growth in our portfolio, as well as the strengthening of our balance sheet. For the quarter, our FFO is $0.27 per share, which is an increase of $0.03 compared to the third quarter of 2012....Regarding our balance sheet and current financial position, at the end of August, we closed on a term loan with our banking group to lock in an attractive -- to lock in attractive long-term interest rates. The $220 million unsecured loan has a term of 7 years, and provides us with significant flexibility. We fixed that rate at about 4%.
I happen to like the stability this stock offers, and since the stock is selling in the middle of its range, I believe it offers dividend seeking investors a reliable dividend and an additional income stream.
I also like the fact that the company is addressing its debt, as well as revenue and earnings, as this bodes well for future growth on both top and bottom lines. That in turn should translate into higher dividends for shareholders, as well as some capital appreciation.
This stock belongs in both of our portfolios, and as of the next trading session, I will be adding shares to each portfolio.
The price is right and so is the dividend.
Now For Our Updates
Since our newest portfolio, Team Alpha Growth And Income, is only one month old, I felt it would be a good idea to combine it with our top performing, 2 year old Team Alpha Retirement Portfolio for this update. As we move ahead and make more changes to our new portfolio, I will separate them out into two feature articles.
The first suggestion I have is to review how our newest portfolio actually came to life. It was launched on October 1st and the details can be reviewed right here.
Our goals for this portfolio are as follows:
A dividend yield of roughly 3.50% to start, (we hit 3.72% to start).
Capital appreciation greater than the S&P 500 on an annual basis.
A target allocation of 60% growth and 40% income.
Capital preservation will be a vital goal, as this portfolio is geared for those of us who are retired as well as the younger, moderately conservative investor.
Furthering the education of all of our investors in portfolio management, as well as money management.
Dividends received will be added to our cash reserves, not re-invested.
The brand new Team Alpha Growth And Income Portfolio consists of Apple (NASDAQ:AAPL), Ambarella (NASDAQ:AMBA), Cisco (NASDAQ:CSCO), CSX Corp. (NYSE:CSX), Chevron (NYSE:CVX), Ford (NYSE:F), Facebook (NASDAQ:FB), Galena (NASDAQ:GALE), General Electric (NYSE:GE), Altria (NYSE:MO), Johnson & Johnson (NYSE:JNJ), Coca-Cola (NYSE:KO), McDonald's (NYSE:MCD), Realty Income (NYSE:O), Procter & Gamble (NYSE:PG), AT&T (NYSE:T), Wells Fargo (NYSE:WFC), Exxon Mobil (NYSE:XOM), Yahoo (NASDAQ:YHOO) and now, Mid-America Apartments (NYSE:MAA).
I believe that as the markets move from one cycle to the next, it is important for many investors to have some growth stocks incorporated into a well balanced portfolio of dividend champion stocks. According to Fidelity Investments, the following chart shows where we are in the economic cycle: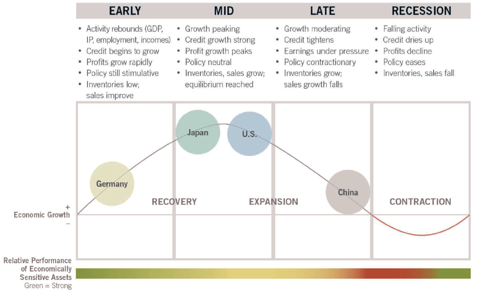 As you can see, The US is still in the "sweet spot" of our economic cycle. It is my opinion that since our recovery has been very slow, we could be in this part of the cycle for another year at least. Of course that is just a guess, but being that we are at the top of the cycle, growth stocks are an important ingredient for many investors, especially those with a longer time horizon prior to retirement.
That being said, let's take a look at our very first month's performance of the Team Alpha Growth And Income Portfolio.
Stock
Shares
Price Now
Total Value
Cost Basis
AAPL
10
522
5220
$475
AMBA
350
21
7350
$19
CSCO
125
23
2875
$23
CSX
125
26
3250
$26
CVX
30
120
3600
$120
F
200
17
3400
$17
FB
100
50
5000
$50
GALE
3500
2.23
7705
$2
GE
175
26
4550
$24
MO
175
37
6475
$34
JNJ
40
92
3680
$86
KO
75
40
3000
$38
MCD
40
96
3840
$97
O
150
42
6300
$40
PG
50
81
4050
$76
T
175
36
6300
$34
WFC
100
43
4300
$41
XOM
50
90
4500
$86
YHOO
175
33
5775
$33
MAA
100
66
6600
$62
Cash Rsvs
x
x
7,030
Tot.Value
x
x
104,800
Based on our beginning balance of $100k, the portfolio increased in value by 4.8% for the month. With the addition of Mid-America Apartments, we increased our yield on cost to 3.81%. One of the stocks in the portfolio will be counted in both the growth and income section because quite frankly we just cannot figure out which section Apple actually belongs in yet.
Of course the total value will always be shown, but when figuring out our income stream, it will be somewhat skewed by the Apple numbers. As of now, the portfolio has $74,000 invested in dividend paying stocks and on an annual basis, the income stream comes out to be roughly $2,819. This amount will increase as we add higher yielding stocks, as well as the dividend increases these stocks are so well known for.
The bottom line here is that we are off to a fair start. Not great, but very fair.
The Team Alpha Retirement Portfolio Keeps Rocking And Rolling
For over 2 years now, we have been developing one of the finest portfolios on Seeking Alpha (if I do say so myself). With prudent portfolio management as well as dodging a few bullets along the way, this portfolio has become a gold standard for other authors to try to duplicate, and every one of us has done a great job in our own style.
The Team Alpha Retirement Portfolio consists of Apple, AT&T, BlackRock Kelso Capital (NASDAQ:BKCC), Cisco, CSX Corp., Chevron, Exxon Mobil, Ford, General Electric, Johnson & Johnson, Coca-Cola, McDonald's, Newmont Mining (NYSE:NEM), Procter & Gamble, Realty Income, and Wells Fargo .
My style is more hands on with dividend growth stocks and dividend opportunity stocks. I will move as quickly as possible out of a position when fundamentals or headwinds tell us we should, and I will take advantage of some high yielders when the time is right for those to be held.
As a result, the portfolio has performed more than superbly.
Stock
#Shares
10/31/2013
TotValue
Orig. Price
XOM
125
90/shr
9500
75
JNJ
105
92/shr
9660
63
T
400
36/shr
14400
28
GE
500
26/shr
13000
15
BKCC
500
10/shr
5000
10
AAPL
20
522/shr
10440
436
PG
100
81/shr
8100
61
KO
100
40shr
4000
34
NEM
200
27/shr
5400
33
WFC
200
43/shr
8600
40
O
300
42/shr
12480
34
CSCO
400
23/shr
9200
18
CVX
65
120/shr
7760
116
MCD
110
96/shr
10520
86
CSX
200
26/shr
5200
19
F
300
17/shr
5100
13
Cash Rsvs
x
x
5832
Tot Value
x
x
144192
In 25 months, the Team Alpha Retirement Portfolio has increased in value by 44.2% and most importantly has a yield on cost of 5.01% as of right now. With $138k invested in those dividend paying stocks, we now have a yearly income stream of roughly $6,913.
Since the most important component of this portfolio is immediate income, we have done an admirable job of increasing our income from when we began. We began with a YOC of about 4.3% with $100k invested, for an income stream of roughly $4,300/year, 25 months ago.
You can go back to my early articles to follow the progression as it would be far too many links to list here and the editors would have a fit if I did. Please take a look at my list of articles and skim through them at your own pace. The bottom line is that by using prudent portfolio management, both on the buy and sell side, our yearly income has increased by more than 60%.
In order to tweak our overall returns in both income and portfolio value this month, we bought some stock when the dips presented a sound opportunity for us. We added shares of Exxon Mobil, Realty Income, McDonald's, and Chevron. We also sold our position in Intel (NASDAQ:INTC), which proved to be a mistake based on today's price, but we did put the funds right back to work.
The fruits of our labor has paid off nicely thus far.
The Bottom Line
There will be times when we add the same stock to both portfolios. We already have some overlap, but I believe we needed to find a REIT "diamond in the rough" with Franklin Street Properties.
While these portfolios are for somewhat different investor profiles, I feel certain that both will continue to deliver consistent, positive results.
One final word, The Young And Restless Portfolio update is important for you to read. Please review that update right here!
Disclosure: I am long AAPL, AMBA, BKCC, CSCO, CSX, CVX, F, GALE, GE, JNJ, KO, MCD, NEM, O, T, WFC, XOM, YHOO. I wrote this article myself, and it expresses my own opinions. I am not receiving compensation for it (other than from Seeking Alpha). I have no business relationship with any company whose stock is mentioned in this article.
Additional disclosure: I will be buying shares for a LONG position in FSP