The European telecoms sector offers very attractive dividend yields, which may represent an opportunity for income investors especially now that Europe seems to show some early signs of economic recovery. Previously, I've suggested Vodafone (NASDAQ:VOD) and TeliaSonera (OTCPK:TLSNY) as good dividend plays within the European telecoms sector. Another European telecom company that offers a compelling investment is Telenor (OTCPK:TELNY), a Norwegian operator with a broad exposure to emerging markets which has an attractive dividend yield of 4.15%. Telenor has a market capitalization of $38 billion and trades in the U.S. in the over-the-counter market.
Company Overview
Telenor is based in Norway and was founded in 1855. It is nowadays one of the world's major mobile operators with more than 160 million mobile subscriptions. It has mobile operations in 12 markets and additionally in 17 markets through its 33% ownership in Russian mobile operator VimpelCom (NYSE:VIP). Telenor has operations in telecommunications services, broadband, and TV services. Mobile communications accounted for about 70% of the company's revenues during 2012. The Government of Norway is Telenor's major shareholder with a stake of 54%, so it is unlikely that a takeover offer would be successful.
Telenor is very well diversified internationally, with a strong footprint in Nordic countries, Eastern Europe and Asia. Telenor has evolved over the past decade from being basically a domestic company to become a global telecoms operator. Indeed, currently its largest market is Asia representing about 44% of Telenor's revenues in 2012. Norway is the second-largest market with a 25% weight on revenues, where the company is the dominant telecom operator. Rest of Europe is responsible for about 23% of Telenor's revenues. International operations have shown rapid growth and in 2012 Telenor's non-Nordic operations made up for 55% of its EBITDA.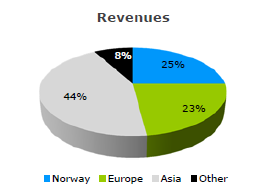 The company is facing fierce competition in its domestic market, from its competitors TeliaSonera and Tele2 (OTCPK:TLTZY). As most developed markets the Norwegian mobile penetration rate is high, making growth to come mainly from market share gains. Therefore, competitors usually lower prices to gain customers, causing revenue and price pressure for the dominant player in the market. This is what Telenor has experienced domestically, leading to lower revenues and profitability in its domestic operations over the past few years. It also faces challenging operating environments in Sweden and Denmark, where Telenor is not the market leader but fierce competition has led to lower revenues and profitability.
However, this challenging environment domestically is contrasted by the good growth offered by the company's international operations, especially in emerging markets. In several of these markets mobile penetration is still relatively low, which therefore offers higher long-term growth prospects than in developed markets. At the same time, Telenor's relatively high emerging markets exposure also means that it has some geopolitical, economic and foreign exchange rate exposure to these markets. This was clearly evident in 2012, when the Indian Supreme Court decided to quash all licenses granted in 2008. Telenor was able to secure its license to operate in six telecom circles for a period of 20 years. These circles are home to more than 600 million people. This event clearly shows the political risks Telenor faces associated with its emerging markets operations.
Regarding its recent financial performance, Telenor's revenues increased by 3.3% in 2012 to $17.3 billion, negatively impacted by the appreciation of the Norwegian krone towards the majority of the business units reporting currencies. The company's organic revenues growth was higher at 5%. Its EBITDA increased slightly to %5.4 billion, representing an EBITDA margin of 31% which is in-line with the European telecoms sector average. Telenor's net income in 2012 was $1.75 billion, or $1.10 per share.
Telenor recently released its third quarter results, showing continued organic revenue growth driven by Asia and an all-time high EBITDA margin of 37.1%. However, it lowered its guidance and now expects revenues to grow 1% to 2% this year, excluding acquisitions, from 2% to 4% expected previously. In India, revenues increased by 23% compared to the same quarter of 2012, and it expects to achieve cash flow breakeven by the end of the year. On the other hand, in Norway, mobile revenues declined by 3% but its profitability improved from the previous quarters. Telenor continues to face pricing pressure in Nordic markets, as rivals cut prices to gain users in saturated markets.
Going forward, the company's strategy is to continue to deliver growth focusing on high-growth emerging markets, and push data usage among its customer base through increasing penetration of internet users. Telenor has also a cost cutting program to protect its profitability, expecting savings of around $900 million by 2015. Telenor was recently granted one of the two licenses available to build Myanmar's telecommunications network. Myanmar offers a huge growth outlook for the company, given that its current mobile penetration rate is only 10% and its population is about 59 million people. Telenor expects the operation to start in 2014 and subscriptions should grow by fivefold to about half the population by the end of 2017. This means this market can increase by more than 23 million customers, providing a strong boost to Telenor's subscriber base over the next few years. Telenor also bought a few months ago the second-largest operator in Bulgaria for about $1 billion, a market with limited growth potential due to a high mobile penetration rate.
Dividends
Regarding its dividend history, Telenor has a good track record since its dividend omission in 2008. Telenor resumed dividend payments in the following year, and since then has been increasing its dividend annually. In 2012, it paid a NOK 6.00 ($1.02) dividend per share, an increase of 20% from the previous year. Going forward, Telenor's policy is to distribute a dividend to its shareholders which is equal to 50-80% of normalized annual profits, and it will be aiming for a year-on-year growth in the ordinary dividend per share. Like many European companies, Telenor's dividend payment frequency is only annual which decreases slightly its attractiveness for income investors. Telenor has also performed share buybacks over the past three years, further improving shareholders' remuneration. On the negative side, its dividend payout ratio is high based on reported earnings, given its dividend payout ratio of 92% in 2012.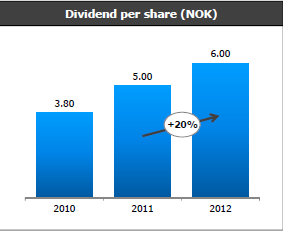 Telenor's dividend is also supported by its good cash flow generation capacity. In 2012, it reached an operating cash flow of $3.5 billion, which should increase over the next few years due to lower expenses, positive cash flow contributions from India, Bulgaria, and Myanmar, and lower capital expenditures following significant investments in 2013 and 2014. Telenor's goal is to deliver annual cash flow from operations of about $5 billion by 2015, an increase of than 40% compared to 2012.
Telenor's dividend is clearly supported by its strong balance sheet. At the end of the third quarter of 2013, its net debt was about $6.4 billion, representing a net-debt-to-EBITDA ratio of only 1.1x which is quite low for a company with good growth prospects and high profitability like Telenor. The company's goal is to maintain a solid balance sheet, targeting a leverage ratio below 2x. This target leaves plenty of room for Telenor deliver both growing dividends and perform medium-scale acquisitions.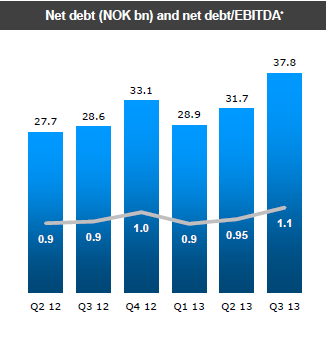 Conclusion
Telenor is a compelling opportunity for income investors, offering a sustainable dividend yield of 4.15%. Telenor's expansion and asset base is more attractive and diverse compared to most of its peers, meaning that Telenor is one of the rare attractive growth stories in the telecoms sector. Although the company is facing some issues in Nordic markets, this should be more than offset by growth in emerging markets especially after the start of Myanmar operations.
Disclosure: I have no positions in any stocks mentioned, but may initiate a long position in OTCPK:TELNY over the next 72 hours. I wrote this article myself, and it expresses my own opinions. I am not receiving compensation for it (other than from Seeking Alpha). I have no business relationship with any company whose stock is mentioned in this article.