After another quarterly report, Westport Innovations (NASDAQ:WPRT) had mixed results with good news for longs and bad news for shorts. Any investor checking back into the story after an absence should realize that since the last earnings release, the much-anticipated Cummins (NYSE:CMI) - Westport, or CWI, joint venture's 400HP 12-liter engine hit production and the company completed a secondary offering to raise cash. The combination of news items sets the company up for positive results in the future.
Unfortunately, the leader of natural gas engines didn't provide details on the earnings report that helped the stock, though it shouldn't be hurt that bad either. The lack of details regarding CWI growth and the continued focus on new development projects again left the investment community with concerns about profitability. As mentioned back with the secondary offering (see Westport Innovations: A Must Own Secondary), the cash raise places new investors in a better position to profit with the stock lower and the balance sheet stronger. Now the company must prove that the adjusted EBITDA goals of reaching positive numbers with the business units by 2014 and the corporate level by 2015 are achievable.
Quarterly Review
The company provided the following highlights for Q313:
Westport revenue, excluding joint ventures' revenues, for the quarter ended September 30, 2013 was $46.5 million compared with $30.7 million for the same period last year, an increase of 51%
In the third quarter of 2013, CWI shipped 2,409 units and WWI shipped 9,080 units.
For the quarter ended September 30, 2013 Westport reported a net loss of $30.2 million, or $0.53 loss per share, compared with $32.5 million, or $0.59 loss per share, for the same period last year.
Subsequent to the quarter ended September 30, 2013, Westport increased cash balance by $148.2 million through a financing transaction, which closed on October 1, 2013.
As with any quarter, a company typically has good, bad and even ugly parts. In the below sections, we'll attempt to parse out the different ones that provide a mixed picture for investors.
The Good
Revenues excluding joint ventures surged 51% for Q313. This bounce back in non joint venture revenue is a very encouraging sign.
CWI units sold increased 52% to 2,409 and revenue gained 70% to $77.5 million.
WWI units sold rose 88% to 9.080 and revenue surged 95% to $114.6 million.
Westport's interest in WWI income surged 86% to $1.3 million.
The Bad
For Q313, Westport reported a $30.2 million, or $0.53 loss per share, compared with $32.5 million, or $0.59 loss per share last year.
Operating expenses surged 31% to $42.9 million
CWI gross margins plunged to 22.8% due to a $6.6 million warranty charge mainly due to the new ISX12G engine. Gross margins would've increased to 31.4% if not for the warranty charge.
CWI operating expenses increased 53% to $9.8 million, leaving the net income 31% lower than last year. A good part of the increased expenses were related to the development of the ISB6.7G engine.
WWI units sold actually declined from the 11,000 average pace during the first two quarters of 2013.
WWI gross margin actually declined slightly to 7.7% in Q313 from 7.8% last year.
The Ugly
Cash used during Q313 was $46.0 million including $12.4 million in debt-related repayments. Excluding debt-related repayments, cash used in the quarter was $33.6 million.
On October 1st, the company raised $150 million on pricing a secondary at $25.39. As mentioned in the previous article, the company implied after Q213 that it didn't need to raise cash. Instead, Westport ended up raising the money at close to multi-year lows.
The earnings call was ugly due to a focus on new development projects instead of a strong focus on the sales and, more importantly, the income potential of the new CWI engine.
Stock Chart
As the chart below shows, the stock continues to sit near multi-year lows: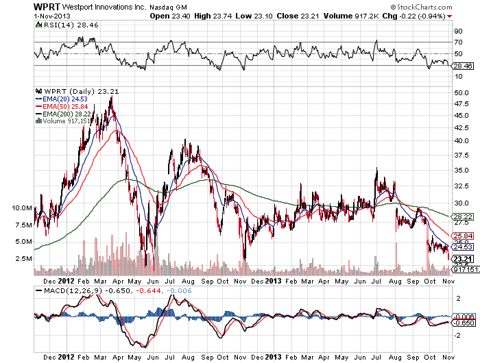 Conclusion
The good news is that the Cummins joint venture appears headed for strong growth in 2014. Based on initial orders, Westport continues to expect the natural gas truck market share to reach 1.5% in 2013 and roughly triple in 2014. The bad news continues to be a lack of ability to turn the potential into profits. While the market didn't expect any big leaps forward by Q3, the tone of the earnings call again shifted more towards numerous development projects prior to even getting a proof of concept on any existing business units. The ugly continues to be the significant cash burn.
The market potential for transferring trucks to using natural gas fuel for transportation is huge, but Westport and the Cummins JV still face the question of whether investors trust management to pull the correct levers to make it profitable. One has to wonder if spending $20 to $40 million on product development costs for a marine product is justified considering the current cash flow situation.
Disclosure: I have no positions in any stocks mentioned, but may initiate a long position in WPRT over the next 72 hours. I wrote this article myself, and it expresses my own opinions. I am not receiving compensation for it (other than from Seeking Alpha). I have no business relationship with any company whose stock is mentioned in this article.
Additional disclosure: The information contained herein is for informational purposes only. Nothing in this article should be taken as a solicitation to purchase or sell securities. Before buying or selling any stock you should do your own research and reach your own conclusion or consult a financial advisor. Investing includes risks, including loss of principal.