US 3rd Quarter GDP Revised Lower

The US economy expanded at a slower rate than previously reported in the period from July to September. Latest data indicates the economy grew at an annualized rate of 2.2% down from the 2nd revision of 2.8%, and significantly lower than the preliminary report which predicted Q3 growth of 3.5%.

The disappointing revision came as a surprise to most economists who expected no change to the 2nd report. Lower corporate inventories, weak construction spending and reduced consumer activity prompted the reduction.

Despite the GDP revision, US equities conformed to the annual tradition of irrationally rallying into the festive period.

Chart: S&P 500 Daily to 24th December. Source: http://www.StockCharts.com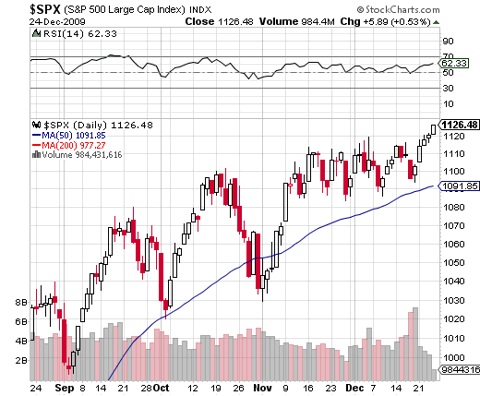 Click to enlarge

Greece Downgraded
Moody's, the rating agency, has followed Fitch and Standard & Poor's and downgraded Greece's debt rating in response to the country's deteriorating financial stability and rising government debt. Moody's tempered the downgrade suggesting Greece was still "far from crisis". Greek bonds and bank related stocks rallied strongly on the news with investors relieved the latest downgrade was more optimistic than previous reports. In recent weeks the Greek government has announced numerous measures designed to reduce the national deficit including pay reforms for public sector workers. Unions have reacted announcing strikes in protest to proposed pay cuts.
A useful tool for measuring the 'premium' Euro-zone bond traders require to invest in Greek government bonds is to compare the yield to the Euro-zone's largest, and most stable economy, Germany and its bonds. The yield on 10 year Greek government bonds is around 250 points (2.5%) higher than equivalent German government debt.
Greece is likely to become the region's most indebted nation in 2010 with government liabilities likely to rise to 120% of annual Gross Domestic Product. Commenting on the Moody's report, the Head of Greece's Public Debt Management Agency, Spyros Papanicolaou, suggested "I believe Moody's rating better reflects the prospects of the Greek economy, given the Greek government's commitment to take the necessary measures to restore fiscal health and improve competitiveness."
The news that a Euro-zone nation is struggling to restore its financial integrity has been one of the factors leading to the Euro currency's decline in recent weeks.
Chart: Euro Index Daily to 24th December. Source: http://www.StockCharts.com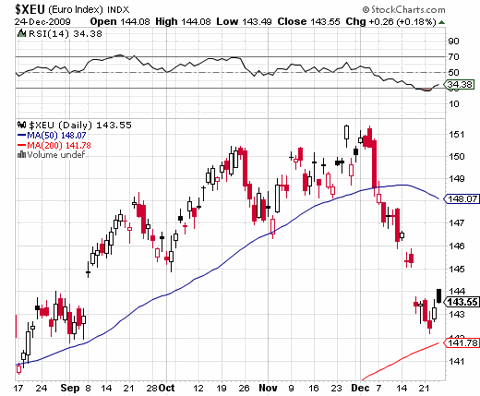 Click to enlarge

UK 3rd Quarter GDP Upgraded
Whilst data from the US indicated the American economy grew at a weaker rate than previously thought, news from the UK offered a different scenario. 3rd quarter GDP in the UK contracted, but less than feared, leaving Britain with the unfavorable claim as being the only G20 economy still in recession with a GDP output reduction of 0.2% in Q3 relative to the earlier reports of a 0.3-0.4% contraction. The continued recession in the period July to September confirms the UK is suffering the longest contraction in its growth since records began. The economy has now shrunk for 18 months – six consecutive quarters.
Many analysts predicted the latest revision would show the UK economy had exited recession due to an up-tick in construction activity. That recovery prediction has now been pushed back to the 4th quarter, or possibly Q1 2010. The Chancellor, Alistair Darling, has hedged his bets with creative language suggesting the economy will emerge from recession at the "turn of the year".
Typical of the often clueless and sheltered analysis of city 'experts', a leading economist reviewed the latest recessionary data and remarked, "We still find it hard to believe fully that the economy was contracting in the third quarter."
The Bank of England has predicted GDP growth of 4% in 2011, whilst the Treasury has also produced a very optimistic forecast of 3.5% expansion in the same year. Estimates for next year's growth vary from flat to around 1.5%.
Contradicting the official BoE growth forecast, Adam Posen, a member of the Monetary Policy Committee, has commented the economy is more likely to undershoot growth forecasts than meet BoE predictions. Posen also hinted that the BoE may have to expand its £200 billion quantitative easing (QE) program which has so far failed to bring the economy out of recession.
The QE plan has effectively printed money and passed the sum to banks and financial institutions in the vague hope some of the money would be passed on into the real economy, helping to create jobs and fund new projects.
A recent Reuters survey highlighted 52 out of 53 analysts predict the QE policy will be maintained at £200bn through Q1 2010.
The next BoE decision on monetary policy is expected on January 7th 2010.
Japanese Export Data Highlights Strong Asian Demand
Strong Asian demand for Japanese exports continues to compensate for weak domestic demand. Exports rose 4.9% in November, month on month, and year on year data continues to improve with November's 6.2% reduction infinitely improved relative to October's year on year 23.2% fall.
Exports to Asia account for more than 50% of Japan's outbound trade and last month's data highlighted the best month on month figures in seven years. The percentage of 'local' trade is set to increase further if the current trend persists.
Exports to China rose by 7.8% during November whilst US bound exports fell 7.9%. Japan's trade surplus for the month totaled 374 billion yen, surpassing forecasts.
Despite the improving export news, Japan's Q3 GDP data was downgraded with initial estimates of 1.2% growth reduced to just 0.3% expansion. Growth into 2010 is also expected to be weak with a pick-up in domestic demand required to strengthen GDP expansion to a more respectable and sustainable level.
The government responded to weak domestic demand last month with a new stimulus package valued at 7.2 trillion yen.
A weaker yen helps Japanese exports as the price of its goods fall when paid for with foreign currency.
Chart: Yen Index Daily to 24th December. Source: http://www.StockCharts.com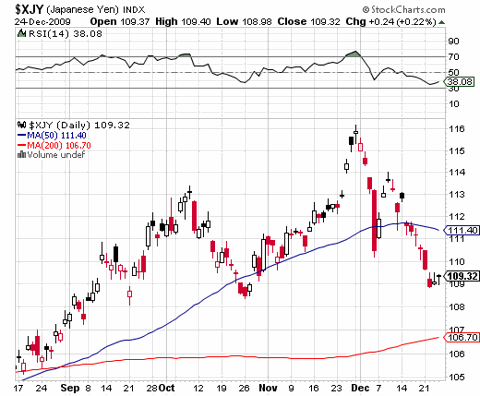 Click to enlarge
Annual Russian Energy Games Arrive on Cue
Each year Russia commences a new round of energy games with the Ukraine, its western neighbor. Europe becomes a reluctant player in this price war as a significant proportion of its gas supplies, around 25%, are purchased from Russia and need to be transported through the Ukraine. The problems relate to the Ukraine's reluctance to pay 'Western' prices for its own gas imports. Russia, in response, usually reduces, but often cuts off, supplies pushing up gas (and therefore wider energy) prices as demand exceeds supply across Europe. Eventually, Russia and the Ukraine agree to a short-term solution only for the problem to re-assert itself the following year.
Readers could legitimately suggest negotiations should commence months in advance of the cold season. They don't. The first onset of truly cold weather always prompts the energy games and observers have noted the dispute has worsened since the Ukraine elected a pro-Western (anti Russian) government.
Ukraine is due to hold a presidential election in January and the results of the vote are likely to signal an early close to the energy dispute, if a more pro-Russian President is elected, or further years of supply volatility for Western Europe if the political status-quo is maintained.
Ukraine currently owes Russia around $1 billion for its December gas supply up from November's $770 million bill, which was lower due to last month's milder weather.
Chart: Goldman Sachs Energy Index Daily to 24th December. Source: http://www.StockCharts.com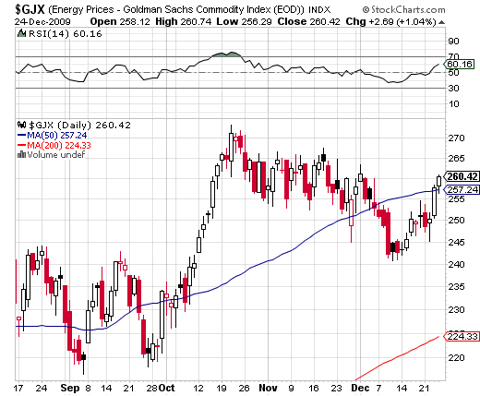 Click to enlarge

The Republic of Guinea and Small Cap Mining Opportunities

Anglo African Minerals - AMQ (Frankfurt Listed)
The theme for 2010 and beyond is likely to be characterized by a widening in the gap between Asian and Western economic growth rates with China and the wider Asian region continuing to enjoy above par growth, whilst the Western economies struggle to secure sustainable GDP expansion due to high levels of consumer and government debt.
For investors to secure healthy profits within their equity portfolios, they need to either successfully day trade, riding the day's risk appetite, or identify buy and hold stocks that will benefit from strong Asian demand for commodities over several economic cycles.
Of course there are proven mega-cap stocks such as BHP Billiton (NYSE:BHP), which offer solid year-in-year-out earnings growth potential, but the upside is capped going forward as it is hard for a very large company to double its earnings or share price during normal markets within a short time-frame.
Therefore to increase the growth potential of a buy and hold equity portfolio, an investor needs to increase the risk potential and look beyond the traditional investment styles and big name stocks. That push for abnormal returns could utilize margin trading (leverage) or investment into smaller capitalization stocks that have yet unfulfilled strategies but great potential. Smaller companies are often beyond institutional radar screens, offer weaker liquidity or fail to meet other pre-requisites such as minimum capitalization requirements. Because of the weaker liquidity and lower trading volumes, small caps are often mis-priced to the advantage of patient and flexible investors.
A few hedge funds delve into such stocks but often small caps are largely left to sophisticated retail investors and specialist investors who have the time and patience to buy a stock and store the share certificate away for months or years awaiting key company developments and price sensitive news.
Anglo African Minerals (AAM) is likely to be such a stock. AAM, a Frankfurt listed miner, is an absolutely classic bottom drawer stock being a high risk/high return potential bauxite and gold miner located in the commodity rich Guinea Republic. The firm listed in Germany last month and has a long road of exploration, fund raising and extraction ahead of it. Since listing, AAM remains heavily discounted due to Guinea's political problems which have noticeably worsened since September 2009.
Despite the regional and domestic political issues, the upside potential is truly enormous for Guinea based miners like AAM due to the untapped bauxite resource on location. Bauxite is a mixture of rock, iron and aluminum Hydroxides/Oxides. It is the primary ore of aluminum. Guinea is home to half the world's supply of bauxite and is also rich in gold, diamonds and iron ore. It is located adjacent to the Atlantic Ocean on the coast of West Africa. The population of the Republic is in excess of 10 million. The capital and largest city within Guinea is Conakry.
Mining currently accounts for around 80% of Guinea's foreign exchange receipts, a high percentage admittedly but one that is less attributable to the success of current mining operations and more due to the paucity of other industries with only agriculture and fishing evident to Guinea Republic visitors.
Some global players like Alcoa (NYSE:AA) and Alcan (AL (defunct)) are involved in the development of bauxite mines and a number of other respected miners are involved in the extraction of gold and diamonds, which should be greatly reassuring to investors concerned with the domestic political issues.
Risk aware investors prepared to hold small cap stocks over a prolonged period should invest a little more time investigating AAM in more depth as it may well be one of the most exciting West African mining opportunities for years to come.
Further information is available at the firm's website AAM Website and at the Frankfurt Borse site: Frankfurt Borse - AMQ.
Disclosure: The writer has no direct or indirect interest in Anglo African Minerals PLC – ticker AMQ.