"Oh baby, don't it feel like heaven right now
Don't it feel like something from a dream
Yeah, I've never known nothing quite like this
Don't it feel like tonight might never be again
Baby we know better than to try and pretend
No one coulda ever told me 'bout this"
--The Waiting, Tom Petty & The Heartbreakers, 1981
Investors are facing a dilemma with the U.S. stock market today. Despite what have been questionable economic and market fundamentals for quite some time now, the rise of the stock market remains relentless. And with the U.S. Federal Reserve effectively on the sidelines in beginning to scale back its stimulus program until January 2014 at the earliest, it seems that the path is now clear for more stock market gains through the remainder of the year. Thus, many investors are understandably left to wonder whether now is the time to either get back into stocks or add to existing positions. While such a strategy certainly has some short-term appeal, a far more attractive investment opportunity is building by the day for the medium-term and long-term.
In order to best answer the question as to whether stocks (NYSEARCA:SPY) represent an attractive investment opportunity at current levels, it is worthwhile to examine the U.S. stock market using actual historical data through a different perspective. For by using historical perspective and taking the time to examine stocks through an alternative lens can sometimes reveal what is actually the far better long-term returns strategy.
Consider the following backdrop for the U.S. stock market as measured by the S&P 500 Index over a historical seven year time period. As you read, keep the following question in the back of your mind - would you want to buy or sell stocks given the prevailing circumstances in this past episode?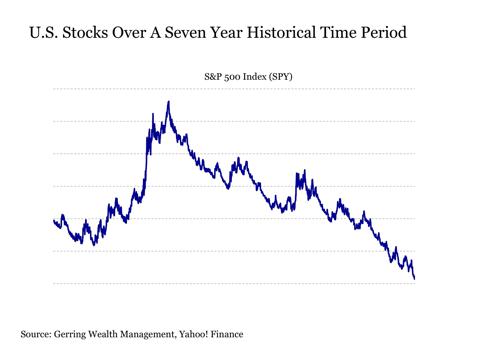 In the first few years of this historical period, the stock market experiences a dramatic increase over a relatively short period of time. Although stock valuations are not necessarily excessive, the pace of the advance is so striking that policy makers are inclined to intervene aggressively in order to put the brakes on the economy and financial markets. Fiscal policy makers slash spending and increase taxes, while monetary officials at the U.S. Federal Reserve raise interest rates aggressively. In time, these actions not only stem any further advance in stocks, but they soon fall into a steady decline that continues over several years save a few brief rallies along the way, as policy makers remain resolute to extinguish any and all forces that caused the market to overheat so dramatically.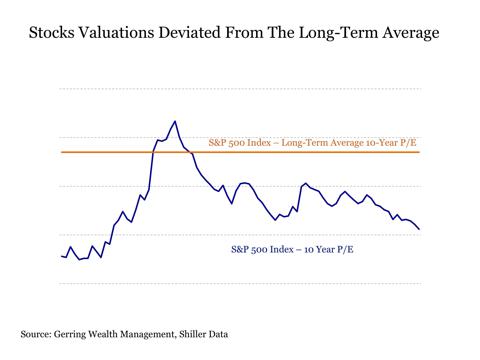 By the end of this seven-year period, stock valuations are trading at a roughly 30% discount to their long-term historical average, as bearish investor sentiment is widespread and driven largely by the belief that virtually nothing will cause the stock market to sustainably rise ever again.
Investors are also facing the following economic and market backdrop at the end of this seven-year period.
· Fiscal policy makers are moving to increase spending and lower taxes as they focus on their specific legislative agendas. Regulations are also becoming more relaxed as the government takes a more laissez-faire approach to the economy.
· The U.S. Federal Reserve remains committed to tight monetary policy and keeping interest rates at record highs, but officials have been increasingly signaling their intent to begin backing off and gradually moving to a more easy policy stance in the coming years as economic conditions normalize.
· After rising to historical highs during this seven-year period, bond market (NYSEARCA:TLT) interest rates have recently come down somewhat sharply and are showing signs of continuing this trend lower over the next few years (see chart below).
· The U.S. economy is showing signs of accelerating following several years of uneven growth following the overheat that occurred toward the beginning of this seven year period.
· After years of steady decline, corporate revenues and earnings have been troughing for well over a year and are showing signs of potentially turning higher.
· Corporate profit margins, which had been mired at record low levels for some time, are now showing signs of expanding higher.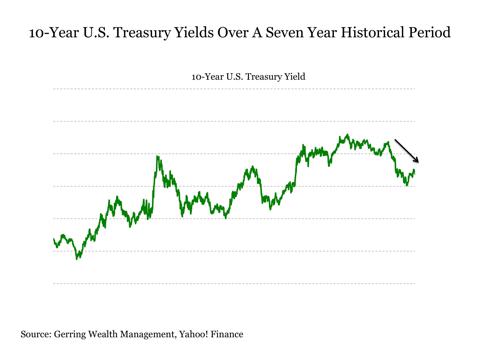 Given these conditions at the end of this seven-year historical period for the U.S. stock market, what was an investor to do? The emotionally driven investor, having suffered through several years of steady market declines, may be wondering whether they should simply just throw in the towel and sell stocks for good at this point. The more aggressive investor might even be inclined to continue betting against the market, for although stocks have already fallen so dramatically from their peaks several years ago, the trend remains definitively to the downside.
But those investors with a calm rational perspective and a long-term view may see an entirely different opportunity set presenting itself at the end of this seven year period. Instead of trying to squeeze any remaining drops of short-term return by betting stocks will continue lower still, they may instead see a market that is now dramatically discounted following several years of sharp declines. Moreover, many of the leading fundamental economic and market signals have reached inflection points and appear poised to turn in favor of rising stock prices. Taking all of this into consideration, long-term investors may find themselves inclined to back up the truck and buy as much stock as possible in anticipation of a major turn higher. While they may suffer additional declines in the near-term, it is the compelling long-term opportunity to the upside in stocks that has their focus at this point.
So when exactly did this historical seven-year period take place in the U.S. stock market? A very reasonable guess would be the period in the late 1970s and early 1980s, the end of which arguably represented the best long-term buying opportunity for stocks over the last century, as this period bears a variety of striking similarities to the economic and market backdrop presented above. But alas, this is not the correct answer.
Instead, the seven-year period depicted in the information above is based on the U.S. stock market TODAY from 2007 to 2013. The only critical difference is that everything described and shown above is effectively the exact OPPOSITE of what exists today with all charts shown in the INVERSE.
"The waiting is the hardest part
Every day you see one more card
You take it on faith, you take it to the heart
The waiting is the hardest part"
--The Waiting, Tom Petty & The Heartbreakers, 1981
All of this raises an important question. If many of the key conditions described above in the OPPOSITE of today's market provide what could arguably be considered a generationally extraordinary buying opportunity for stocks, what exactly does it suggest about the best way to position in today's market when you turn everything right side up? While we may see further gains to the upside over the short-term in the coming months, it is very likely that much if not all of the cyclical bull market gains are now behind us at this point. Instead, a potentially extraordinary SELLING opportunity is now presenting itself in today's market for investors over the medium-term and long-term.
Of course, the most important question remains as to exactly when this turn in the U.S. stock market will finally happen. In this regard, the waiting is the hardest part. But those investors that are preparing today by strategizing and evaluating positioning in a sensible and risk controlled framework for a stock market that may be poised to go sustainably lower in the coming years have the potential to reap outsized rewards for their conviction in the end.
This post is for information purposes only. There are risks involved with investing including loss of principal. Gerring Wealth Management (GWM) makes no explicit or implicit guarantee with respect to performance or the outcome of any investment or projections made by GWM. There is no guarantee that the goals of the strategies discussed by GWM will be met.
Disclosure: I have no positions in any stocks mentioned, and no plans to initiate any positions within the next 72 hours. I wrote this article myself, and it expresses my own opinions. I am not receiving compensation for it (other than from Seeking Alpha). I have no business relationship with any company whose stock is mentioned in this article.