The mining sector is one of the worst performing sectors so far this year. The decline in share prices of major gold miners can be traced back to a falling gold price. At the beginning of the year the gold price stood at just under $1,700 per oz. Since then the price has gradually declined to just around $1,300 per oz now. Newmont Mining's (NYSE:NEM) share price has mirrored the declining gold price: Shares are down a whopping 63% over the last two years and 45% YTD.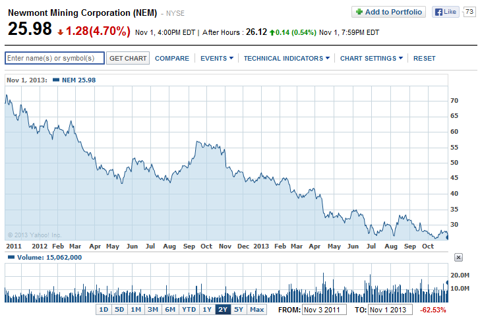 It is unfortunate that the underlying commodity price can affect the value of a company with such force. The lower the gold price the lower mine profitability and the lower the share price. Contracting gold prices cut massively into margins and profits which is why the entire sector took a substantial beating over the last two years. AngloGold Ashanti (NYSE:AU) lost 69% over the last two years, Goldcorp (NYSE:GG) 53% and Barrick Gold (NYSE:ABX) 65%.
Industry Challenges
Declining gold- and copper prices necessitate the development of long-term, low cost mining assets and shift the focus toward margin management and cost reductions. Pushing down 'all-in sustaining costs' is an industry-wide theme that has gained in importance over the last year as investors started to focus more on mine profitability rather than mere output growth. Newmont Mining has delivered in this regard and decreased costs by 16% y-o-y.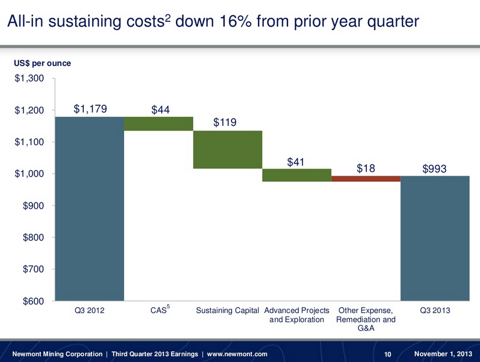 Barrick Gold, one of the largest gold miners in the world, has recently announced a public equity offering in order to bolster up the balance sheet and pay down debt. Barrick Gold could further sell off some non-core mining assets and bring in strategic partners without giving up control. I think that asset sales and strategic partnerships to share costs and risks are going to be valid alternatives for the mining sector over the next two years to create value for shareholders. I also estimate that Barrick's capital raise sets a precedent in the mining sector and other companies will follow suit. As such, there is decent amount of short-term uncertainty in the sector relating to possible equity offerings and shareholder dilution. Capital raises and non-core asset sales will streamline company operations in the long-term and help the company to focus on its most profitable and most promising mining assets in the. In the meantime, miners concentrate on cost reductions: Newmont Mining for instance has cut consolidated spending $700 million in 2013.
Newmont's Q3 results
Results for the third quarter as well as YTD results show that Newmont Mining has taken a decent hit in 2013 although gold production and -sales were higher in the third quarter 2013 compared to last year.
Sales declined 20% from $2.5 billion in Q3 2012 to $2.0 billion in Q3 2013. Operating cash flow decreased 23% and adjusted net income 47% of the same time period. Adjusted net income per share also plunged 47% from $0.86 in Q3 2012 to $0.46 in Q3 2013. Further income statement items are provided below: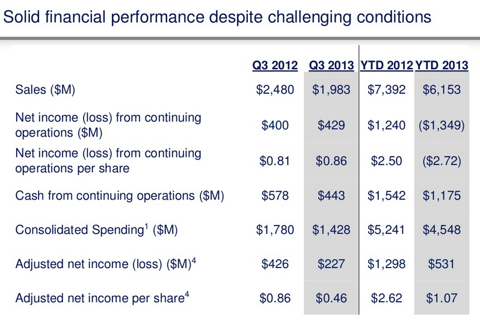 Valuation
Newmont Mining will likely focus more on cost reductions and margin improvement over the coming quarters to deliver value for shareholders. The industry environment remains challenging and the recent capital increase of Barrick Gold raises chances that other companies in the sector follow its example. Though I am a gold bull and believe exploration companies with quality portfolio assets will do fine over the long-term, Barrick's capital raise has injected uncertainty into the sector with investors now asking which company will offer equity next. Capital raises dilute shareholders and put short-term pressure on the stock price. In the case of Barrick Gold I have supported the equity offering because of Barrick's ridiculously low valuation which provides investors with a huge margin of safety and limited downside risk.
Newmont Mining, on the other hand, trades at a much richer multiple compared to Barrick Gold and generally has more downside risk. The following table provides an overview of the most relevant valuation and dividend metrics of major gold players in the sector. With the exception of Barrick Gold, all miners have rich P/E multiples. Newmont Mining has the highest dividend yield of 3.85% in the peer group which may make it suitable for income seeking investors.

Conclusion
I generally believe that gold miners are attractive additions to long-term oriented portfolios since the underlying economics support gold investments. I am cautious in the short-term, though, with regard to Barrick's $3 billion equity offering. The capital increase highlighted margin pressures and squeezed cash flows in the sector. A raise in equity capital is a good thing for shareholders in the long-term but creates selling pressure in the short-term and likely contributes to declining share prices. Considering the valuation levels depicted in the table above, I think Barrick Gold currently offers a better risk/reward ratio than Newmont Mining in the gold mining sector. I rate Newmont Mining a Hold and Barrick Gold a strong long-term BUY.
Disclosure: I am long ABX. I wrote this article myself, and it expresses my own opinions. I am not receiving compensation for it (other than from Seeking Alpha). I have no business relationship with any company whose stock is mentioned in this article.