Two weeks ago, BlackBerry (NASDAQ:BBRY) officially launched its messaging application in Google Play and in the AppStore. BlackBerry Messenger "BBM" has been downloaded more than 20 million times, which can be seen as a big success right now. In fact, the application was ranked number one free app in 107 countries in the AppStore and number one free app in 35 countries in Google Play during its first week. Now, the BBM community has reached 80 million active users compared to WhatsApp's 350 million active users. BBM's user base is still 4 times smaller than WhatsApp but the gap between the two rivals will continue to decrease. I'm going to explain why in 3 simple reasons.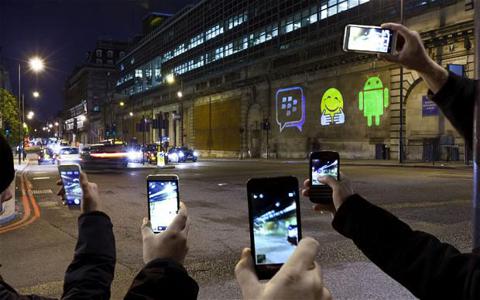 Reason #1: Privacy and Security
WhatsApp's privacy tends to be low because they use your phone number to connect with your friends. As everyone knows, BBM works with PINs which preserve your identity. While everyone is being spied on by the NSA more easily than ever, BBM offers, at the very least, an opportunity to keep your life private. Regarding security, I also want to point out that BlackBerry doesn't give information to the NSA unlike companies such as Microsoft (NASDAQ:MSFT), which owns Skype, and Facebook (NASDAQ:FB). Why is it so? Because BlackBerry is a Canadian company, not an American. Therefore, the agency doesn't have the ability to ask for personal data. In this article, you can see that even WhatsApp follows the process of big companies.
Reason #2: BBM is Free
In a recent interview with CBC, Andrew Bocking, BBM boss said: "It's definitely a free service, we have other ideas on how to monetize that service."
While BBM is a free app, WhatsApp charges you a dollar fee per year to use the service. WhatsApp's business model relies on the dollar fee you pay every year. In order to make money, BlackBerry has planned to sell ads in its BBM Channels service. And they won't sell ads in the messaging part, so you will enjoy your messaging application without interruptions.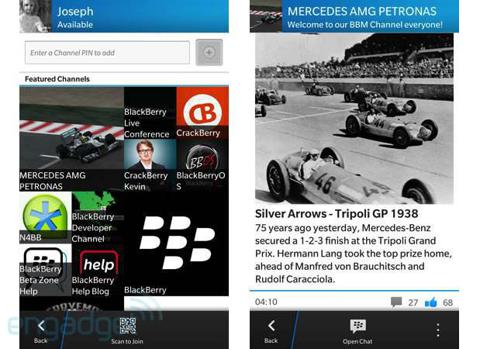 If BlackBerry can generate enough revenues by selling ads in BBM Channels to make the service profitable, it could be a huge blow to WhatsApp's current strategy and financial situation.
Reason #3: BBM Voice, BBM Video and BBM Channels
Andrew Bocking said: "We continue to plan to evolve the service and keep making it more engaging and have more reasons why people will come back to use the service".
Andrew Bocking was referring to BBM Voice, BBM Video and BBM Channels, which will be added to iOS and Android users in the following months. On the contrary, WhatsApp hasn't said or even planned to launch the same service in the near future. It will constitute another huge blow to WhatsApp's current user base because BBM will become more attractive to many of us thanks to its new features.
Financial implications for BlackBerry
In terms of revenues, BlackBerry could easily add $500 million each year thanks to the ads on BBM Channels. Let's do a quick calculation to explain my point of view. There are two components: the number of daily active users "DAU" and the revenues generated by advertising, per user per year "RAUY".
In one year, I assume a conservative 150 million daily active users thanks to the three reasons I mention earlier, but I won't be impressed if it reaches 250 million in the following years. On the ads side, I assume a $3 income per user per year.
Now, let's have a look at the industry, Google (NASDAQ:GOOG) generated $43 billion of advertising revenues in 2012, having increased by 20% from 2011. For its third quarter 2013, Facebook generated $1.8 billion from advertising. They noted 49% of total advertising revenues were generated by mobile devices. If Facebook can do it, BlackBerry can also do it with its BBM service. Moreover, BlackBerry has an advantage over it: BBM is addictive.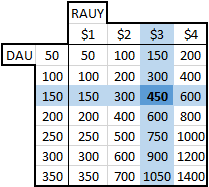 The bottom line
BlackBerry needs to act quickly to bring new features to its iOS and Android users in order to maintain the attractiveness of its messaging application. If WhatsApp releases a "WhatsApp Voice and Video Service" before BlackBerry, BBM's success could be seriously impacted.
Disclosure: I am long BBRY. I wrote this article myself, and it expresses my own opinions. I am not receiving compensation for it (other than from Seeking Alpha). I have no business relationship with any company whose stock is mentioned in this article.