Visteon (NYSE:VC) has been hampered by two attributes: the stigma from declaring bankruptcy in the recent past and a complex corporate structure. Management has taken clear steps to engage this argument and simplify the corporate structure. These moves have exposed the short-term upside in the stock. Investors could gain even more in the long-term due to the continued reallocation of resources to favourable markets and categories.
Turning Visteon around

Visteon is a global supplier of climate, electronics, and interior systems to automotive OEMs. Spun out of Ford (NYSE:F) in 2000, the company has worked hard to build up a global presence. Ford is still a significant customer but a large presence has been built internationally, particularly in Asia.
The downturn in automobile production through the financial crisis triggered bankruptcy in early 2009. Since exiting Chapter 11 in late 2010, management has worked hard to restructure the business. New managers brought a rational approach to capital allocation. Sub-scale businesses are being, or have already been, divested. Investment is growing in categories in which Visteon can compete globally. Asia is an important region, growth is strong and Visteon can diversify its customer base.
Until August, this turnaround had gone fairly unnoticed. Analysts noted that on a sum-of-the-parts basis the stock was dramatically undervalued but the discount has remained substantial for much of the year. The sale of a 50% sake in Vanfeng Visteon in August has caught the attention of investors.
Picking apart the pieces

Visteon operates in three main lines: Interior, Halla Visteon Climate Control (HVCC), and Electronics (YFVE, the part of YFV that Visteon will continue to operate, is a component of this business). The company also has a substantial financial position but this will be examined after the company's operations.
Interior

The Interior division suffered worst during the crisis. Divestments have been made in some regions but the company cannot get rid of the whole thing. As a stand-alone business, Interior lacks scale so is most likely inoperable to anyone but a trade buyer. If the company could give the division away for nothing it would be a win for investors. No value is attributed to this division in this analysis.
HVCC

Halla Visteon is a Korean corporation 70% owned by Visteon. The JV was established between Ford and Mando Machinery in the late 1980s and Visteon's share has been growing ever since. Most recently, Visteon have started to roll-up their climate businesses into Halla. In the first quarter of this year, Halla purchased $410m more of Visteon climate subsidiaries and IP.
Halla Visteon has a strong competitive position in the climate control category, holding the number two position in the industry. The division has the scale to compete globally, manufactures in low-cost regions, and reorients Visteon towards customers experiencing faster growth.
Guidance is for 7% sales CAGR over the next three years, slightly faster than the 5.3% CAGR for the next five years for the category (Korea Investor Day). The difference is made up by the company's exposure to faster growing markets, particularly in Asia. Visibility on this revenue is partly assured with a $700m order backlog over the next three years.
The Korean side of the JV appears to have been more efficient than Visteon too. Management have outlined the potential for continued cost efficiencies from deeper integration, driving profit growth above sales growth.
Halla is listed on the Korean stock exchange (018880) and currently trades for 39,150KRW. This is equivalent to ~$55 in Visteon ($2.76bn) which is 72% of the current price. The expectation is that Visteon will sell down 20% of its share in the future. As a result, it is prudent to recognize an offsetting tax expense although the company may be able to use some tax assets in a sale.
Electronics

The sale of a 50% stake in YFV, announced in August, was the big game-changer. The buyer was HASCO (a subsidiary of SAIC), the JV partner in YFV, for $1.2bn. After the transaction, Visteon retains a 75% interest in Yanfeng Visteon Electronics (YFVE) and pays a negligible sum to restructure this holding.
The key to this transaction is that it vastly simplifies Visteon's "story". YFV was a range of Chinese JVs in interiors, seating, electronics, and safety. YFVE is fully integrated into Visteon's global electronics business, leaving the group focused on two lines: climate and electronics.
The sum-of-the-parts implication is clear. If we add the value of HVCC and the cash received from the YFV sale we get $82, 106% of the current price. This doesn't include tax leakage, pension liabilities, or debt but it also doesn't include the Electronics business.
Is Electronics worth $0?

The Electronics division manufactures Driver Information and Audio/Infotainment products. Category growth is strong and Visteon expects 12% CAGR through 2017 (JP Morgan Conference), significantly faster than vehicle production growth.
Visteon, through YFVE, is exposed to strong markets within these categories. In China, the company has the number one position in audio and is number three in the cluster (i.e. dashboard) electronics market (Shanghai Investor Day). This growth is important as it will bring in new customers, Ford accounts for ~40% sales.
The industry is fiercely competitive but highly fragmented too. In the cockpit electronics category, the company is number five. In information and controls, the company is number three. Fragmentation creates opportunities for acquisitions. Cockpit electronics seems a likely market, there are a lot of marginal players and R&D costs are high.
Comparables trade at far higher valuations than zero: Denso trades around 5x EBITDA, Conti 6x, Harman 8x, and Delphi 8x. Geographic exposure should warrant a premium but we should be conservative and say 6x. On proforma forward EBITA of $150 this adds another ~$18.
Financials

Two big unknowns are the tax leakage from the YFV deal and any potential HVCC deal and the value of the pension liability. Tax leakage from both deals (one is hypothetical) knocks off about $5 and the pension liability knocks off $6 (assuming a 10% buyout premium, an industry standard measure).
It is more difficult to work out the precise combination of share count, debt, and cash going forward. Visteon had already planned ~$400m of buybacks but has accelerated this to $1bn through to 2015. Assuming that the cash is going to build up with no repurchases then we add in VFV (~$24) and cash of $1bn (~$20), net of $800m of debt (~$16).
Summary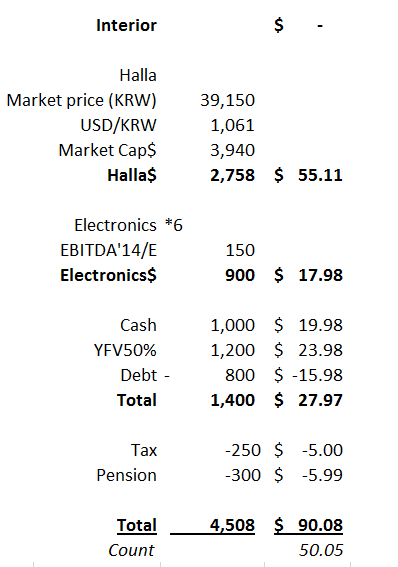 Most appraisals of Visteon's value have been rather bombastic, leaving out several substantial obligations. A valuation of $90 is more conservative but also more accurate, suggesting short-term upside from the current price of ~17%.
To get beyond $90 we have to make longer-term predictions about the strength of the climate and electronics categories. The historical and prospective growth of these categories, Visteon's geographic exposure within those categories, proposed operational efficiencies, and future divestments or acquisitions suggest at the long-term potential above the current price.
Disclosure: I have no positions in any stocks mentioned, but may initiate a long position in VC over the next 72 hours. I wrote this article myself, and it expresses my own opinions. I am not receiving compensation for it (other than from Seeking Alpha). I have no business relationship with any company whose stock is mentioned in this article.