Investors and traders were greeted with news headline reports of robust October auto sales from General Motors (NYSE:GM), Ford (NYSE:F) and Chrysler. On the surface, all three auto makers reported double digit sales increases for October this year vs. October 2012. Apparently the Government shutdown had no affect on sales, although the sales at Chrysler and Ford missed expectations. However, if you sift through data that does not make the headlines or most news reports, it turns out the actual sales for all three auto makers were not what they seem.
Rather than looking at year over year sales, I wanted to evaluate the trend in sales from September to October. What I found was quite interesting. It is important to keep in mind that an auto manufacturer, for accounting purposes, books a sale when the tractor-trailer with a car loaded on it leaves the manufacturing facility and not when an actual end-user pays for it and drives it home. So the sales being reported do not necessarily mean that a real sale to the end-user was actually booked. GM reported 226k sales for October vs. 187k for September. However, the GM dealer inventory ballooned from 689k to 728k. So the increase in sales from September to October reported by GM was 39k but the increase in month-end dealer inventory was 58k.
Did GM really sell 226k cars as reported? The jury is out on that. But the dealer inventory has ballooned out 87 days, which likely means that even if the dealers eventually move those cars, it will ultimately negatively affect GM's sales in the next several months, as dealers will be forced to employ heavy discounting and incentives to move existing inventory before ordering replacement inventory. It can even be argued that GM has effectively cannibalized early 2014 sales, as dealers will be focusing on trying to clear out 2013 inventory. Based on some of the incentive deals advertised, many dealers are still trying clear out 2012 inventory.
With Ford, October sales was 191.9k vs. 185k for September, a paltry increase of 6.9k cars. That seems quite a bit smaller than the 14% year over year headline number, doesn't it? Furthermore, although I could not find a September month-end dealer inventory number for Ford, its October month-end dealer inventory was 91 days, four days higher than GM's dealer inventory. It is highly likely that Ford also engaged in the same kind of channel-stuffing as was done by GM, which means future sales will likely be disappointing. For point of reference, looking at data that goes back to 2007, a more typical level of dealer inventory levels was 45-50 days. It is clear at least to me that auto makers are stuffing the dealer sales channel to make headline sales numbers look better.
Finally, Chrysler's month to month comparison was shocking. While Chrysler reported an 11% year over year gain in sales for October, it actually sold 3100 less cars in October - 140k - than in September - 143.1k. I could not find month-end dealer inventory for Chrysler, which doesn't surprise me since Chrysler is privately owned by Fiat.
Speaking of the dealer incentives, special financing rates and manufacturer discount deals mentioned above, as it turns out October was chock full cash-back, rebate and 0% financing deals: GM, Chrysler and Ford. As you can see, the auto makers are pretty much across the board offering either cash-back rebates for 0% - as in free - loans for qualified buyers. In addition more money is being made available for the much riskier sub-prime borrowers as well: Sub-prime Auto Loans Get Larger. It is clear that auto makers and dealers are doing whatever they need to do to try and move cars. At some point the majority of demand will be saturated, leading to declining car sales in the next several quarters. Chrysler's September to October result is likely a preview of that.
The point of my analysis is that, when looked at below the surface of headline reports, auto sales are not as strong as might appear. In fact, as you can see, without the benefit of the channel-stuffing technique applied by GM, and that was likely employed by Ford, both companies' unit auto sales for October would have been lower than September's, just like Chrysler's was.
Because of this, my recommendation is to unload long positions in GM and F if you are invested, because just like the overall market, these stocks are likely to experience a big drop when big investors digest the real data. If you want to get aggressive, I like shorting GM here. You can see by this chart that GM seems to have a hit stout resistance at the $38 level: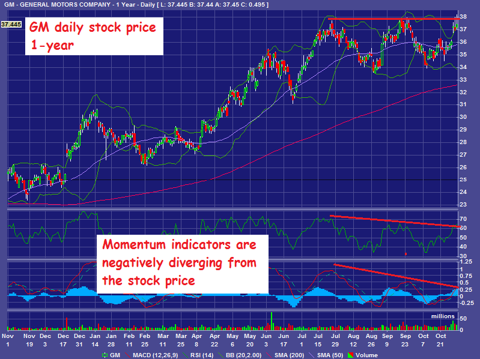 Click to enlarge
Even more troubling for GM stock investors is the fact that GM seems to have stalled at the $38 level while the overall S&P 500 index has been steadily rising. You can also see that based on two momentum indicators, which are negatively diverging from the stock price, it looks like GM stock is being sold into strength. We've seen that today as GM quickly traded up $1.26 (3.4%) from yesterday's close of $36.95 but has since backed off 81 cents from its highs today. If the market had perceived GM's October sales report to be bullish, this should not have occurred. Although I like other stocks in other sectors better for short-sale purposes, I believe GM presents a relatively low-risk short sale opportunity, with the 200 dma of $32.61 area as my target - a 13% gain from the current trading price.
Disclosure: I have no positions in any stocks mentioned, and no plans to initiate any positions within the next 72 hours. I wrote this article myself, and it expresses my own opinions. I am not receiving compensation for it (other than from Seeking Alpha). I have no business relationship with any company whose stock is mentioned in this article.