Tell a military person you went thru a SNAFU at the checkout counter, and you are likely to get a wry smile in return. Abbreviations and shortcuts can grow to have more than one meaning.
I mention this, since, recently the Institute for Supply Management released its manufacturing index. Unfortunately for the permabears and those who want to give the economy a Bronx cheer so the FED can continue QExxx into eternity.....
The common adage throughout the government shutdown was that the manufacturing sector would suffer from lost orders and demand. If the ISM index is an accurate gauge of manufacturing activity in October, then the expected weakness never occurred.
New orders actually strengthened in October. The related index increased to 60.6 in October from 60.5. Meanwhile, order backlogs ended a contraction period and increased to 51.5 from 49.5.
source: Etrade, Briefing.com
Talk about sticking a dagger into the zombie hearts of Keynesians who were desperate to prove the government shutdown would slow he economy! NOT! In fact, the numbers are better than at any time since...since (wiping away a tear for Fiscal Policy fans)...since 2011!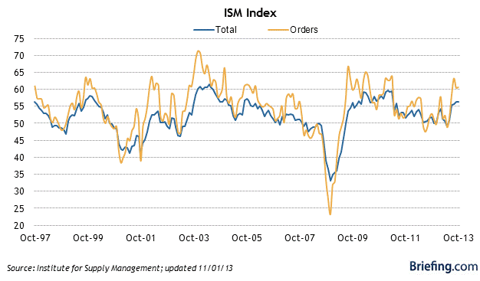 source: Briefing.com, Etrade
Of course, bonds and gold, two assets that depend on a weak economy and more financial nectar from the central bank to be worth owning, have taken this news on the chin. The chart below shows how weak iShares 20+ Tbond ETF (NYSEARCA:TLT) and the SPDR Gold Trust (NYSEARCA:GLD) have been since the Fed "kept policy the same" a few days ago.
But stocks, especially utilities, continue to hang in there. Look at the SPDR S&P500 Trust (NYSEARCA:SPY) and its Utilities cousin (NYSEARCA:XLU). Investors clearly prefer dividends which will grow as the economy expands over fixed payments from Washington: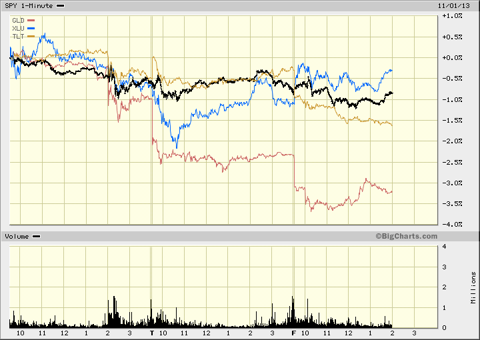 At this rate, ISM soon will mean Incredibly Stupid Monetary policy. There is plenty of evidence---the manufacturing data is only the latest---that the economy is growing, and might even start picking up speed. Investors hoping for further accommodation and perpetual quantitative easing have a rude awakening ahead.
Disclosure: I am long SPY, IHI, XLV. I wrote this article myself, and it expresses my own opinions. I am not receiving compensation for it (other than from Seeking Alpha). I have no business relationship with any company whose stock is mentioned in this article.