I've written a couple of articles on closed-end funds and plan on writing more, as I believe that the space is one of the least efficient and easily exploited areas of the market. The patient investor can generate significant alpha in any area of their asset allocation by knowing what to look for and how to find it. Since it depends largely retail investors, the space is known for knee-jerk reactions, but can create great opportunities.
Business Overview
Special Opportunities Fund (NYSE:SPE) is an activist closed-end fund that is run by notable hedge fund manager Phillip Goldstein through their management company Bulldog Investors. The profile on the firm's welcome page describes them well, much better than I could do:
Bulldog Investors is a value oriented investment management firm for sophisticated and high net worth investors but with an important difference: Bulldog is not content to wait indefinitely for the intrinsic value of its investments to be unlocked. Like other value investment managers, Bulldog rigorously analyzes and focuses on undervalued investment opportunities, targeting only securities it understands and can appropriately value. However, unlike other value investment managers, Bulldog will often take activist measures to enhance the value of its investments through various time-tested and proprietary means. In other words, Bulldog actually adds value to its investments.

The result is a unique investment approach that, for nearly two decades, has produced above-average returns for Bulldog's investors with below-average risk.
Essentially, the fund invests mostly in other closed-end funds and then uses its clout to alter the target fund in order to close the discount to net asset value. Think of Phillip Goldstein as the Carl Icahn of the closed-end fund world. These are typically classified as special situation strategies and make up 78% of the portfolio, according to their semi-annual 2013 report. Common stocks, mostly SPACs, make up another 20%.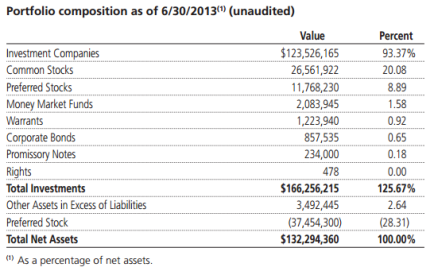 As you can clearly see, the fund does employ some leverage, which has ranged between 20% and 30% over the last few years. In addition to the above, they have 73,450 shares of common stock sold short on Lennar Corp (NYSE:LEN). class A shares as well as $37,500,000 in preferred shares recently offered.
Thesis
Special Opportunities Fund was previously a tax-free municipal bond portfolio from 1993 through the end of 2009. Bulldog Investors took over the management and ownership of the fund after acquiring a significant amount of shares and then mounting a proxy fight. The fund was previously owned and run by UBS Global Asset Management until it resigned in Mid-October, 2009.
After the successful proxy fight, they changed the investment advisor on the fund in addition to altering the investment objective from one providing tax-free income to one generically focused on total return.
From its first report to shareholders, the company made its pitch:
Opportunity Partners L.P. has generated an annualized return of 12.8% vs. 7.4% for the S&P 500 Index. It has incurred a loss in only one of those years.*

We are generally value investors. Our bread and butter is investing in closed-end funds. I have personally been investing in closed-end funds for thirty-five years. However, we have also invested opportunistically in a number of other areas. In certain instances, we have employed activism to unlock the value of our investments. Unlike many other managers who are tethered to a benchmark, we are not interested in making an investment unless we perceive that we can get an edge. After the tender offer, we intend to apply this "edge" philosophy to managing the Fund.
Opportunity Partners LP is the hedge fund manager Phillip Goldstein created in 1992 that maintains a similar investment mandate to Special Opportunities Fund.
You can see that they like to market themselves as an absolute return investment vehicle rather than something that should be benchmarked to an index. I like to compared this to merger arbitrage funds like Arbitrage Fund (MUTF:ARBFX) and Merger Fund (MUTF:MERFX). These are low-volatility steady return investment products which is what Special Opportunities Fund should really be classified.
Bulldog likes to buy closed-end funds that are trading at substantial discounts to NAV, roughly 15% below, and then, over the next two years, attempt to unlock the value through management changes, other proxy initiatives, or a tender offer in order to realize more than 5% of alpha per year.
In other words, if he can buy $1 for $0.80 and then within the next two years realize the full value of the dollar, he will be able to consistently beat the S&P 500. Judging by the returns of their hedge fund, he is correct.
Current Underlying Investments
The largest portion of the fund is currently invested in other closed-end funds where it is either accumulating shares in order to pressure boards for change which Bulldog believes will unlock value or it is in the process of mounting a proxy fight. From the latest semi-annual report dated June 2013, the largest positions are as follows:
Eaton Vance Risk-Managed Diversified Equity Income Fund (NYSE:ETJ)
Bulldog through SPE currently owns more than 8% of this $900 million closed-end fund. Bulldog purchased most of their shares at discounts in the mid-teens according to their semi-annual report. Over the last two years, they have been successful in mounting change at the fund. On August 8th, the board of trustees announced a plan to repurchase up to 10% of the outstanding shares. Additionally, they successfully lobbied the fund to transition to a monthly dividend which is in high demand from closed-end fund investors, especially on the income side. Since then, the discount has narrowed to roughly half the level it was at when Bulldog began purchasing shares. Bulldog noted that they will continue to 'advocate for measures to achieve a narrower discount, including a liquidity event.' If their proposals are rejected, they may launch a proxy contest.
Eaton Vance should be releasing an update to the share repurchase program in the next two weeks. In the latest one available with data through the end of September, they detailed that 5.88% of shares were repurchased at a beginning price of $10.88. The discount narrowed from -14.93% to -10.12%. (see chart below)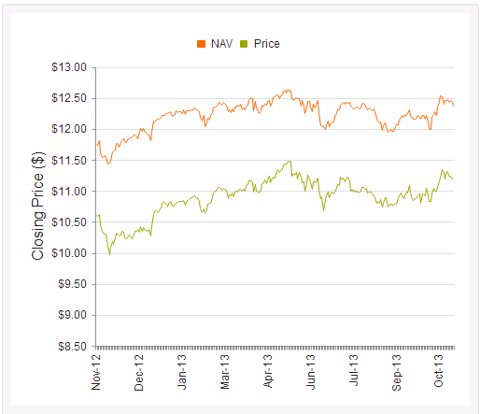 Firsthand Technology Value Fund (NASDAQ:SVVC)
This name has been in the news frequently recently, as Bulldog feels that they can extract significant value out of the fund. Firsthand Technology Value Fund is a business development company [BDC] with the following mandate:
Firsthand Technology Value Fund, Inc. is a publicly traded investment fund that provides private technology and cleantech companies with development funding and working capital, primarily in the form of equity investments. Cleantech companies include those engaged in the sale of goods and services designed to harness renewable energy and materials, eliminate emissions and waste, and reduce the use of natural resources.
Firsthand charges a 2% management fee and a 20% performance fee of net realized gains. Bulldog began purchasing shares of SVVC in the second half of 2012, originally accumulating 10% of the outstanding shares of this $200 million closed-end fund. The current discount is nearly gone as of October 31st. Bulldog likely had an average cost per share below $18. Today, the SVVC is trading at $23.31, equating to an approximate 30% gain.
How did SPE make this gain? They realized that SVVC has 10.5% of its NAV in Twitter and another 10.1% in Facebook. Retail investors used SVVC as an outlet to gain access to the Facebook and later Twitter IPOs that they would otherwise have been shut out from.
Bulldog saw two scenarios to make money in SVVC back in June, prior to the Twitter IPO announcement:
1) If Twitter announces an IPO, SVVC's stock price will pop and the discount would disappear as enthusiasts for the company look for access to its shares. Clearly, this occurred and the shares for SVVC moved higher to the current $23.31.
2) If this didn't occur and the discount persisted, they would oust SVVC's manager Kevin Landis at next year's annual shareholder meeting and push for a liquidity event at or close to NAV.
Since the discount has disappeared, I would have to believe that Bulldog is in the process of liquidating its shares. And in fact, that is starting. A news release from October 8th stated that Bulldog had reduced the amount of shares it owned to 632,668 from 726,356 held earlier. Bulldog now holds 7.39% of the company, which is down 1.1% from the end of last month. While the stock is not illiquid, it only trades between 50,000-80,000 shares a day, so Bulldog is going to have to work to get out of the name.
Imperial Holdings (IFT)
Bulldog commenced buying Imperial's stock at about $1.60 per share after its price dropped more than 75% following an FBI raid in September 2011. The purpose of the company is to purchase life insurance and other structured settlement policies and pay a lump-sum for them.
When they started purchasing the shares, it was trading at half of its intrinsic value "due to potential legal problems." Bulldog met with management and felt that the problems could be resolved over time and that the depressed stock price offered a significant reward for investors.
Imperial went public in February 2011 at $10.75 per share and operated in three business segments: premium financing for individual life policies, purchasing life insurance policies or "life settlements" and purchasing structured settlements. The businesses are fraught with litigation for obvious reasons. Even before the FBI raid, the stock had fallen by 40%. After the raid, the stock fell another 75% to less than $2 per share.
After conducting their due diligence, Bulldog concluded that the stock was very cheap, even with its array of problems. In April of 2012, Imperial settled with the US Attorney's New Hampshire office for $8 million and the resignation of one executive. This pushed the stock up 36% that week, rising from $2.95 to $4.02 per share.
On May 1, 2013, Imperial announced that it had executed a 15-year, $300 million revolving credit facility, which boosted the stock price the next day by 40% to $5.59. On July 26th, the stock price hit a high of $7.51, close to Bulldog's intrinsic value of $8.
Imperial is a classic example of how Bulldog is opportunistic and its expertise allows it to extract value for investors. The fund now has three directors on Imperial's board of directors and is working with management in ways to unlock value and improve the long-term viability of the company.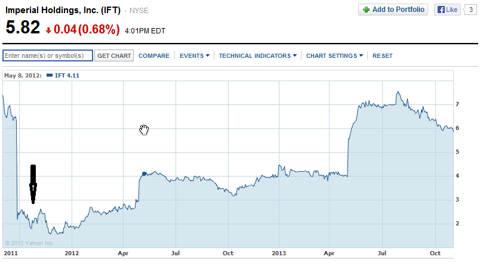 SPACs
The portfolio has always and continues to hold a large weighting in Special Purpose Acquisition Companies, or blank check companies as they're known. A SPAC is a publicly traded company that raises funds from investors for an IPO. The SPAC then hunts for a company to purchase. These companies typically are private equity type transactions, particularly leveraged buyouts.
Activity in the market is picking up due to the growth in the IPO market and private equity groups harvesting their investments by bringing them public.
Bulldog recently invested in Quinpario Acquisition Corp. (QPACU) which has a mandate to purchase or merge with an operating business in the specialty chemicals and performance materials sectors. The SPAC issued 15,000,000 shares at $10 per share and then did a follow-on purchase of 1,150,000 at $10 per share with a 16-month timeframe to complete a transaction, or the company is dissolved. Thus, IPO holders like Bulldog are guaranteed to receive at least $10.35 in cash plus, if a transaction is completed, a warrant. This is unless they elect to hold the stock in the company they purchase or elect to extend the 16 month duration, in which case, Quinpario would have to purchase more units, which would increase the capital and thus, the guarantee that Bulldog is to receive. For Bulldog, it is a low-risk, decent return investment.
Most of what Bulldog reports as SPACs within their current holdings is really just cash waiting for a great opportunity. The fund allocation to SPACs on June 30th was 11.4%, which tends to dampen volatility within the overall portfolio.
Bargains Finally Appearing
As someone who invests and follows the closed-end fund space regularly, I have had a hard time finding good deals for a couple of years now. However, since May when the spike in interest rates due to the Fed taper spooked a large portion of retail investors, especially on the fixed income side, opportunities have begun to materialize.
Bargain hunting can be tedious and mind-numbing, but also very rewarding. Market prices in some income-oriented closed-end fund sectors have fallen considerably more than their NAVs, with many going from premiums to large discounts.
I expect Bulldog via their closed-end fund wrapper SPE to have been and continue to accumulate closed-end funds opportunistically and take advantage of the likely temporary market dislocation to create significant alpha.
Preferred Rights Offering
The company also has roughly 667,000 shares of 3% preferred stock, series A. The current preferred share to common share ratio is 3.1918. At that ratio, the discount to common is minor. Additionally, I think the lack of liquidity in the preferred shares negates the 3% yield one garners by going that route.
While the offering is likely to be dilutive to common shareholders in time, the $37.5 million raised amounts to a 30% increase in cash available to make investments. While the reasoning for the offering wasn't disclosed, I have to imagine that they are seeing an abundance of opportunities to invest in and feel this is the best avenue for exploiting those bargains.
Share Repurchase Plan
On March 19, 2013, Bulldog announced that the board of directors had authorized a share repurchase program allowing the fund to purchase shares of its common stock without limitation when such shares are trading at a discount to net asset value. This is likely to provide a floor to the discount to NAV going forward. The current 8.46% discount is near the 52-week high and well below the average of 10.2% and low of 13.92%. This is in contrast to most other closed-end funds which are now trading below their 52-week average.
Catalysts:
History of successfully unlocking value
Share repurchase plan
Conservative investment allocation
Size of the fund at $125 million allows them to be nimble
Lower correlation to the broader market at 0.53
Conclusion
SPE allows retail investors a cheap and easy way to gain access to an elite fund manager. While the discount has narrowed a bit in the last month, the fund remains a great long-term investment for the catalysts mentioned above. Additionally, as good investments in the equity market become harder to come by due to richer valuations, SPE allows investors an opportunity to access special situation and distressed investments for a relatively cheap price.
Disclosure: I have no positions in any stocks mentioned, and no plans to initiate any positions within the next 72 hours. I wrote this article myself, and it expresses my own opinions. I am not receiving compensation for it (other than from Seeking Alpha). I have no business relationship with any company whose stock is mentioned in this article.