BP (NYSE:BP) continues to be one of my top large-cap oil picks in the sector. The valuation of the entire oil and gas sector (P/E around 10) remains significantly behind its long-term growth prospects. BP is a long-term investment more suitable to contrarian investors who can stomach some volatility and absorb headline risk in the short-term. Income investors also might be interested in the British oil giant because its dividend is one of the highest in the sector.
BP's Q3 results were solid. Upstream RCPBIT (replacement cost profit before interest and taxes) stood at $4.4 billion in Q3 2013 and increased $100 million compared to Q2 2013 and remained flat y-o-y. Downstream RCPBIT decreased from $3.0 billion in Q3 2012 to $1.2 billion in Q2 2013 and to $0.7 billion in Q3 2013 and is a reflection of decreasing refinery margins since they reached a record High last year. Lower refinery margins are a trend affecting the entire sector: Exxon Mobil (NYSE:XOM) was also impacted by lower refinery margins in Q3 2013.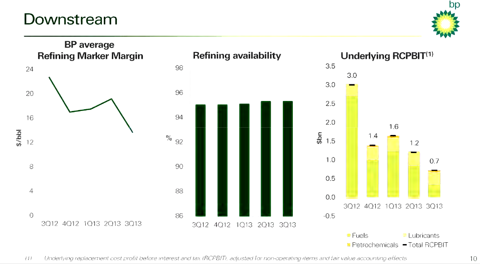 Operating cash flow increased to $6.3 billion in Q3 2013 from $5.4 billion in Q2 2013 (plus 17%) and from $6.2 billion in Q3 2012 (up 2%).
Oil spill related costs and provision expenses
BP recognized a cumulative charge of $42.5 billion in relation to the 2010 Deepwater Horizon explosion and subsequent oil spill in the Gulf of Mexico. In Q3 2013 another $40 million was added in relation to restoration costs. At the end of the third quarter BP had $700 million of headroom left in the $20 billion trust fund established in 2010 which is included in the total cumulative net charge of $42.5 billion. If BP exhausts the $700 million left in the trust fund, additional costs will be charged right to the P&L. I think that the majority of claims have now been accounted for and charges/payments in the future will be marginal and declining. An overview of BP's historical charges is provided below: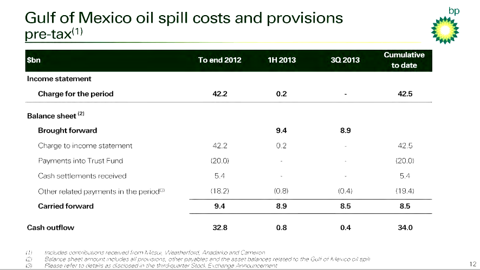 Oil spill costs have materially dragged down BP's results in the years after the oil spill, especially in 2010, and had a seriously negative impact on the share price.
Share performance
BP's shares gained momentum after the company announced Q3 results on October 29. Last week alone shares gained 7% which compares to a total two-year performance of 6% and a one-year performance of 9%. ConocoPhillips (NYSE:COP) gained 14% over the last two years, Chevron (NYSE:CVX) 11% and Royal Dutch Shell (NYSE:RDS.A) lost 6%.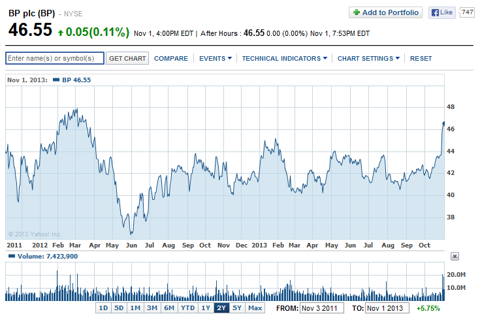 Free cash flow growth drives shareholder value
BP's strong free cash flow allows it to remunerate shareholders with dividends and share repurchases. BP funneled back $8 billion to shareholders in form of share buybacks after the disposal of TNK-BP. The company also announced it intends to divest assets in the amount of another $10 billion by the end of 2015 with proceeds being used for shareholder distributions. BP's current dividend yield stands at 4.64%.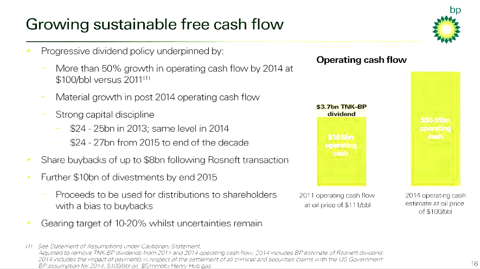 Valuation
BP is one of the cheapest, large-cap oil players in the field and is currently trading at less than nine times earnings. Its dividend yield of around 4.7% is also one of the highest in the sector. Despite ongoing litigation and further expected settlements, I believe BP's dividend is very safe. This makes BP a suitable investment for income oriented investors.
Conclusion
BP's low valuation and high dividend yield are the most compelling reasons to add this company to an investment portfolio. I believe that the restructuring of BP's asset mix and future divestment plans substantially benefit shareholders. BP has a track record of returning substantial amounts of transaction proceeds back to shareholders. Further divestitures will benefit shareholders in form of higher dividends and share buybacks. I also believe that the majority of oil spill related claims has been accounted for. There may be some additional provision charges in the future, but I believe those amounts to be marginal and of little relevance to BP's overall profitability. BP is a strong, long-term contrarian BUY on low valuation, divestitures, high dividends (the third quarter dividend was hiked 5.6%) and share buybacks.
Disclosure: I am long BP. I wrote this article myself, and it expresses my own opinions. I am not receiving compensation for it (other than from Seeking Alpha). I have no business relationship with any company whose stock is mentioned in this article.