Shire Plc (SHPGY) recently submitted a biologics license application (BLA) with the U.S. Food and Drug Administration (FDA) for Replagal (agalsidase alfa) meant for treating the genetic disorder Fabry disease.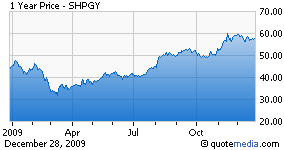 Replagal is available in European markets since 2001.The drug is approved for the treatment of Fabry disease in 45 countries. In the United States, the drug is available to Fabry patients under an FDA-approved treatment protocol, and the company is also supporting emergency Investigational New Drug (IND) requests. The shortage of Genzyme Corp.'s (GENZ) Fabrazyme, arising out of the manufacturing problems at a key Genzyme facility has prompted the FDA to allow Replagel to be supplied to certain patients in the U.S. Shire is seeking full approval through the current BLA submission.

Fabry disease is a genetic disorder that interferes with the body's ability to break down globotriaosylceramide, a specific fatty substance. Globotriaosylceramide accumulates within the body because of the deficiency of an enzyme called alpha-galactosidase A. The disorder usually affects males. It affects nearly eight thousand to ten thousand people globally. The symptoms of the disease include cardiovascular and/or renal dysfunction, intense or burning pain, heat intolerance, skin lesions, gastrointestinal complaints, hearing loss, and ocular problems.

Shire also announced the submission of marketing applications in the U.S., Europe and Canada for velaglucerase alfa, its enzyme replacement therapy candidate for treating a rare genetic disorder called Gaucher disease. The U.S. agency is expected to decide on the candidate by Feb 28, 2010. The Committee for Medicinal Products for Human Use (CHMP) of the European Medicines Agency (EMA) has granted accelerated review of the Shire candidate.

In the market the medication would compete with Genzyme Corp.'s Cerezyme. The global shortage of Cerezyme due to manufacturing problems at a key Genzyme facility has prompted the FDA and European regulators to allow certain patients to use velaglucerase alfa even though it awaits formal approval.